The demand for premium smartphones above $500 MSRP (Manufacturer Suggested Retail Price) has dramatically surged over the last three years. The exploded adoption of high-end smartphones can be attributable to the increasing buying power of consumers, as well as the jaw-dropping discounts and coupons offered by e-commerce giants on these devices during their festive season sales. According to the latest report by Canalys, iPhone 14 Pro Max once again emerged as the best-selling premium smartphone in Q1 2023. The list is followed by iPhone 14 Pro iPhone 14, and a 2021 launched iPhone 13.
In a world where competition is fierce, and innovation reigns supreme, it is remarkable that Apple's iPhone lineup continues to assert its dominance and captivate the hearts and wallets of smartphone enthusiasts. Out of the top 15 best-selling premium smartphones worldwide, seven of them were Apple iPhones.
Overall, global premium smartphone shipments grew 4.7% YoY in Q1 2023, outperforming the overall smartphone market, which declined 13.3% YoY. It is worth noting that during the period from January to March 2023, premium devices priced over $500 MSRP accounted for 31% of all smartphone shipments. This percentage represents the highest share in the last five years, indicating a significant surge in demand for high-end devices.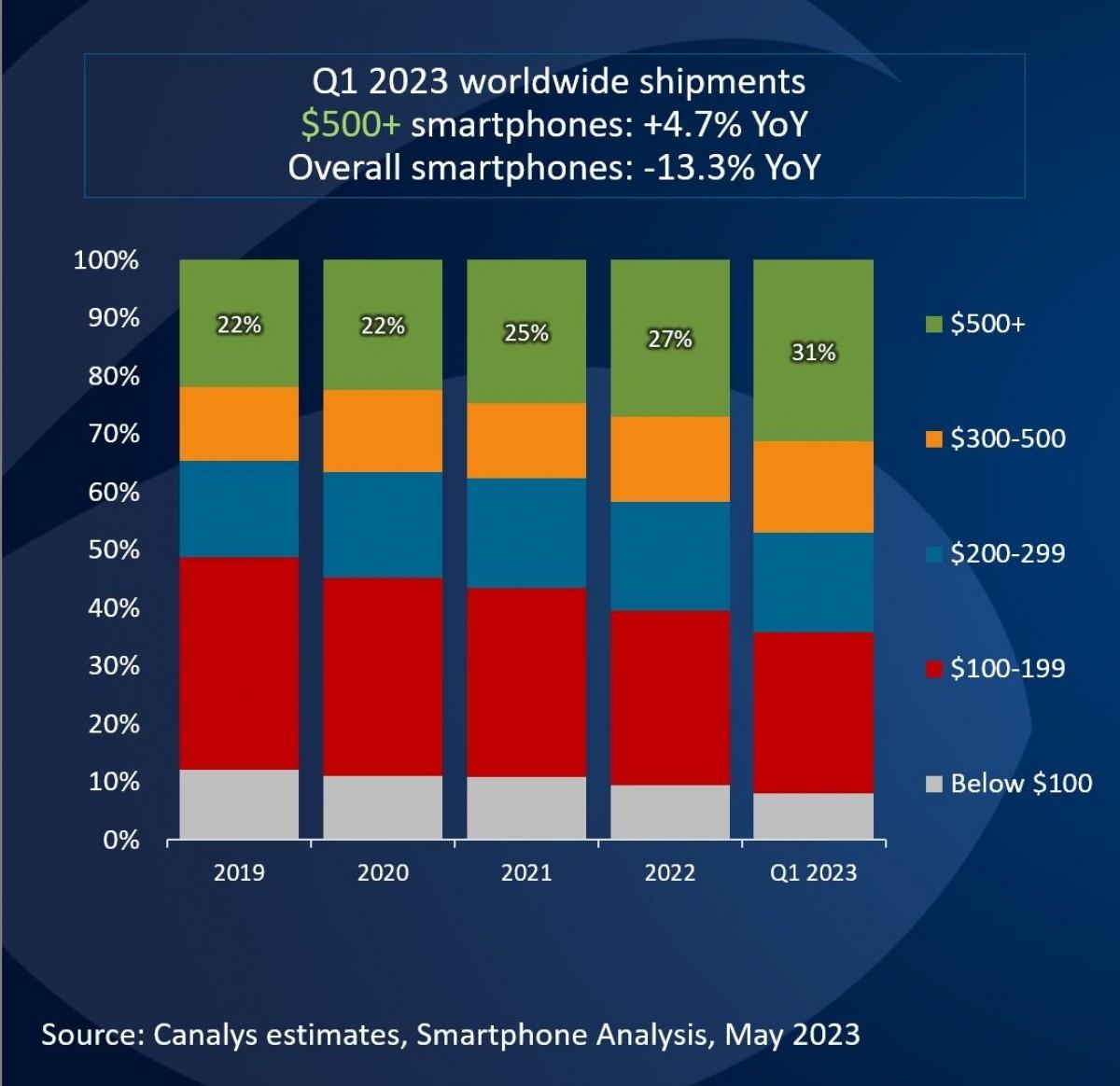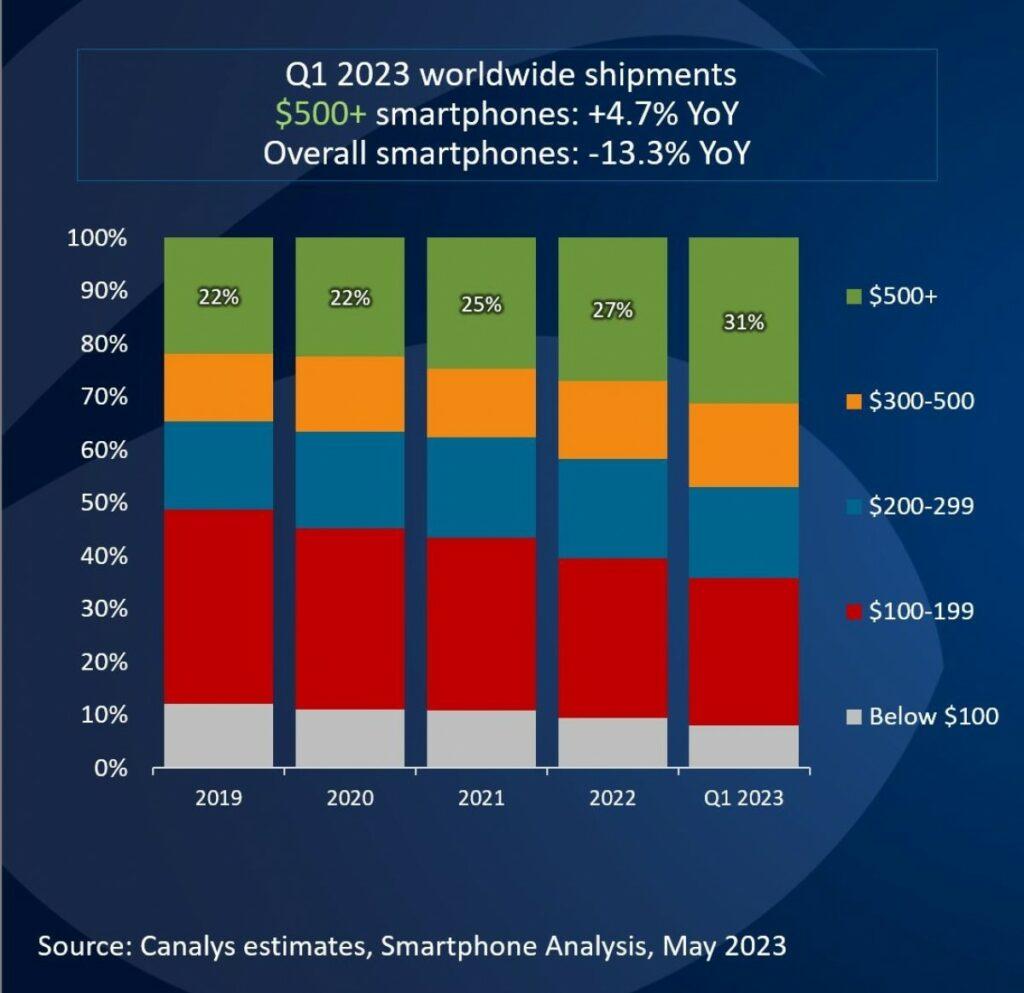 Canalys's latest report on Q1 2023 reveals several key highlights regarding the world's top premium smartphones based on shipments:
Main highlights: Best premium smartphones Q1 2023
The top 15 list of best-selling premium smartphones in Q1 2023 is primarily dominated by devices from Samsung and Apple. Samsung, known for its wide range of premium smartphones, secured six out of the 15 spots on the list.
Samsung Galaxy S23 Ultra emerged as the best-selling Android device in the premium category for Q1 2023. Overall, it secured the fifth position on the top-selling premium smartphones worldwide list.
Other Samsung Galaxy devices that made it to the list of top-selling premium smartphones are Galaxy S23 (7th), Galaxy S23 Plus (9th), Galaxy Z Flip4 (10th), Galaxy S22 (12th), and Galaxy S21 FE 5G (15th).
Xiaomi 13 and Huawei Mate 50 claimed the 13th and 14th spots on the list of most-selling smartphones in the premium segment in Q1 2023.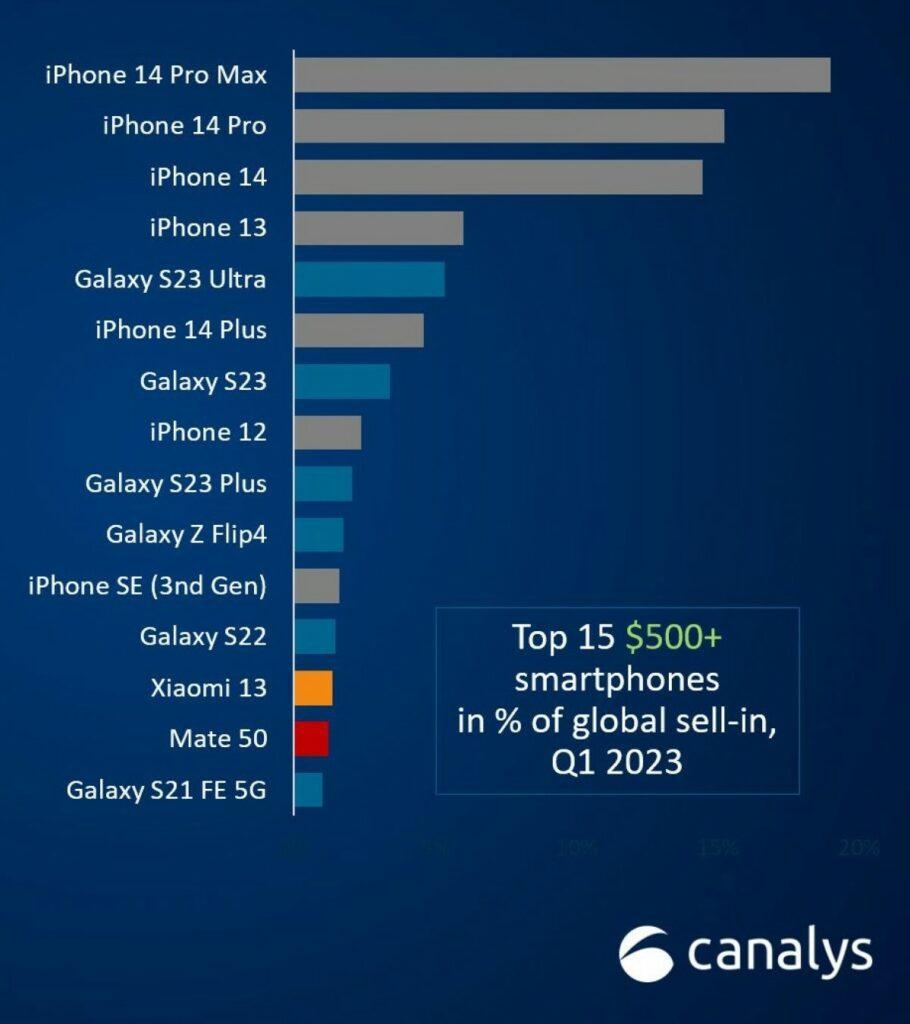 In a nutshell
The list of best-selling premium smartphones in Q1 2023 prominently features Apple and Samsung, securing 13 out of the 15 positions.
The dominance of Apple's iPhone lineup in the premium smartphone market is indeed notable. The success of the Cupertino giant can be attributed to several key factors, such as a strong brand image, loyal customer base, technological advancements and innovations with each new iPhone release, and a well-developed ecosystem. The integration between iPhones, Macs, iPads, Apple Watches, and various services like iCloud and Apple Music offers a seamless and interconnected experience.
Apple also dominates India's premium segment (>INR 30,000) and the ultra-premium segment (>INR 45,000, ~$550), with 36% and 62% market shares in Q1 2023, respectively.
Surprisingly, Google's Pixel 7 series couldn't make the list of best-selling devices in the premium category, despite the Pixel 7 Pro's reputation for its impressive camera performance. The Google Pixel 7 Pro, released in October 2022, is well-regarded for its camera capabilities, including exceptional photo, video, and zoom quality from an end-user perspective. It received high praise from DxOMark, being rated as the 6th best smartphone in terms of camera performance with a score of 147.
The limited availability of the Google Pixel 7 series across the world could be a significant contributing factor to its absence from the best-selling premium smartphones list. Google has chosen to sell the Pixel 7 series in only 17 countries, potentially limiting its reach and market share compared to other brands with broader availability.
Similarly, Oppo's Find N2 is currently limited to the Chinese market, while Honor, after separating from Huawei, has been making efforts to regain its footing in the market. The launch of the Honor Magic5 Pro in Feb 2023 indicates their commitment to reestablishing themselves as a competitive player in the premium smartphone segment. However, the timing of the release in Q1 2023 means that it may have missed out on a significant portion of the quarter's sales.
Overall, it is Apple, once again, that has dominated the list despite being criticised for its exorbitant pricing strategy. Brand loyalty is all-time high, unlike Android users who are switching to iPhones at a much faster rate than before now.
Overall, in spite of receiving criticism for the exorbitant price of the iPhone 14 Pro Max, Apple continues to dominate the list, reaffirming its position as a leader in the industry. The unwavering brand loyalty towards Apple is at an all-time high, with a notable increase in Android users transitioning to iPhones at a faster rate than ever before. Undoubtedly, this could be concerning for Google and Samsung, whose future is closely tied to the popularity and adoption of Android.