The smartphone market is booming, feature phones are still holding the lion's share in developing countries, the wearable industry is ready to roar, even the desktops and laptops are performing to the satisfactory level. But among all such encouraging developments the only mainstream gadget that is facing the heat is the tablet PC. For the first time the quarterly shipments of tablet PCs have dived down to 56 million units in the second quarter of 2014. Though there has been an increase in the units of tablets shipped, the percentage of yearly growth has substantially declined in Q1 2014. Interestingly, the shipment and growth of notebook PCs increased in the same period. All such scenarios have led NPD DisplaySearch to lower their earlier forecast of tablet device shipments in 2014 to 285 million. It's equally important to note that the shipments of tablets and 2-in-1 stood at 195.43 million last year.
Users Prefer Large-Screen Size More!
The shipment of devices with screen size larger than 8 inches is likely to increase by 2018. The first quarter of 2014 witnessed a growth of notebook PCs after a long wait. The refreshed cycle of PCs and the decision to end the support on Windows XP by Microsoft Corporation (NASDAQ:MSFT) could be among the  reasons for positive response from the market. PC refresh cycle is the time period when the computers are retired and/or are upgraded. This loosely means that in every quarter, there will be people who would be looking forward to buying a new PC or upgrading it. The average lifespan of a PC is 3 years. In addition to that, Microsoft ended the support of Windows XP therefore people had to go for new computers leading to more shipment.
"Tablet PC demand in 2014 is being affected by falling demand for the 7" class in emerging regions and in China, where many local white-box brands have experienced lower-than-expected shipment growth. Most major brands have recently reduced their business plans for 2014. There is a risk that the replacement cycle for tablet PCs will lengthen beyond the one to two year range unless brands can develop more attractive usage scenarios," said Hisakazu Torii, Vice President, Smart Application Research at NPD DisplaySearch.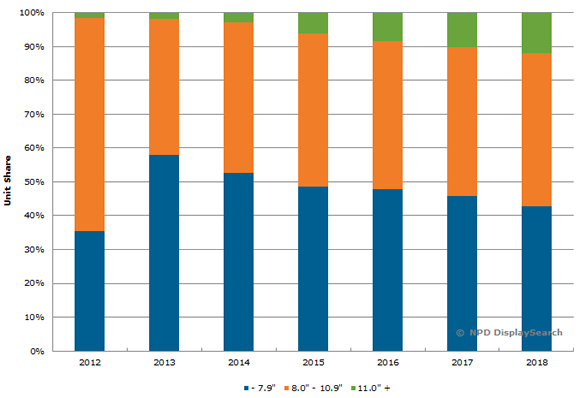 By 2018, the shipments of devices with screen size 11 inches or more is expected to grow three-fold of what it was in 2013, while the shipments of devices smaller than 7.9 inches screen had reached its peak-point in 2013 but is expected to decline further. These stats are well-backed by an IDC report that expects drastic improvements in the shipments of 11+ inch devices by 2018. Like all other smart device shipments, markets of India and China are likely to be huge factors behind the growth and decline of such devices.
Decline of Tablets
The sales of larger-screen smartphones and phablets have affected the tablet market adversely. Just a few days back, Samsung Electronics Co Ltd (KRX:005930) blamed the growing demand of smartphones in the screen range of 5-6 inch for the cannibalized sales of 7-8 inch tablets. With the improved screen resolution of smartphones, the tablets are losing their edge in the market. Moreover, the declining cost of smartphones with upgraded specs and features are major factors to convince users to buy a low-priced, large-screen smartphone rather than a bulky tablet device. Furthermore the trend of Bring Your Own Device is growing, but it hasn't caught with the majority of nations till now. Therefore, consumers prefer to invest in a smartphone and a PC rather than buying a tablet.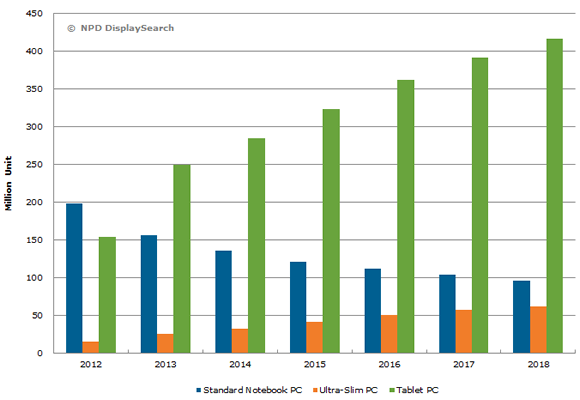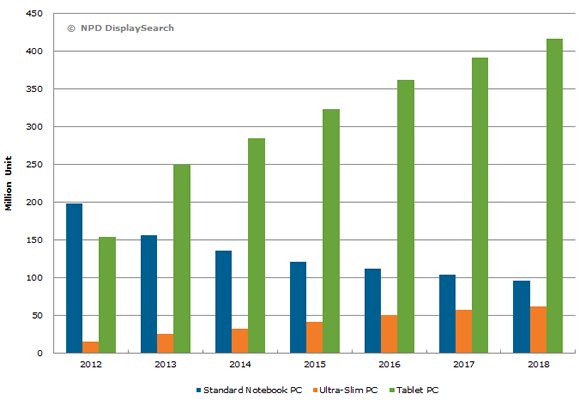 Besides, the advent of ultra-slim notebooks is making a visible dent in the tablet market as the shipment of farther one is likely to double by 2018. Ultra-slim notebooks are slim, sleek, fast and light and comparable to standard notebook PCs in every way.
The tablet sales will not be driven by widespread consumer trends, but by localized markets. Any drastic change is unlikely in the tablet market and though the shipment by number of units will increase, the growth rate will go on decreasing.