Microsoft Corporation (NASDAQ:MSFT) is the latest OEM player in the global smartphone market, following its acquisition of Nokia Corporation (ADR) (NYSE:NOK) devices and services unit. The year 2014 will be an important year for Microsoft Windows Phone 8 OS, as several OEM's worldwide are expected to introduce more devices powered by WP 8 (Windows Phone 8) OS. In India, two local vendors Karbonn and Micromax are reportedly developing a WP device for a 2014 release.
Meanwhile, the smartphone market in India has been thoroughly shaken after the introduction of Moto E smartphone at a jaw-dropping price of Rs 6,999 (US$117) on Flipkart.com. The device is garnering attention, and several OEM's such as Microsoft Mobile have also expressed interest on targeting the bottom end of the smartphone market, especially in India.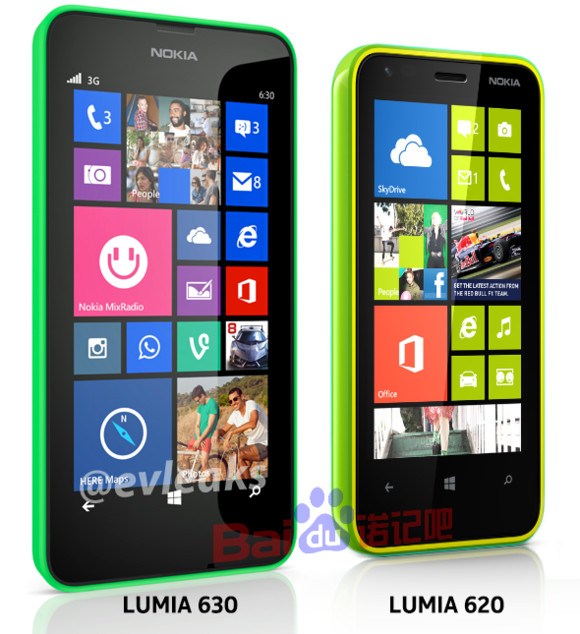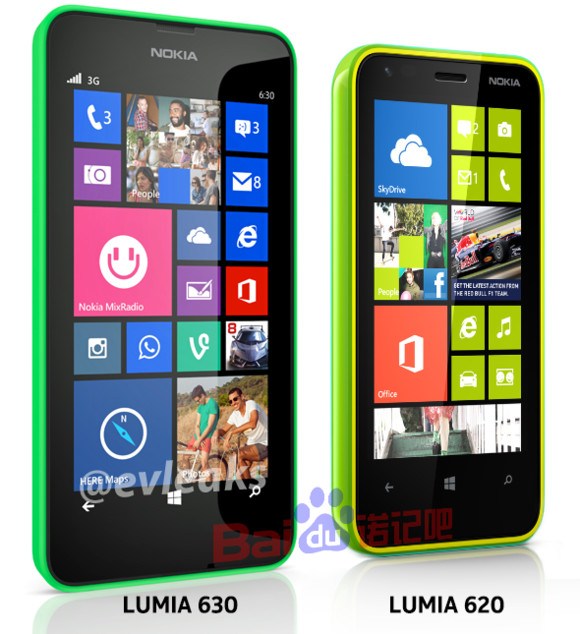 Smartphone Market in India Is Seeing Extraordinary Changes
The smartphone market in India is going through a period of tremendous transformation. A total of 58.9 million mobile handsets were shipped in Q1 2014, of which 14.5 million were smartphones. Samsung Electronics Co.Ltd. (KRX:005930) overtook Nokia as the leading mobile handset vendor with a market share of 20.3%. This was after Nokia's range of smart-feature phones, such as Asha series, fell out of favor with most buyers, who made the shift towards smartphones. This decline allowed Android to be the most dominant OS platform in India due to the availability on low-cost devices. Samsung has been leading this segment for years and with 43.2% market share it still has a lion's share of the indian smartphone market, though emerging new players are challenge the dominance. Motorola and Chinese players, such as Xiaomi, Lenovo and Gionee, are targeting the market aggressively. These factors will ensure that the smartphone market is due for a complete shakeup in late 2014.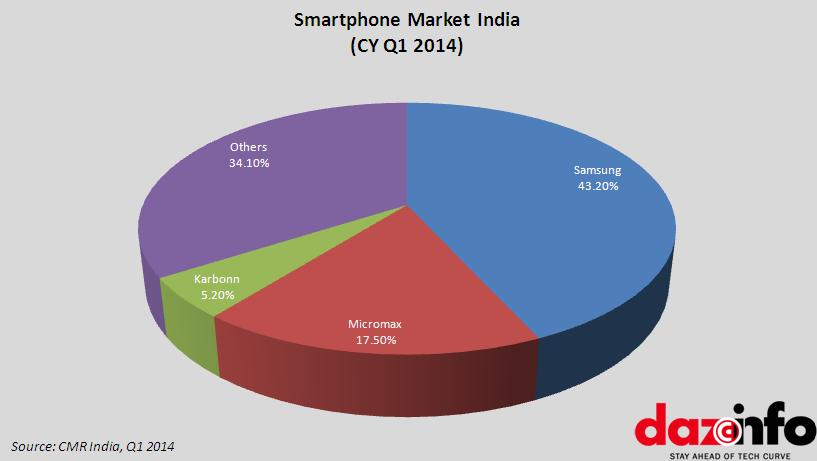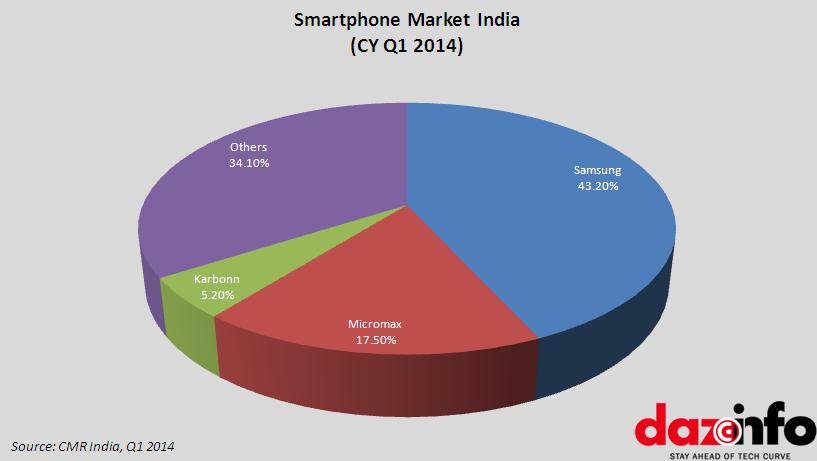 Can Affordable Phones Benefit Microsoft?
Microsoft is looking to follow a different strategy for increasing is market share in India. In an interview with the Economic times, the director of the Microsoft Windows Phone Group Vineet Durani, divulged plans for expanding the Windows Phone OS ecosystem in India. Microsoft is following a strategy of releasing devices at a very cost competitive price, and hopes to bank on the existing Windows OS ecosystem in PC's, laptops and tablets. There are also serious initiatives to attract developers for all the Windows platforms. By using Qualcomm as the main chip-set provider the cost of the WP smartphones will decrease, significantly.
"We always believe as a company that consumers have to have more choice", says Vinod Durani. "Today, consumers demand devices of different types. We are building the Windows device ecosystem the way we built the PC ecosystem over years with different form factors on Windows, from different OEM (original equipment makers) partners, ranging from laptops to PCs to even hybrid devices and tablets. With new local vendors joining the Windows ecosystem, consumers now have more options to buys Windows devices".
Microsoft Is Faced With A Unique Problem After Acquiring Nokia
There is a flip side to the strategy Microsoft is planning to carry out. The company has already announced that the WP 8 OS is free for all devices with a screen size below 9 inches. This was done to increase the market share of WP OS, but could attract challenges for Microsoft in finding a balance between Nokia and other OEM's who have expressed interested in WP 8. Google Inc. (NASDAQ:GOOGL) is not an aggressive hardware player for Android OS, and Apple Inc. (NASDAQ:AAPL) is the only company selling iOS powered products, which puts Microsoft in a jeopardized situation. Although this balanced strategy worked for desktops and laptops, the situation is radically different in the smartphone market. Rebranding is another key strategy Microsoft is neglecting by discarding the brand name of Nokia. If users do not trust, stay unfamiliar with the new brand name or the ecosystem, Microsoft will face serious challenges in selling WP 8 devices.
High cost of Windows Phones is the other important factor. For smooth experience Microsoft has to launch Windows Phones with rather higher hardware specs and this has forced OEM's to launch products for the mid-range category. There are various challenges associated with bringing down the cost of a smartphone down to US$100 or US$150. The low price will undoubtedly be a massive boost in emerging markets such as Asia, Africa and Europe. Motorola has apparently succeeded with this technique with the Moto series smartphones and there is no reason for Microsoft not to copy the strategy as well. The release of the Nokia X devices powered with forked version of Android highlighted the challenges in launching a budget Windows Phone 8 OS smartphone. On an average only 50 million Windows Phone 8 OS devices will be added globally every year, unless other OEM's show more interest.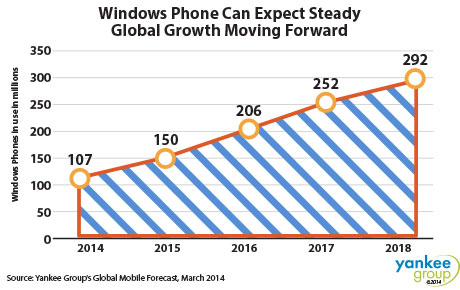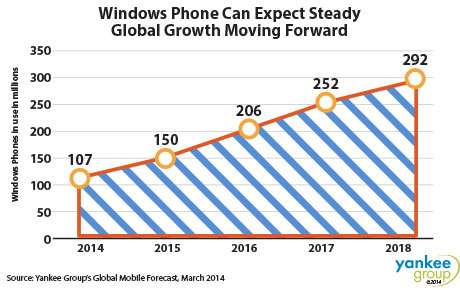 In emerging countries, however, Android will continue to dominate for the next few years. In 2014, one billion Android powered devices are estimated to be shipped mostly to emerging markets. The lack of visibility in the Windows phone platform will undoubtedly affect Microsoft initially. Either way it is a late entrant and with such a competitive market it will undoubtedly be left in the dust.