Samsung Electronics Co.Ltd. (KRX:005930) is now officially the leader of the smartphone and mobile handset market in India. In Q1 2014, the market share of Samsung among mobile handsets in India jumped to 20.3% from 15.6% in Q4 2013. According to CMR's India Monthly Mobile Handset Market Review for Q1 2014, a total of 58.9 million handsets were shipped in Q1 2014 and Y-O-Y growth was 8.9%. Overall smartphone shipments in Q1 2014 accounted for 24.6% of all mobile handset shipments in India.
The biggest success story is undoubtedly the smartphone explosion in India where the shipments grew by 219.4% between Q1 2013 and Q1 2014. A total of 14.5 million units of smartphone were shipped in Q1 2014. Several brands are increasing their focus on India, which is now the third largest smartphone market behind the U.S and China.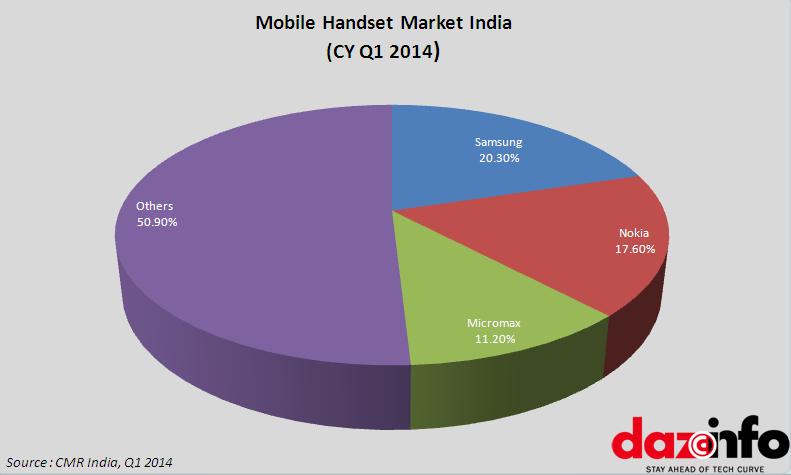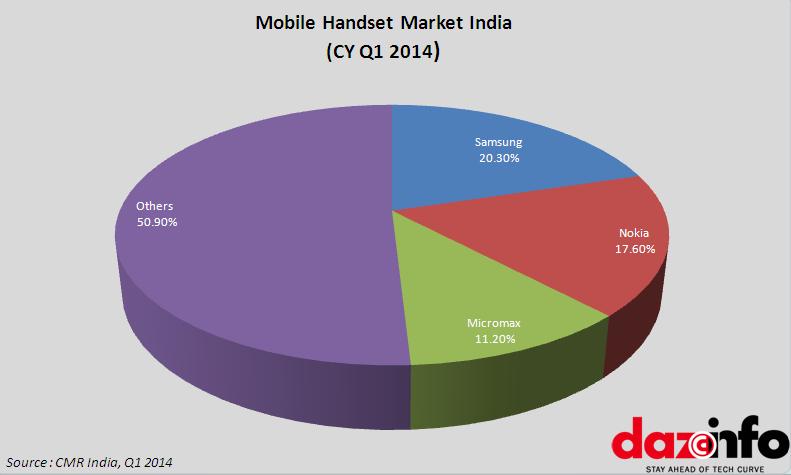 Samsung Overthrows Nokia To Grab The Top Spot
The mobile handset market in India is divided into smartphones and feature phones. In Q1 2014, sales of feature phones were higher than those of smartphones. A total of 56.2 million feature phones were shipped in Q4 2013, which declined steeply to 44.4 million in Q1 2014. The shipment of feature phones declined by 21.1% from the last quarter and 6.5% Y-O-Y and the main loser in the feature phone market is Nokia Corporation (ADR) (NYSE:NOK).
Nokia is struggling to retain its place in India. Its market share in the mobile handset market currently stands at 17.6%, mainly due its range of feature phones. The Asha smart feature phones helped Nokia carve a place in the feature phones segment. However, it failed to upgrade these devices fast enough to catch up with its competitors. Ironically, Nokia's feature phones may have allowed other brands to promote smartphones in India. The company is trying to attract more Android users with the introduction of the Nokia X range of smartphones.
Meanwhile, Samsung has diversified its portfolio of devices to appeal to a wide range of customers. Its market share in the mobile handset market has soared to 20.3%, overtaking Nokia to grab first place. It also dominates the Indian smartphone market with an enormous 43.2% of market share. However, the coming year will see the arrival of more brands in India and Samsung will have to fight to support its market share. Sensing the potential in the Indian smartphone market, Samsung is reportedly considering launching its first smartphone powered by Tizen OS in India.
Local Brands Facing The Heat As Competition Increases
The other interesting trend being observed is the rapid emergence of the local brand Micromax. In the mobile handset market its market share now stands at 11.2% and it is still trailing Nokia. Its market share among smartphones increased by 1.8% in Q1 2014 to reach 17.5%. It still lags far behind Korean Giant Samsung and new emerging brands are about to make things even tougher. Karbonn Mobile is still in third place behind Micromax, but its smartphone market share has collapsed to 5.2%  during Q1 2014, a drastic decline from 11.2% during Q4 2013.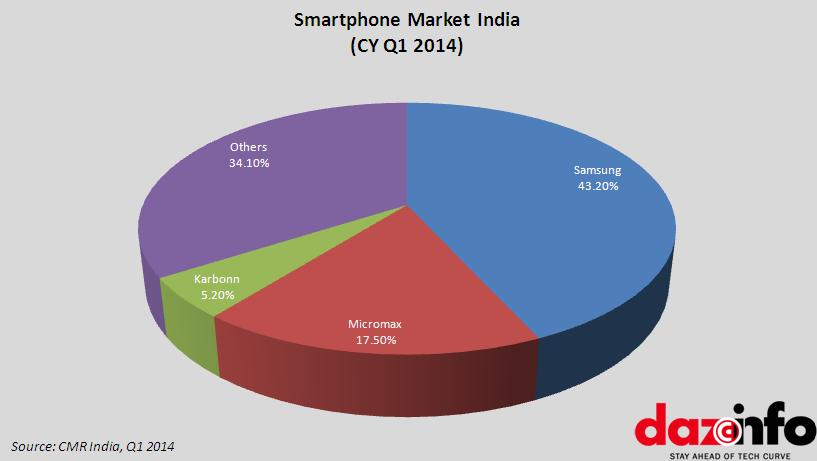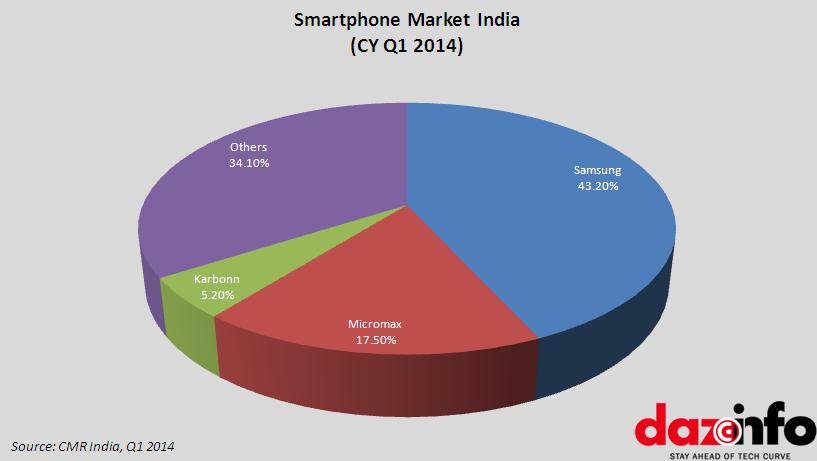 The war in the Indian smartphone market has only just begun. There are several new entrants such as Motorola with its competitive range of budget smartphones. John Sculley the former CEO of Apple is planning to launch a brand of smartphones named Obi in India. Chinese smartphone vendors such as Xiaomi,  Gionee and Huawei Technology Co Ltd (SHE:002502) are also targeting the Indian smartphone market aggressively.
Apple Inc. (NASDAQ:AAPL) is the only remaining global smartphone vendor which has not made an aggressive push in India. The company reported a 55% Y-O-Y increase in sales of iPhone in India, during its Q2 financial earnings report. It still has a negligible market share in India, but has announced big plans for the future. There are plans to launch 200 small stores in India, and sell various iPhone versions such as the iPhone 5C 8 GB variant and the iPhone 4S.
There could be a new twist with the arrival of more phones powered by Windows Phone 8.1 OS. Microsoft Corporation (NASDAQ:MSFT) has waived the Windows mobile license fee for devices with screen size below 9 inches. Several Indian vendors such as Micromax, Karbonn and Lava are planning to introduce devices powered by Windows Phone 8.1 OS. The reception to Windows 8.1 on a global scale was extremely good with adoption rates soaring to 3.1% on all WP 8 devices within three days of its release. It remains to be seen how consumers in India respond to the Windows Phone devices.
3G Budget Smartphones Are The Biggest Factors Driving Growth
The rapid rise of 3G in India is the main factor pushing mobile growth in India. During Q1 2014, 68.3% of smartphones shipped in the country were 3G enabled. The next wave of demand will undoubtedly be from consumers who are hungry for more data usage. There are also expectations from consumers for more devices which can be used for a wide rage of activities. Those vendors who focus on providing a great overall device experience to users are bound to benefit the most. The average Indian smartphone user has matured to a point, where a vendor cannot market his device based on a certain set of specifications alone.