Nokia Corporation (ADR) (NYSE:NOK) reported its interim financial results for its Fiscal Q1 2014, posting a fall of 15% in revenue Y-O-Y to US$3.68 billion, with net losses amounting to US$330 million, owning to poor performance of the device and services division. Despite the handset division generating US$2.66 Billion in revenue, sales have dropped by 30% Y-O-Y, and operating losses have widened to US$452 million, a steep increase from the US$100 million loss, during the year ago quarter. Without the handset division, the company would have reported US$150 million in profits. This is the last quarterly report by Nokia, which will include the handset division. The restructured Nokia Corporation will be headed by Indian born CEO Rajeev Suri, who announced that a part of the acquisition money received from Microsoft Corporation. (NASDAQ:MSFT) for Nokia's handset business would be redistributed among share holders. Nokia's share price went up by 7.1%, after the earnings report.
The problems in Nokia's handset division can be found in the latest report from Strategy Analytics which tracked worldwide mobile shipments for Q1 2014. According to the report, global mobile phone shipments grew by 9% annually from 372.7 million units in Q1 2013, to 407.9 million units in Q1 2014. This big 9% growth rate of the overall mobile phone market is at its highest since 2011, driven by a strong demand for 3G and 4G devices across Africa and other countries.


Samsung Dominates The Global Mobile Market, Nokia's Share slips by 5%
Samsung Electronics Co.Ltd.(KRX:005930) shipped 113 million mobile phones, of which 89 million were smartphones. It remains the behemoth in the global mobile market by shipping more mobile phones than Apple, LG and Nokia combined. Its market share in the global mobile phone market  stands at 27.7% for Q1 2014, a decline from 28.6% a year earlier. Despite having 32.4% of market share in the worldwide smartphone market, Samsung is increasingly facing challenges from Chinese brands such as Huawei Technology Co Ltd. (SHE:002502), which is targeting the African and Asian markets aggressively.
Nokia has retained its second place for Q1 2014. By selling 47 million mobile phones, it currently has 11.5% of the global mobile phone market, a decline of 16.6% from a year earlier. This massive drop of 5%, can be attributed to the low sales of  Nokia Lumia smartphones, and lack of demand for traditional mobile handset devices. In Q4 2013, it was estimated that Nokia sold just 8.2 million Lumia devices, meaning the figures could be worse for Q1 2014. The first quarter is typically a slow period for device sales, being the off-season for device purchases. This means that out of 47 million mobile devices shipped, at least 39 million devices were mobile handset devices. In the smartphone segment, Nokia is far behind other OEMs including Lenovo Group Limited.(ADR)(OTCMKTS:LNVGY), LG Electronics Inc. (KRX:066570) and Huawei.
Apple Gained By 0.7%, LG Surges Ahead
Apple Inc. (NASDAQ:AAPL) shipped 43.7 million iPhones in Q1 2014, an increase from 37.4 million from the year ago period. Apple's mobile market share currently has also increased from 10.0% last year to 10.7% in Q1 2014. By sharpening  the focus on the iPhone in the past few years, it now commands 15.3% of the global smartphone market for Q1 2014, far ahead of the third placed Lenovo at 4.7%.  Apple is now just 0.8% behind Nokia, and the release of the iPhone 6 in the next few months, could potentially allow it to reach second place.
LG shipped 16.4 million mobile devices in the quarter, of which 12.4 million were smartphones according to LG's fiscal Q1 2014 report, grabbing 4% of the global mobile market. Despite a declining market share among mobile devices, LG's popularity among smartphone users has surged recently owing to strong sales of LG G2 in U.S, and upcoming release of LG G3. The Korean giant is estimated to hit an all time high in smartphone sales in the next quarter, and is expected to sell at least 60 million handsets throughout 2014.
Huawei Is The New Elephant In The Room, By Doubling Its Growth Rate
Huawei is fast emerging as a key player in the smartphone market, whose influence can longer be ignored. By shipping 14.2 million mobile devices, an upsurge from 11.6 million devices shipped during Q1 2013. Its mobile market share worldwide, has increased by 0.4 % in one year, to 3.5%. Even more surprising is the company's annual growth rate, which is two times higher than the mobile phone industry's average, allowing Huawei to reach fifth place in the global mobile market. Its 3G and 4G Android devices are available at low prices, and are popular across North America and Asia.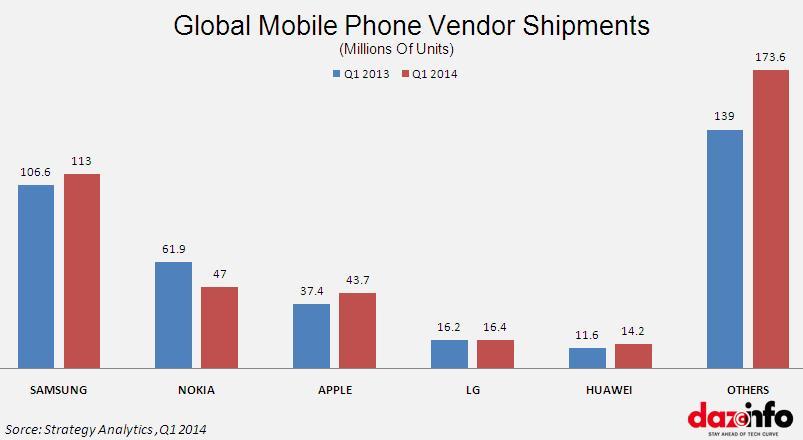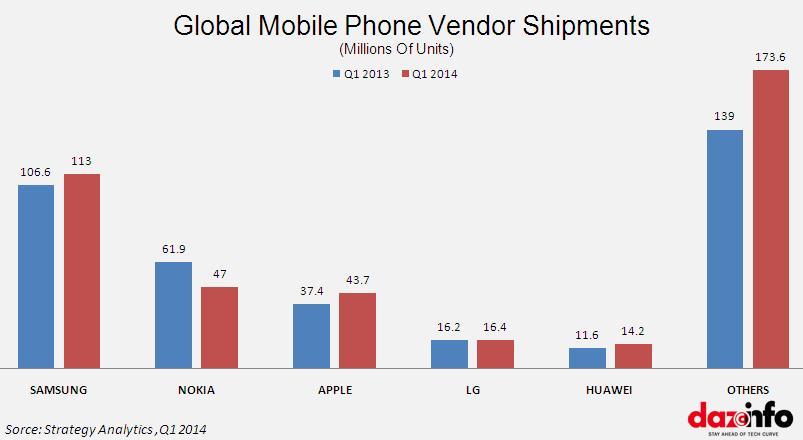 Microsoft Will Bear The Brunt Of Nokia's Misfortunes
It's already a fact that sales of traditional handsets are in decline, with smartphones outselling feature phones for the first time in 2013. Between Q1 2013 and Q1 2014, growth in the smartphone market was 33%. As the market for handsets begins to disappear, Nokia's influence as a global mobile power will decline, until it can sell more smartphones. That period may already be over as Chinese brands such as Xiaomi , ZTE Corporation. (SHE:000063) and Huawei have used the prevailing conditions, and existing infrastructure in Asia and Africa to their advantage.  By selling low-cost 3G and 4G models, they are making a name for themselves in these markets.
The race is now towards the lower-end of the smartphone market, where growth is currently the highest. By 2017, half of all mobile devices will be used as smartphones. Growth in the Smartphone market will slip to single digits by the year 2017, meaning their isn't  enough time to sell more smartphones, than all other brands. Microsoft will have to bear the losses from Nokia's handset division  for the next few years, or it can risk exiting the business entirely. Until sales of Lumia devices gain more traction, and finally yield profits, Nokia will remain a headache for the Redmond Giant. To offset any losses to the Windows Phone OS, Microsoft has given away its OS for free to other vendors. Another strategy has been to allow Nokia to sell entry-level phones, powered by a forked version of Android. Nokia may have pioneered the era of mobile handsets, but in the new era, its influence is fast waning, to a dot on the smartphone landscape. Meanwhile, Apple, LG and other Chinese brands will grow in the void it leaves behind.