When YouTube burst onto the scene in 2005, no one could have predicted the whirlwind it would create. Long-form videos became the kings of online content, captivating audiences with their lengthy narratives. However, as technology advanced and internet speeds improved, users' preferences began to shift. Enter the era of short-form video content – a mesmerizing world of brevity and instant gratification. These short videos, ranging from a few seconds to a minute, dazzled with music, effects, and filters, allowing users to create and share compelling stories in the blink of an eye. Who could have predicted this whirlwind transformation?
The world of social media witnessed a mesmerizing surge in the popularity of short-form video content in India between 2021 and 2022, according to the latest Comscore data. This breathtaking transformation captured Indian users' attention and reshaped the digital landscape. During this period, two major players emerged as frontrunners: Instagram Reels and YouTube Shorts. These platforms harnessed the power of concise videos to captivate audiences and generate astounding levels of engagement.
The growth statistics are nothing short of remarkable. From 2021 to 2022, Instagram Reels experienced a staggering 171% increase in engagements on its social media platform.
With an astounding 2.2 billion engagements in 2022 alone, Meta-owned Instagram Reels stood tall as the undisputed champion of the short-form video panorama. Its ability to captivate and engage users surpassed all expectations, solidifying its position as the go-to platform for captivating and creative short videos.
However, it was YouTube Shorts that truly astounded everyone with its exponential growth. As the newest addition to the short-form video scene, YouTube Shorts arrived in September 2020, initially launching in India. In 2022, engagement on YouTube Shorts in India skyrocketed by an astonishing 3940%, reaching an astounding 1.5 billion. To put this into perspective, it began with a modest 39 million engagements in 2021, showcasing an exponential growth that defied all expectations. This unprecedented surge demonstrated the immense appeal of short-form videos on the renowned video-sharing platform.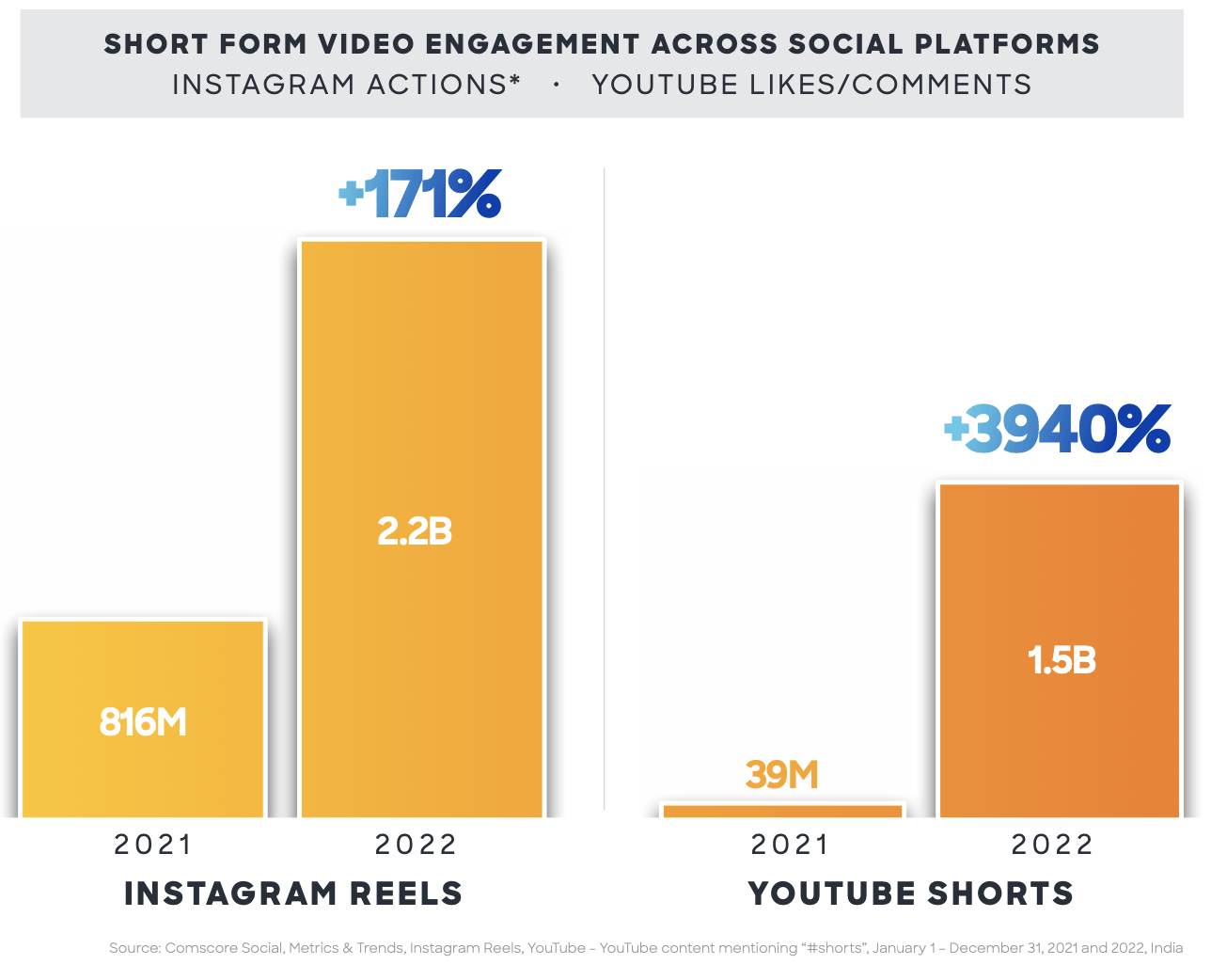 Indians Want More Instagram Reels
The landscape of short-form video content is constantly evolving, and in the battle for dominance, Instagram Reels has emerged as a force to be reckoned with. While YouTube Shorts made a remarkable impact with its rapid adoption and engagement in India, it is Instagram Reels that is now taking centre stage.
In 2022, an intriguing shift occurred within Instagram's own social platform, highlighting the changing dynamics of user engagement. For the first time, Reels surpassed Carousel content in commanding user actions such as likes, comments, etc. This milestone marked a significant turning point, as Reels cemented its position as the preferred choice for Indian users seeking quick, engaging, and immersive video experiences.
Reels' ascendancy over Carousel content on Instagram showcases the growing demand for short-form videos. Indians are increasingly drawn to the captivating nature of Reels, which allows them to explore a diverse range of content in a concise and visually dynamic format.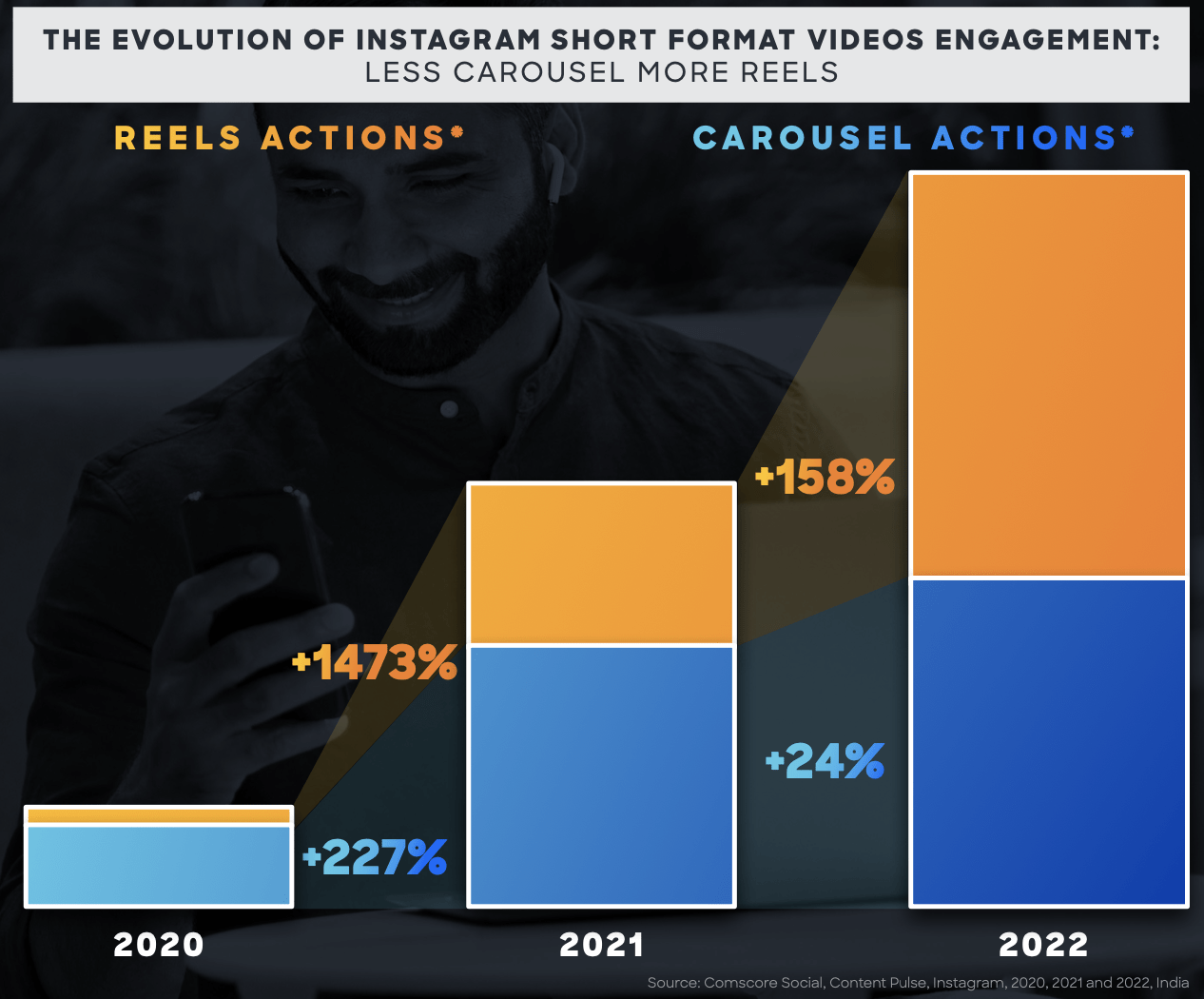 In response to this growing demand, Mark Zuckerberg has been introducing additional features to enhance the user experience on Instagram, making it a more immersive platform for users worldwide.
Birth of Short-Form Video Content
The birth of short-form video apps marked a significant turning point in the digital landscape. Vine, launched in 2013, revolutionized the concept of short-form videos with its six-second looping format. It sparked a creative explosion, encouraging users to tell engaging stories within the constraints of a few seconds. Although Vine was discontinued in 2017, its impact on the short-form video format was significant.
TikTok, launched in 2016, took the short-form video concept to new heights. With its algorithm-driven content discovery based on user preferences and emphasis on music-driven videos ranging from 15 seconds to one minute, TikTok captured the hearts of millions worldwide, particularly among young generations. Its intuitive editing tools, effects, and challenges fostered a thriving community of creators and viewers.
TikTok's monetization strategy primarily revolves around advertising and partnerships with influencers. The platform provides various advertising options for businesses, allowing them to reach a massive user base. Additionally, TikTok influencers, who have gained popularity and amassed large followings, have become valuable marketing assets for brands looking to promote their products or services.
The unprecedented success of TikTok, coupled with its ban in India and other countries, has triggered a ripple effect in the popularity of short-form video content. The vacuum created by TikTok's absence has led to the emergence of alternative short-form video apps and motivated existing platforms to incorporate similar features.
India has witnessed a surge in the popularity of short video apps, particularly during the Covid-19 pandemic. In 2021, it was estimated that around 40% of smartphone users in the country were actively engaging with these apps, highlighting the widespread adoption and appeal of short-form video content.
In 2020, Instagram responded to this demand by testing the 'Reels' feature in India, joining the wave of newly created short video-sharing apps.
Mark Zuckerberg, the CEO of Meta (formerly Facebook), has been a visionary in recognizing the tremendous potential of video content. Back in 2014, he made a bold prediction stating that video would dominate the platform (Facebook) within five years. This foresight led to a strategic focus on incorporating various video-sharing features across Meta's family of apps.
True to his vision, Meta has since rolled out an array of video-sharing features, including Watch Party, Facebook Lasso, Instagram Reels, and 360-degree videos, catering to a wide range of long and short-form content.
During the same year, 2020, YouTube, the world's largest video-sharing company, introduced the Shorts feature within its platform. The popularity of YouTube Shorts can be attributed to its integration with the existing YouTube ecosystem, leveraging the platform's massive user base and vast content library. To further support the growth of the Shorts community, YouTube launched the Shorts Fund. This initiative provides financial incentives to creators for producing high-quality and engaging Shorts content. By offering these incentives, YouTube aims to encourage more creators to embrace the Shorts format and contribute to expanding the Shorts community.
Despite the emergence of various homegrown players such as Roposo, Chingari, Moj, MitronTV, and many others, it is surprising that none of them has been able to compete with the dominance of Instagram Reels and YouTube Shorts in India. These two platforms have established a stronghold in the Indian market, captivating users with their extensive reach, user-friendly interfaces, and the backing of globally recognized brands.
As India's short-form video market continues to flourish, fueled by increasing user engagement and adoption, the potential for monetization becomes increasingly apparent. Redseer Strategy Consultants estimates the market to be between $8 billion and $12 billion by 2030.
In the ever-evolving landscape of social media and video content, what new transformations and innovations can we expect to see in the world of short-form video in the coming years? Let us know your views in the comment section below.