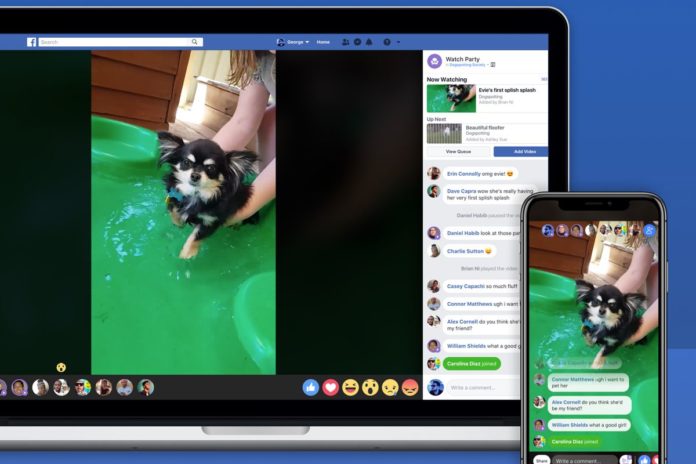 Social media giants are in constant competition to allure its user base, and Facebook is nowhere behind in this battle. After testing out the 'Watch Party' for six months now,  Facebook Inc. (NASDAQ:FB) has finally rolled out this feature for all its users around the globe. The 'Watch Party' feature, which was initially launched in January, enabling Facebook group members to watch videos together in real time. Moreover, viewers can interact with each other while watching the videos, either live or recorded.
The 'Watch Party' feature will allow Facebook groups to host shared video streaming sessions, with all the members of the group being able to watch and comment on the videos at the same time. For a better explanation, consider the Facebook Live concept and swap in a row of already selected videos to form a kind of ad-hoc video channel – that would be a Watch Party for you. It is for the purpose of creating a "shared viewing experience" for its users.
Live Videos Garner More Eyeballs On Facebook
Statistically, the Live videos on Mark Zuckerberg's platform garner six times more discussion, which does not happen that much on the regular videos. According to Facebook, in 2017, over 20% of all Facebook videos were live videos. Watch Party is an attempt by Facebook to bring that charisma to recorded videos. However, in the Watch Party, there would be a more intimate vibe – as your comments would not get lost amidst the thousands of comments made on a Live Video. In the past, people hesitated from commenting on public videos as they felt ignored – they felt like they were trying to yell into an infinitely loud public square. This new feature launched by Facebook could make people feel heard, which would ultimately make Facebook a better second screen.
Recently, Facebook is trying its level best to encourage meaningful interactions, so that the people who spend their time on this platform do not feel like they wasted their time.
We're going to focus our products on all the ways to build a community around the video that people share and watch. That's something Facebook can uniquely do, Facebook CEO Mark Zuckerberg said.
Facebok Watch Party: Key Features
Along with the above-stated feature, two more features are also being inaugurated for the purpose of easing out the burden of the group administrators and moderators. These are the people who are responsible for the selection of videos to be added on Facebook Watch Party.
Co-hosting permits the host of a Watch Party to add more co-hosts, who can add videos to the list – so that the Watch Party keeps on going, with the host being a little relaxed.
Crowdsourcing is another feature through which the group members, who are in Watch Party, can suggest videos for the host to add to Watch Party.
All this is being done for the sole purpose of engaging people and keeping them stuck to its platform. Fidji Simo, Head of Video – Facebook, thinks highly of the feature.
Watching, commenting and reacting to the same moments together helps build the kind of community and engagement we've seen with Live, says Fidji
Facebook Is Working On the Cons
Facebook has had its own share of negatives, when it launched Livestreams, which reported some people to use the tool to live stream violence, including murders and suicides. If this happens in Watch Party, it could be hazardous for its userbase as well as its reputation.
However, Facebook has worked a lot to improve its AI to flag violent content proactively. Facebook said it removed or added warning labels to about 3.5 million pieces of violent content during the first three months of the year, and 86% of the were flagged by its technology.