The ban on TikTok in India gave birth to many short-video sharing platforms, with ShareChat and Moj emerging as the nation's favourites. Mohalla Tech, the parent company of ShareChat and Moj, recently disclosed its financial performance for the fiscal year 2023, which ended on March 31, 2023. The company clocked a whopping 62% YoY growth in its revenue from operations in FY23, amounting to ₹540 crore. However, Mohalla Tech's losses also surged 38% YoY to ₹4,064 crore.
According to the Registrar of Companies (RoC) filings, approximately ₹255 crore of Mohalla Tech's total revenue was generated through advertising, while the remaining portion came from in-app virtual gifting. Despite advertising being the primary revenue source for the parent company of ShareChat, efforts have been made to promote in-app transactions as a revenue vertical.
ShareChat's Virtual Currency Overtakes Advertising
Delving into the details, ShareChat's revenue from operations increased a strong 59.4% YoY, amounting to ₹533 crore in FY23 from ₹347 crore in FY22. However, the in-app virtual currency, 'ShareChat Coin,' steals the spotlight. Income generated from ShareChat Coin has outpaced advertising revenue, contributing a significant 52% to the company's total revenue.
ShareChat's revenue from ShareChat Coin rose 2.3X YoY, from ₹121 crore in FY22 to ₹285 crore in FY23.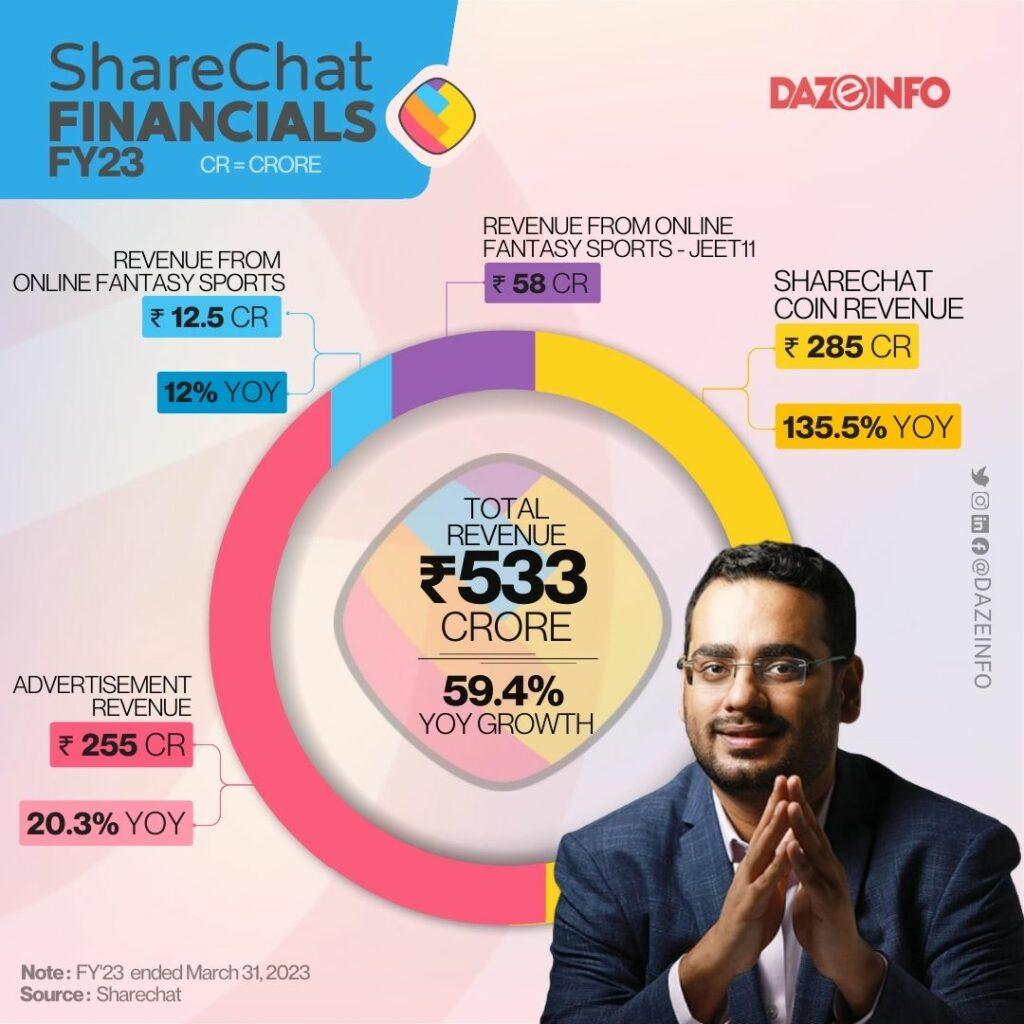 The advertising business accounted for 47.8% of ShareChat's total revenue during FY23, amounting to ₹255 crore. A commendable 20.3% YoY growth showcases the platform's ability to attract advertisers and capitalize on the burgeoning short video market.
A noteworthy development in this storyline is ShareChat's strategic decision to discontinue Jeet 11 in December 2022, citing its inability to gain significant traction in the market. As a result, the platform recorded a notable 12% loss in its revenue from Jeet11, amounting to ₹12.5 crore in FY23.
ShareChat's two major revenue contributors in FY23 were none other than tech giant Google and the dynamic Shine Agency. Together, they brought in a substantial revenue of approximately ₹58 crore. This partnership underscored ShareChat's strategic alliances with industry giants, contributing significantly to its financial success.
Expense Breakdown
The surge in losses for ShareChat's parent can be attributed primarily to non-cash items such as increased financing costs and impairment of investments in subsidiaries.
Mohalla Tech reported a slight decrease in operating costs at an EBITDA level, amounting to ₹2,372 crore in FY23 (excluding non-cash items), compared to ₹2,578 crore in FY22.
Mohalla Tech's CFO, Manohar Charan, stated that the company aims to reduce its losses to below ₹1,000 crore in the current financial year by streamlining costs across key business segments such as ShareChat and its short-video platform, Moj.
Mohalla Tech's Interest payments on debentures amounted to ₹215 crore in FY23, up from ₹88 crore in FY22. An impairment of ₹817 crore on the investment in a subsidiary significantly contributed to the increased losses during FY23.
ShareChat, functioning as a social media platform, allocated a substantial portion of its budget to server expenses, constituting 26% of the overall expenditure during FY23. This expense rose 21% YoY to ₹1,022 crore in FY23 from ₹845 crore in FY22.
What's more surprising is that ShareChat made a substantial cut in its spending on business promotion during fiscal 2023. The company allocated only ₹564 crore for promotions, marking a notable decline of 50.7% YoY in FY23.
Diverse elements, including employee benefits, content development, analytics & tools, legal cum professional fees, finance costs, and various overheads, collectively contributed to a 16.2% YoY upswing in the total expenditure of ShareChat during FY23. The overall expenses of ShareChat increased to ₹3,959 crore in FY23 compared to ₹3,408 crore in FY22.
On a unit level, ShareChat spent ₹7.4 to generate a rupee of operating revenue in FY23. This expense-to-revenue ratio is notably high, making it one of the highest among unicorns in the fiscal year 2023.
ShareChat's losses shot up a modest 8.4% YoY, to ₹3,241 crore in FY23, from ₹2,989 crore in FY22.
Challenges Amidst Layoffs and Leadership Changes
In January 2023, Mohalla Tech, backed by marquee investors including Google, Tiger Global, and Snap, Inc., fired nearly 500 employees or approximately 20% of its total workforce. Soon after the layoffs, ShareChat's co-founders, Bhanu Pratap Singh and Farid Ahsan, stepped down from their active roles. Additionally, the company has put a complete halt on its marketing spending. These strategic decisions were notable, considering that Mohalla Tech had successfully secured $255 million in funding in June 2022 from Google and other investors at a valuation of $5 billion.
In conclusion, the financial landscape of ShareChat and its parent company, Mohalla Tech, paints a challenging narrative. The company has been struggling to keep its operations intact despite raising substantial funds from industry behemoths like Google.
Even though ShareChat is trying to keep its expenses in check by spending less on marketing and promotions, the increasing competition from global players such as Instagram Reels, Facebook Reels, and YouTube Shorts poses a major challenge in the race to attract more eyeballs and retain the existing users. The company grapples with difficulties in effectively monetizing its extensive user base, leading to doubts about the sustainability of its business model. As the short-video-sharing landscape in India navigates through intensifying competition, the future of ShareChat and similar platforms remains uncertain, awaiting the resolution of these pressing challenges.