Facebook Inc. (NASDAQ:FB) is willing to take the competition to a whole new level, and the only way to get it done is by empowering users. In August 2015, for the first time, Facebook Live was launched for the celebrities. Later in April 2016, it was made available to the global public. Since then, Facebook Live has managed to capture a lot of attention from businesses and publishers. Backed by an aggressive marketing strategy, Facebook is doing everything to make this feature accessible for the common man as well.
As a continuation of these efforts, Facebook is now launching Live 360 which will allow people to broadcast live videos in a 360-degree format. Facebook's News Feed will stream these live videos directly. 
Earlier, Facebook had launched Facebook 360. It allowed publishers to take advantage of 360-degree photos and videos and publish them on Facebook. Facebook had also pushed VR videos on its platform as an outcome of an important acquisition.
This time, Facebook planned on combining its two key aspects, Live and 360, to provide users with an authentic and immersive experience while watching videos. However, the 360 live videos will not be available on VR headsets as of yet.
The first Facebook Live 360 video was broadcasted on December 13 at 12 pm PT / 3 pm ET. Facebook will stream a live video with National Geographic. They are going to go live from the Mars Desert Research Station facility in Utah. The option will be available to other publishers on the Live API from next year. 
Desperation To Market Facebook Live
Facebook Live is the company's biggest product launch this year. It has been pushing the product and marketing it vigorously for the past one year. However, it is a little weird to see so many efforts in marketing from Facebook. Till date, Facebook never had the need to market any product whatsoever. Advertising and marketing of other businesses were its sole revenue source. But this time, things look different. Facebook seems to have put a lot of faith in the Live video facility and is marketing it far and wide.
It launched a huge marketing campaign with TV commercials, bus wraps and billboards in an effort to push people to broadcast from their phones. These ads contained a not-so-subtle step-by-step method on how to broadcast videos too. Besides, Facebook has apparently paid nearly 140 celebrities and media companies worth $50 million to stream live videos on its Feed. BuzzFeed was slated to receive $3.05 million. It has been broadcasting live from March 2016 and will continue till March 2017. Facebook also started making deals with Internet stars to post Live videos on the site.
Why Is Facebook Pushing Facebook Live?
Facebook Live has been doing great so far in 2016. Statistics show that brands streamed almost 200 live videos on their Facebook Pages in June, six times that of January. Also, users have posted comments ten times more on live videos than they would do on regular videos. Further, the percentage of videos posted regularly has increased by 75% from last year. Videos also have a 135% more organic reach than photos.
In 2015, Facebook boasted 8 billion video views per day. In January, an average of 100 million hours of videos was watched daily on Facebook.
The above statistics clearly highlights the growing consumption and popularity of video content. As most of the developing countries are going through the internet revolution, the availability of high-speed Internet broadband and mobile connectivity will only help Facebook users to learn towards video content.
With an estimated $6.86 billion to be spent on video advertising by 2019 (which is nearly half the overall digital advertising amount), Facebook Live could become its biggest asset.
Facebook Live Needs The Push
According to Business Insider, Facebook Live doesn't seem to be doing that well as expected. As of Q3 2016, Facebook has nearly 1.18 billion daily active users and engaging these users with interesting and up-to-date live content is a tough challenge.
Brands and celebrities have adopted Facebook Live as a means of marketing and reaching out to people. But the common man is yet to use Facebook Live effectively. Attracting the common public towards the Live feature is one of the biggest challenges at the moment. This is one of the primary reasons for Facebook's rigorous campaigns.
Reports suggest that the number of live videos being streamed isn't increasing as much as the live video views are. The updates from Facebook could be the reason for the same. Live videos are ranked higher in News Feeds.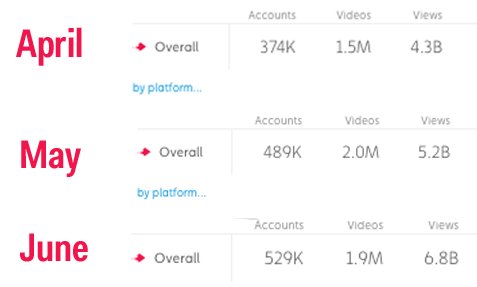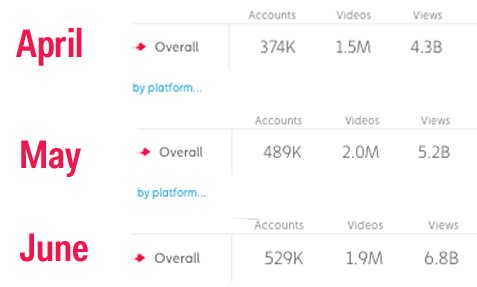 The number of videos streamed in June was down to 1.9 million as compared to 2 million in May. Despite the decreased number of Live videos, the number of Facebook accounts that broadcasted the live videos increased during this period. The data clearly highlights the fact that users are slowly losing the charm of posting the live videos. The trend could largely be influenced by the disappointing growth in the number of views.
It is hard for the common man to show interest in live videos. Facebook even went ahead and added a dedicated homepage tab for live video this week. It has also included a notification feature that will notify users whenever any of their friends engage in a live session.
Facebook vs. Twitter and Snapchat, Again?
Competition from Twitter and Snapchat makes it even necessary for Facebook Live. Last year, Twitter bought Periscope, a live video-streaming company.  Compared to Facebook, Periscope has 10 million active users who watch 40 years worth of live streaming video per day.
Snapchat surpassed Facebook's daily video views and had nearly 10 billion video views per day. Thus, Facebook is gearing up its Live videos to face the fierce competition around itself.
A recent article also states that Instagram, a part of Facebook, is launching live video broadcasts for all U.S. users. It looks like Zuckerberg plans to leave no stones unturned when it comes to marketing its Live platform.