Businesses are harnessing the power of social networking platforms for a personalised lead nurturing process. Almost 86% B2B marketers rely on social media platforms for higher conversion rates, and most of these marketers can be found active on Facebook. However, when it comes to evaluating the most effective platform for social media marketing and social media advertising LinkedIn beats Facebook and Twitter with a distinctive margin, according to the latest study done by Regalix, one of the leading a marketing and technology service companies.
According to the research Facebook, LinkedIn and Twitter are the most effective and leading platforms for social media marketing and advertising. Though only 52% of marketers who participated in study find Social Media very important in achieving organisation's marketing goals, only 14% respondents agreed that their organisation doesn't make any investment in social media marketing, albeit about 5 percent might take the plunge in next 12 months.
The most surprising element of the study is marketers' confidence in Facebook and Twitter. Despite having over 1.7 billion users on the platform, Facebook lagged much behind Linkedin and Twitter in terms of meeting marketing objective of marketers. 89% of marketers found LinkedIn the most effective platform, while 78% and 46% of marketers found Twitter and Facebook, respectively, effective enough.
Interestingly, despite the growing popularity and adoption of video content, only 37 percent marketers find YouTube as the most effective social media marketing platform. The least efficient platform is Tumblr with 4 percent.
So, why has Facebook failing to meet marketers expectations when it comes to meeting marketing objectives? According to the respondents,
Blame it on the growing number of biased comments, status updates and debates. According to the respondents, Facebook is slowly turning into more like as a platform for voicing complaints and bashing brands. Users on Facebook are making use of the platform to show their frustration and anger against brands than indulging in constructive discussions. Users find it convenient to post their issues on a Facebook Page of a brand.
Facebook Advertising: Better ROI for Investment
The equations completely change for marketers when it comes to Social Media Advertising. Social Media Advertising and Social Media Marketing are two different traits and marketers act differently under both the scenarios as the farther one is directly proportionate to dollars in running paid campaigns and returns from those campaigns.
Compared to 14% marketers who don't invest in social media marketing, the percentage swells to 33% when it comes to social media advertising. It clearly illustrates that, instead of paid promotions, a majority of social media marketer prefer to opt organic way of brand promotions on social media.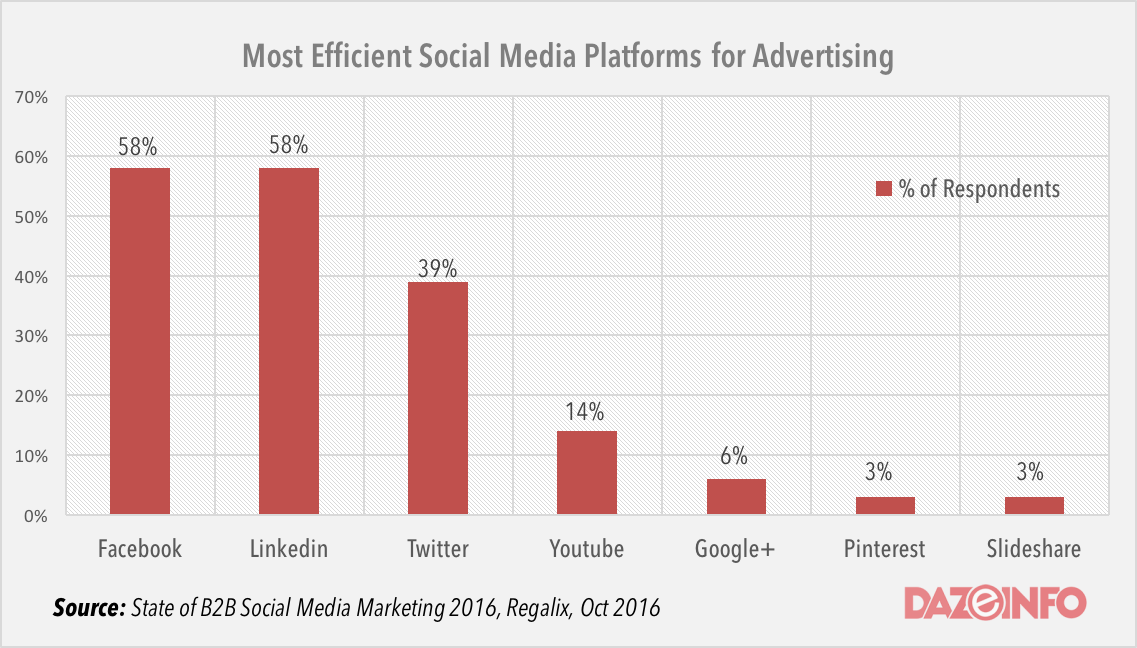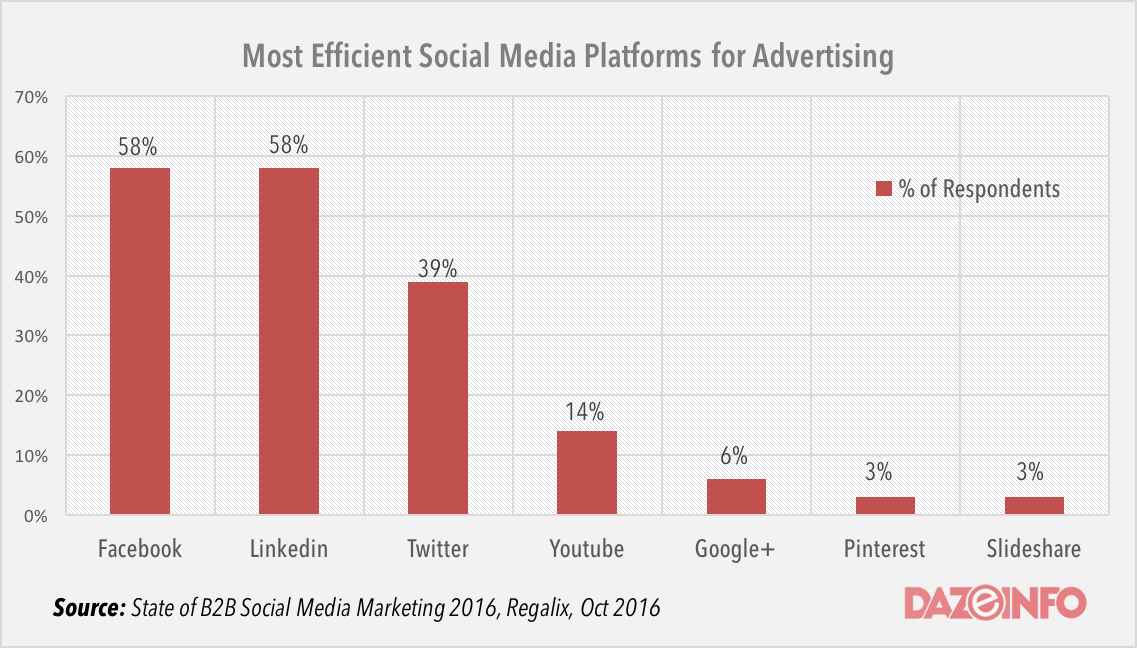 Those who invest in social media advertising, prefer Facebook over LinkedIn and Twitter. 58% of respondents (marketers) believe that Facebook delivers a better ROI of their advertising dollars, while Linkedin is also being preferred by the equal number of respondents. Only 39% marketers say that Twitter is able to generate satisfying ROI of money invested in paid campaigns.
Content Is King
It's not only the campaign designs, objective and execution pattern that play a vital role in a success of any social media campaign, but the content is also equally important. On every social media platform users engage with content differently. The impact of marketing is steered by the kind of content that goes live.
According to the study by Regalix, Videos and Games are the most effective content types on Facebook, while on LinkedIn, it's infographic and blog post. 84% of marketers found video content is the way to go for brand promotion, while 86% say its games that users love to engage with on Facebook. Content is the KING.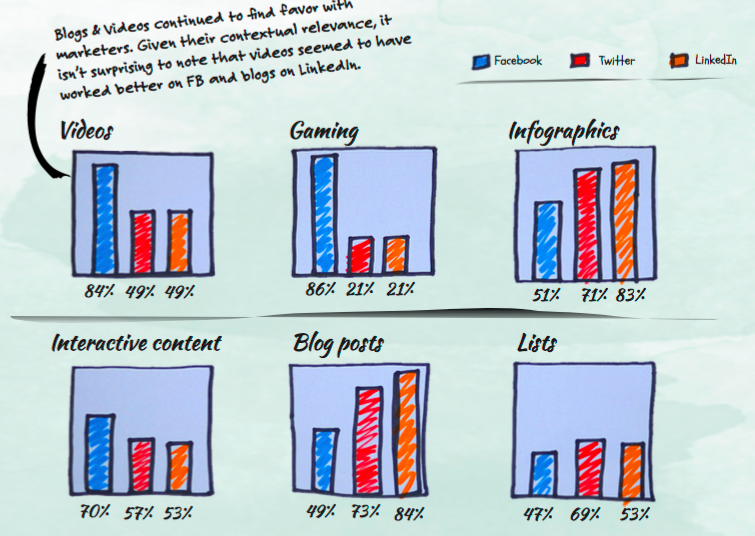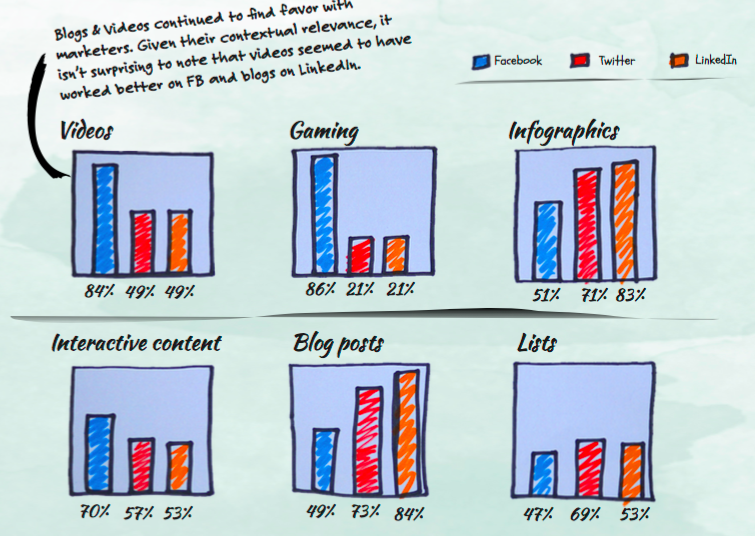 On LinkedIn, serious business messaging like whitepapers and case studies, research reports, articles, blog posts and infographics, have fared the best. GIFs performed great for Twitter.
Amidst all these, marketers must take note that videos of 30-60 seconds length on Facebook is giving tough competition to every other marketing modes.
Effectiveness Wins Over Aggressiveness on Social Media
Twitter is reported to have the highest frequency of posts from brands than any other social media platforms. Yet, it is not as effective as the other platforms when it comes to social media marketing or advertising. This indicates that frequency of posts is not what catalyses effectiveness. Rather the type of content and the users matter the most. In social media marketing, the clarity over ROI lacks, and it is tough to generate actionable insights from social data. However, in the case of social media advertising, it is easy to derive the ROI since it is only about the banner ads.
Why do Marketers Invest in Social Media Marketing
The most compelling reason for investing in social media marketing is to increase brand awareness, to which 87% of the respondents have agreed. With a user base of over 2 million internet users social media platforms possess massive reach, which makes it easy to reach out to a large group of target audience quickly.
59% of the marketers said that the reason for investing is to increase the engagement for the customers. It includes post-sale engagement for cross-selling & referrals. Promotion of Products & Services (57%), build customer loyalty (52%), increase customer acquisition (50%), gather insight into consumer (26%) and provide customer support (17%) are the other reasons why marketers turn to social media platforms.
Actionable Insights
Overall, marketers need to focus on social media platforms to meet their marketing and advertising objectives. They need to plan their ways depending on the effectiveness of the platform and the type of audience they want to target. Video ads are the most attractive form of advertisement. However, articles, research papers, white papers and blog posts have proved to be more effective. Marketers need to be very careful about selecting the type of content for different platforms.
Marketers must engage users equally on Facebook and LinkedIn.
For Paid campaigns, Facebook should be the preferred network.
Brands must design different campaigns for different platforms considering the popularity of different content types on each social media network.