Content creators and marketers including all major publishers who rely upon social media for engaging their audiences, need to rework on their strategies as the old ones are beginning to fall flat. At present, nearly 100,000 brands battle it out to grab attention over various channels (mainly Facebook, Twitter, Google Plus, LinkedIn and Pinterest) with more than 16 million posts over the digital space.
Posting content which engages the audiences can indeed be a challenging task. More so because a majority of people today are active across multiple channels. And then, of course, there is no dearth of networks. How then should the brands leverage their presence across multiple channels?
Facebook And Twitter: Videos and Photos Hold the Key
Recently, a team of social sharing tool Buffer conducted a detailed study wherein they took into account more than 100,000 brands which have been active over the social space. The team observed their content distribution pattern and the engagement they got from their audiences during the last year, paying close attention to 16 million posts (comprising of 14 million tweets and 2 million Facebook updates). Here are the key findings:
Most popular networks:
Twitter and Facebook continue to be the most popular among publishers.
Nearly 80 percent of the updates were sent to Twitter, which towers above all other networks. Facebook was second by a huge margin, failing to cross even the 15 percent mark.
Of the rest, Google+ got 3.6%, LinkedIn got 2.3% and Pinterest got 0.5% of the updates.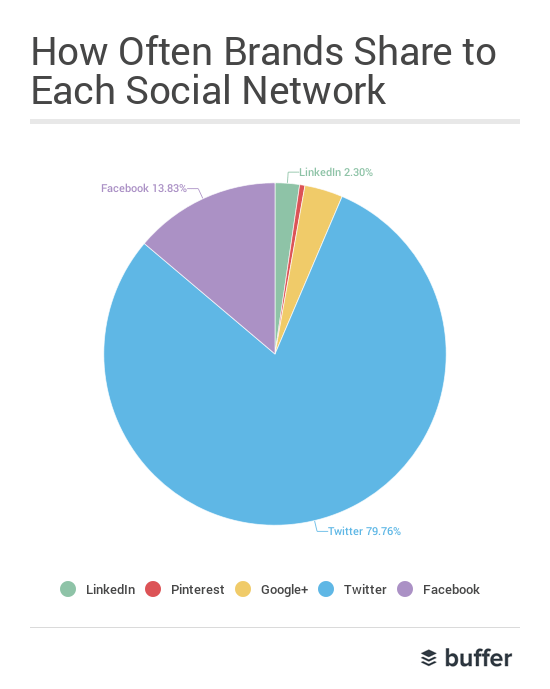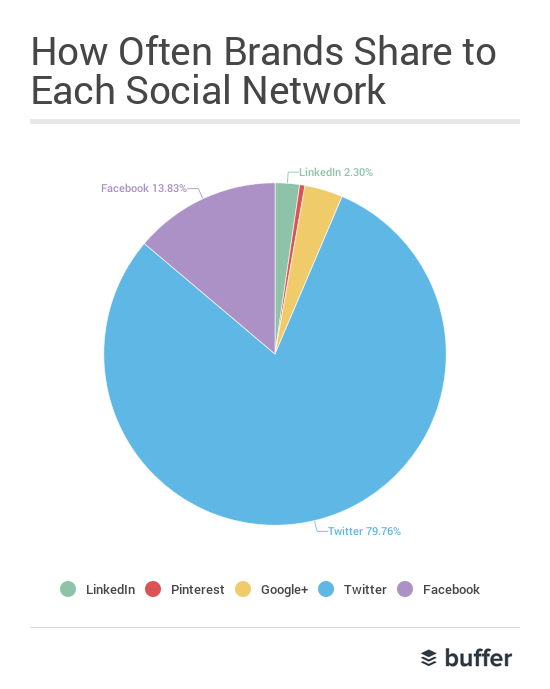 The frequency of posting:
Brands were also found to be posting more frequently on Twitter as compared to any other network. Together, Twitter and Facebook were found to be the only two networks with a posting frequency of at least once a day.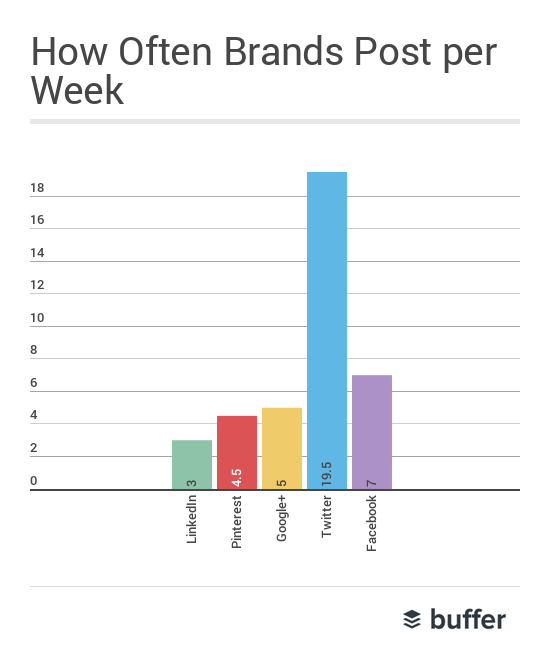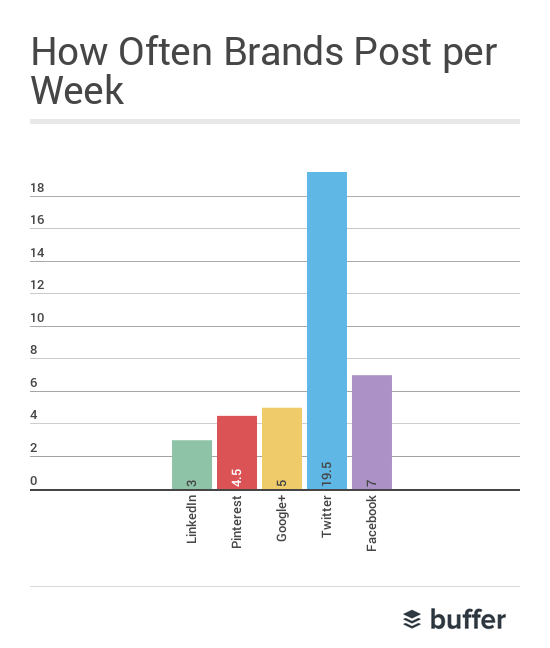 Engaging posts:
Facebook which is committed to promoting video content was seen to get the maximum engagement (365 responses which include Likes, Shares and Comments) with the same. Links were not found to be half as engaging (179) as the former. Links also fared reasonably well while pictures and plain text were seen to be lagging behind in terms of engagement.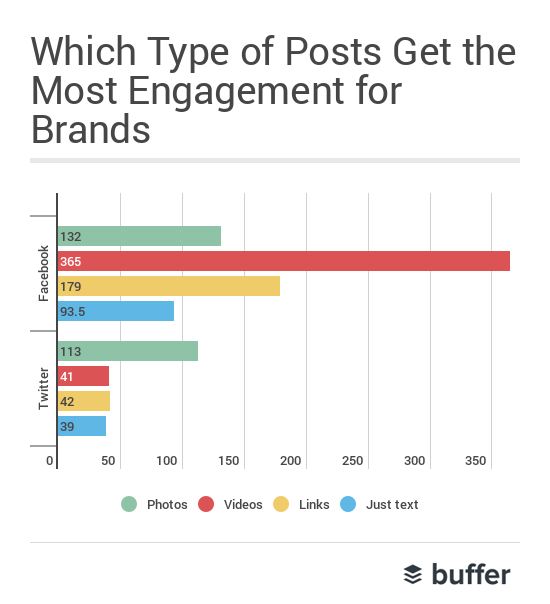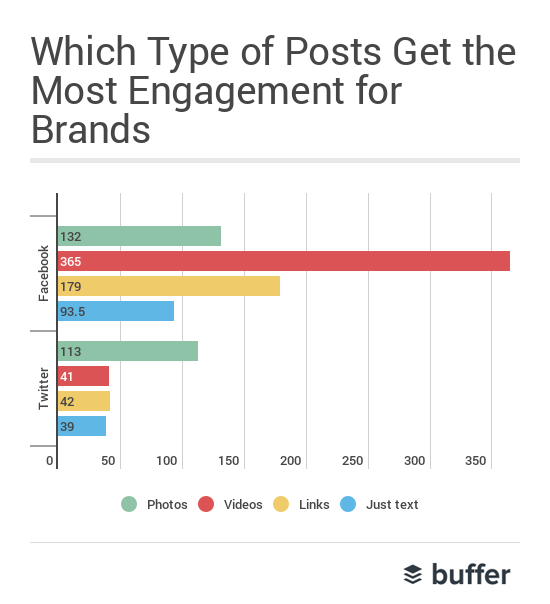 Twitter, on the other hand, was seen to get the highest engagement with picture related posts (113). Videos, links and text were all lagging far behind and more or less in the same bracket.
LinkedIn and Pinterest are underrated.
The posting frequency on LinkedIn is only thrice a week, even though posting on this platform 5 times a week (during weekdays) could help brands reach out to nearly 60 percent of their audiences. As per the findings of another study conducted in 2016, 59 percent of LinkedIn users were not found to be using Twitter, 13 percent were not using Facebook and a whoppingly huge 83 percent were not using Pinterest at all. Unless brand owners plan to engage them on other platforms and have effective strategies in place to do so, they would be wasting away their LinkedIn presence.
The same holds true for Pinterest. Brands were seen to be posting to this platform only 4-5 times a week, ignoring the fact that users of this platform convert into good $$$ eventually! Two million people were found to be saving product pins on an average day. As many as 87% of Pinterest users admitted to have purchased items seen while surfing through the site. Posting here several times a day might convert into good sales, but then again- the question will be WHAT type of content will do well here? The site being popular mainly amongst DIY enthusiasts and hobbyists, a post on a pair of gardening gloves might get more engagement here than breaking news about a bomb blast!
Takeaway
A picture is worth a thousand words, it has been said. The findings of this study corroborate the same. Visual content, whether mere pictures or videos, were seen to get the best responses from readers and viewers. As people scroll down their NewsFeed at unimaginable speed, and 49% of NewsFeed sessions end with users seeing only 4 updates, visual content helps grab eyeballs instantly.
The key here is to catch the audience's attention immediately. People might take time to react to link related posts or only text. They might even choose to ignore it altogether Visual content was found to have a definite edge over all others when it came to evoking engagement.
Frequency of posting across Twitter is high but then there is so much content being thrown on to the users that images seem to be the only way of standing out and being visible.
Facebook algorithm has now been so tweaked that videos were found to be the most engaging form of all content. Producing video content will surely cost more but can be well worth the time, money and effort that goes into it. Organic reach (defined by Facebook as the number of 'people you can reach for free on Facebook by posting to your Page') of Facebook pages has hit the rock bottom. According to

[email protected]

, it is an appallingly low 2%. That means if a publisher has 50,000 fans, he should expect his link-based content to appear on the NewsFeed of only 1,000 of those! And only a fraction of them would then go on to like, share or comment on it- phew!!
As the Zuckerberg owned network is taking definitive steps towards becoming a video based platform, coming up with video content might be the only way to engage with the audiences effectively whether for bigger pages or smaller ones.
Though Twitter was found to be the most popular among publishers, they cannot afford to ignore Facebook. A distant second as compared to the micro-blogging site, Facebook was still found to be diverting 44 percent of the US population to their preferred news sites.