When Google restructured itself and became a part of Alphabet Inc. (NASDAQ:GOOGL), in early August 2015, there were quite a few skeptics out there who questioned everything from the choice of name to the economic viability of the restructured company. Moving forward in time, Alphabet took the stage to announce its first quarter as a company; and the astounding Q4 2015 results put all questions to rest. In response, Wall Street was vociferous in their support for the shared vision of Larry Page and Sergey Brinn for Alphabet as we saw stock prices soar and Alphabet emerges as the most valuable publicly traded company in the world beating out Apple by a handy margin.
So, where does Alphabet go from here? If we could pinpoint one reason as the major cause for Apple losing its coveted crown, it would probably be the fact that they became a one trick pony, over-dependent on the iPhone and thus failed to innovate and branch out into other revenue streams. The Alphabet is also primarily dependent on Google and their search business for the revenue numbers, in fact, Alphabet's experimental projects, now classified as Other Bets, has clocked in around $3.56 billion operating loss for 2015. So is Alphabet destined to meet the same fate as Apple when it runs out of growth opportunities in the search market? Stick with us to find out!
Google's 2015: By The Numbers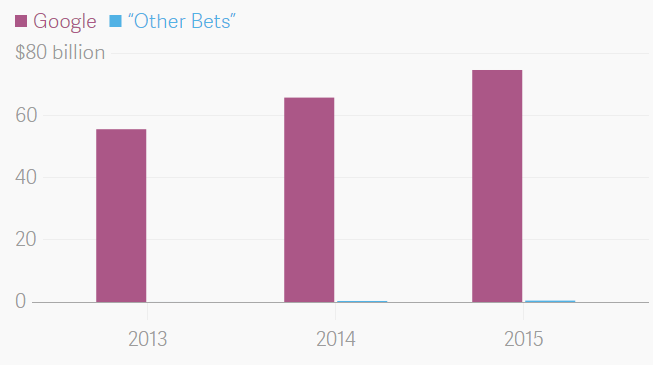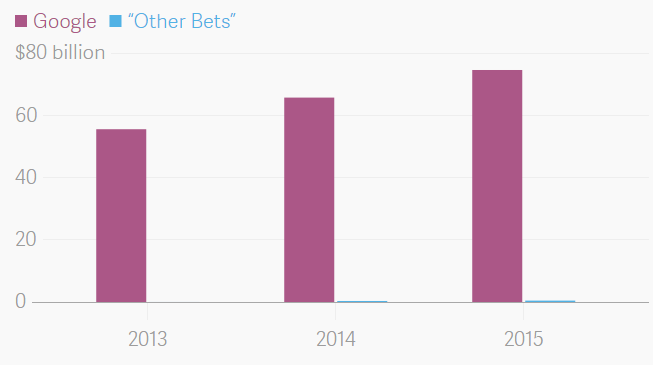 While Google has never been too vocal about the distribution of numbers especially when it comes to the contributions of desktops and mobiles in their bottom lines, we compared an approximate distribution of the same in our earlier article. But instead of speculating, let's first turn our attention to the facts and figures that Alphabet did tell us about!
One of the most important factors that had come to light from the quarterly report has been the phenomenal rate of revenue growth. At a YoY increase of 18%, the company managed to rake in $21.3 billion for the calendar year of 2015. This despite some heavy pressure from Facebook which has become one of the biggest rivals for Google especially in the mobile front.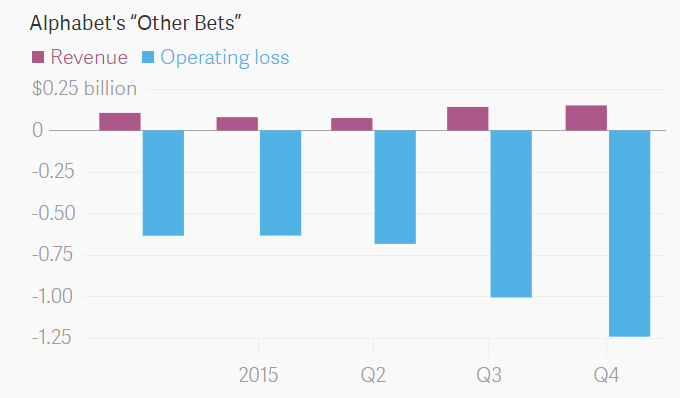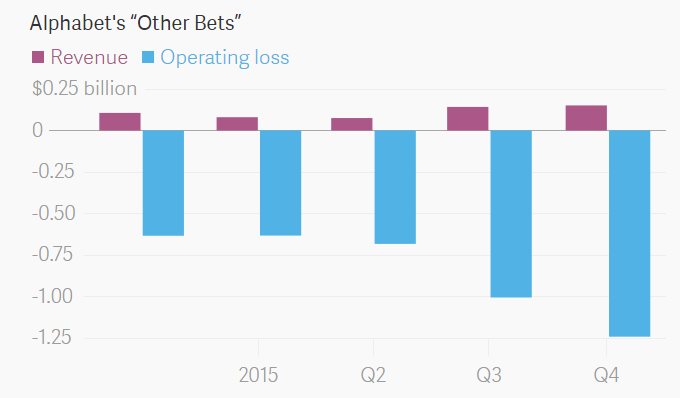 Let's now take a look at the other numbers that Alphabet brought to our notice this Quarterly Report. Clubbing all of their moonshot projects like Project Loon, Fibre, Nest, Life Sciences and others from Google X as Other Bets, Alphabet gave us an overview of their experiments and how much it has cost them each quarter. Alphabet lost $3.56 billion in 2015 an increase of loss by 87% YoY from 2014.
Among the other things that have been revealed in the press release, these are the few highlights that caught our immediate attention:
Alphabet has increased its headcount for the first time above 60,000 which reflects the fact that Google is looking to expand both its intellectual as well as human resources.
90% of Google's revenue came from Ad revenue, and out of that, a whopping 80% came from Google's own sites.
Hardware sales from companies in Other Bets were up 42% YoY to $151 million in Q4. On the flipside, operating loss nearly doubled year-over-year to $1.2 billion from Q4 2014.
CPC on a whole has declined but the combined value of high earning CPC from YouTube ads and an overall increase in the number of clicks has kept the overall growth of ad revenue intact.
The last point although small is the cause of some worry for Google and that is why we will be looking at what measures Alphabet has taken to ensure the companies evaluations past the era of traditional search engines and ad models.
The Future of Google
With the recent state of the world economy as it is, it has been incredibly difficult for us to make a positive prediction for us on any major OEM or tech company for the near future. In fact, harking a look back at some of 2015's major tech announcements, we find a series of dismal predictions for companies. From mega-mergers like Dell-EMC to launch of new iPhones, the tech industry has been going through an unprecedented slump.
So it comes as a pleasant surprise to us as well, being able to make strong bullish predictions about a company in today's tough market. However, saying we expect Alphabet to continue doing well is never good enough, hence are a concise list of reasons we expect Alphabet to perform admirably for the foreseeable future.
Despite the fact that Google's moonshot projects haven't contributed much towards the balance sheet, they have made huge leaps towards being commercial successes in the last quarter itself. At the helm of this is Alphabet's automated car project that when released to the public will open up a huge source of revenue for the company.
With Android and Android Pay reaching more and more devices, we find that the revenue from other services like Google Drive and even monetization of APIs like the Google Cloud Messaging service to be on the cards. Along with that Google Play in the coming months is expected to contribute more and more towards the companies bottom line.
With Nest and Google Fiber, Google is already making headway into people's homes. If the Fiber project comes to fruition, Google could be poised as a major player in the broadband internet market. With Project Fi, Google has similar intentions but this time for the mobile telephony industry. Given how much data consumption is going to rise in the near future, this has the potential to become another major avenue for monetization in the future.
Final Thoughts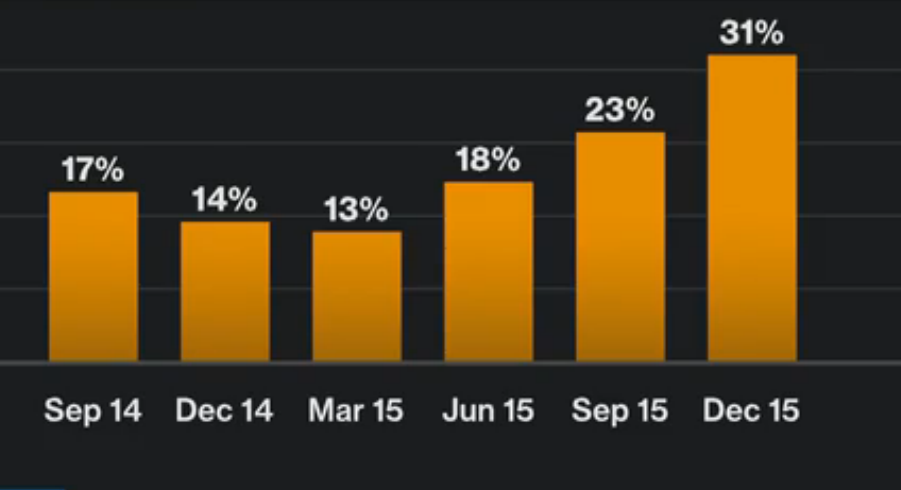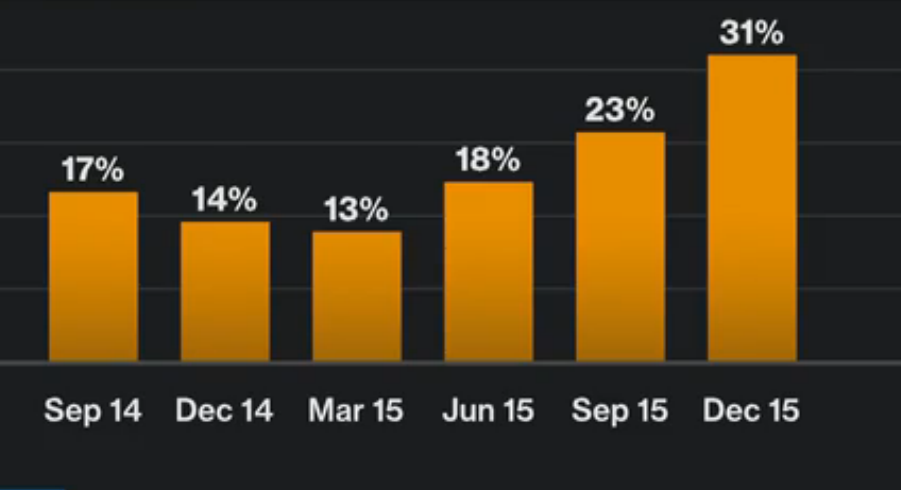 The pessimist in me refuses to let go of any topic without pointing out any pitfalls that can potentially ruin the entire plan. And these numbers above hold an ominous sign within them. As we negotiate the shift from desktop to mobile, mobile clicks are still valued less than desktop clicks because of the lower conversion rate. With most searches now occurring from mobile, this presents an inherent threat to Google's core business. In fact, to combat this measure, more ad units have been reallocated to mobile but increasing the number of clicks in order to maintain profits seems like a non-sustainable business plan.
Google's attempt at switching from traditional search queries to streaming other apps right within their search app can be interpreted both as Google's drive towards the future and a sure indication that the current ads model is crumbling. The pressing need to innovate is further instigated by the arrival of companies like InMobi who have a dedicated mobile only strategy and Google's closest competitor Facebook who seem to be heading towards contextual ads with their Facebook Messenger and WhatsApp platforms.
"Mobile search was particularly strong in the 4th Quarter." said Sundar Pichai in context to the impact of mobile on Google's Ad revenue.
The emphasis seems to be well and truly on mobile right now with Google seemingly to be headed in a similar direction with their recent reshuffling of Search Head Amit Singhal giving way to the head of the AI, John Giannandrea, who will be overseeing search from now on. The big question which remains to be answered is if Google can innovate fast enough to remain relevant in the search industry and fund one of its moonshot projects into a major revenue source. And if this quarter is any indication, the answer to that question is a resounding yes.