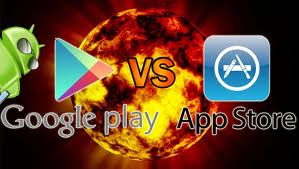 Apple Inc (AAPL) had a head start in mobile software sales, as it launched its App Store earlier than the Android market, now called Google Play, by its arch rival Google Inc (GOOG). Apple App Store vs. Google Play Store, this fight is ongoing but it looks like Google Play Store has won this round in terms of downloads. Apple recently declared that its 50 billionth iOS App had been downloaded; however Google is closing the gap, and having declared just one day earlier that it had seen 48 billion Android Apps downloaded.
Google is quickly gaining the ground, this may be because of large number of Android devices being sold, but still Apple App Store is leading with high revenue. Google's Play Store witnessed an 8% jump in App revenue in the month of April 2013.
In May about 50 billion Apps were downloaded from the Apple App Store for devices like iPhone, iPad and iPod touch. Google has overtaken Apple when it comes to the number of downloads.  Google had about 2 billion downloads a month against 1.8 billion from Apple.
Apple App Store Still Beneficial
Despite there being more Android-based devices in the market, the iOS ecosystem continues to dominate where it counts the most i.e. total revenue. The latest report by an App Analytic firm Distimo indicates that Google Play was up from 19 percent in November 2012 to 27 percent of the combined revenue of the two App Stores, the Japanese and South Korean markets were the main contributors to the share shift and yet, 73 percent of all app revenue was generated from the Apple App Store.
In April, The App Store generated $5.1 million in sales per day for the top 200 grossing apps when compared to Google Play's revenue $1.1 million. The Distimo survey, also looked at earnings generated for all ranked applications in both Google Play Store and Apple App Store in the 18 largest countries, which shows that Android is gaining, and in November 2012, iOS accounted for 81 percent of all revenues, against Android's 19 percent.
WhatsApp
There are instances where some Apps are generating more revenue in Google Play than Apple App Store, such as WhatsApp, it uses different business models to monetize its mobile messenger. On Android users get a one-year free subscription, but then have to pay for the App afterwards whereas in Apple's App Store, the App costs $0.99.
This Auto renewal system has paid of pretty well, According to another report from Distimo for Google in many countries including Germany, Italy and Spain, in Germany Google Play earned the company nearly $290k against $207k in Apple App Store in April. To the contrary Apple App Store earned the company $355k against $41k in Google Play in the U.S.
Though Apple is still leading with high revenue, the silver lining for Android developers is that things are slowly changing; Google Play Store has already managed to close the download gaps between Play Store.