"The only thing that's changed is everything"- When Tim Cook took to the stage to unveil the new iPhone 6s and iPhone 6s Plus, he used this exact line to describe the new generation of devices. And it seemed that the consumers believed him. According to initial reports from Apple Inc. (NASDAQ:AAPL), the iPhone 6s has started flying off from shelves with a bang selling no less than 13 million devices in the first 3 days of its availability on major retail channels. While it may have chalked up the biggest opening week till now in the history of iPhones, the whispers going around the block indicate after the early excitement died down, iPhone 6s sales have been pretty sluggish. Stick with us as we dig deep into the numbers and try to find if there are is any truth in those rumors!
iPhone 6s/ 6s Plus Sales Performance: A Mixed Bag
With calendar year Q3 quarter – fiscal Q4 2015 for Apple – over and done with, everyone is looking ahead to the next quarter. However, one must understand the past to predict the future! So before we dive into numbers and estimates for Apple's next fiscal year, let's take a look at the Q3 predictions on iPhone sales by Jim Suva, Citi's Apple analyst and what we estimated in July this year. Suva, though, dropped his estimates for iPhone sales from 48 to 47 million for Q3 we also feel that Apple iPhone sales in the third quarter ended September 30, will be a bit short of our estimation. This should ring alarm bells as Q3 includes the month of September, the time new iPhones arrive on the scene. If this indeed turns out to be true, then this will be the first time that Q2 sales of iPhones have beaten Q3 sales.
This though should not be taken as an indication of iPhone 6s sales because the introduction of the larger screened 6 Plus changed quite a lot of the trend pattern with Apple fans finally getting their long awaited phablet-class device!
So with that in mind, let's look at the numbers and predictions for Q4 2015 ( Fiscal Q1 2016)
The Highs
Katy Huberty, Apple analyst for Morgan Stanley has in a recent report increased her iPhone unit growth rate for Q4 2015 from 3% to 7% and can see a realistic upside to 12%. She set a price target of US$162 which is a bit higher than the more conservative guesses of Citi who have put it at US$145. However, her estimation seems reasonable based on a 15.4x PE multiple for her 2016 EPS estimate of $10.52. One could term it as optimistic with her EPS estimate being 7.3% higher than Street's predicted number $9.79$. 
Agreeing with the positive vibe is Brain White from Drexel Hamilton. Although his calculations have revealed a price target of $200 which seems quite unlikely, given a few of the assumptions he makes to achieve this figure is outright outlandish! White predicts an EPS of $10.03, certainly a doable figure but his PE multiple of 17x seems a bit far fetched. Also to reach the $200 figure would have to entail some radical measures like funneling in the cash stored in offshore accounts and we think there is a very slim chance of Apple going down that road anytime soon.
The Lows
Two independent firms have come up with data that have revealed that the adoption rate of the iPhone 6s is much slower than the previous generation. While it could be looked at as a warning sign, one must keep in mind that the first year of the launch of a new line of products such as the bigger iPhone 6 Plus is expected to have a disruptive impact on sales trends and should be considered an outlier rather than be the norm to judge following years by. The S is meant to be an internal change a generation of hardware upgrades and it's no surprise that most of the 6 plus and 6 owners are happy with their year old devices. In such a scenario one can say that although profits might not soar as high as q4 2014, Apple has laid a giant customer base with the larger iPhone 6 Plus and most of them will be eager to upgrade once the iPhone 7 launches with its various superficial as well as internal changes.
Agreeing with these predictions is Pacific Crest, who believe that the total number of iPhones shipped in Q4 is going to be significantly lower than the industry projections of 76 million shipments. In fact, based on Supply Chain conversations, they have reduced their estimate to 67 million units.
So both of them have some valid arguments, but the question lies which one of them shall we see translated into real life scenarios that will affect Apple's bottom line?
Our Take
While a crystal ball of financial predictions would benefit us immensely; unfortunately, we don't have one on our hands at this moment! So, before we tell a number, let us in brief go over some of the factors that have swayed our decision!
The Smartphone Buyers Upgrade Path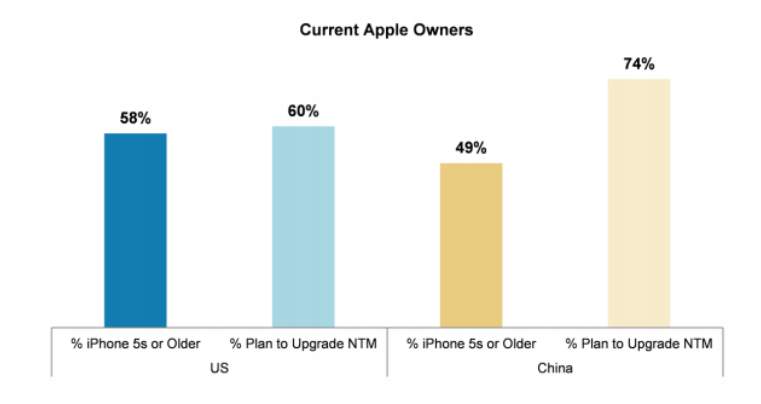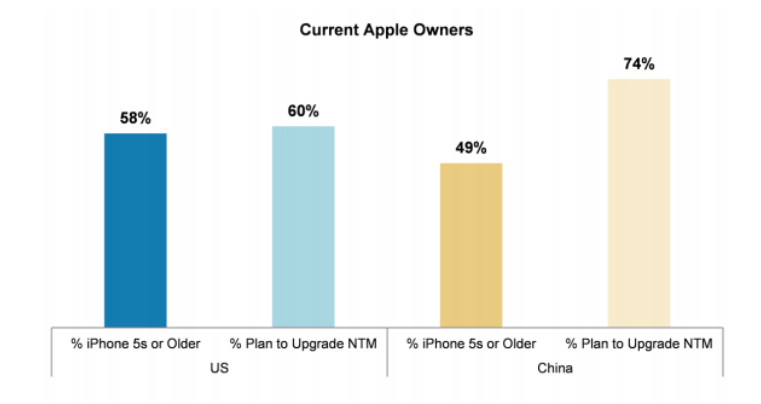 The global smartphone market is down in the dumps but as we have often seen with Apple, they seem to be immune to the race to the bottom, be it in the PC or the smartphone industry. Smartphone users in both the US (minor uptick from 58% to 60%) and China (large increase from 49% to 74%) seem to be considering an upgrade from their previous generation of iPhones. Coupled with the fact that Apple brand loyalty is at an all-time high with 93% of the US and 80% of Chinese Apple customers choosing to stick with Apple for their next phone! This should translate into some pretty good sales figures for Apple and some meaty profits!
Apple's Popularity in China Increasing with The Spread of 4G LTE Networks
Apple has gradually been increasing its market in China and it has now grown to such an extent that there is a 6 percentage point increase of people from China who want to upgrade to the latest iPhone, up to 75% from 69% of a year back! This US has also increased by 9 percentage points to come up with 38%, but it pales in front of the Chinese. This year Apple also released the iPhone in China at almost the same time as the rest of the Western World and hence it has somewhat compensated the low adoption rates of the new iPhones.
With the development of 4G services in China, people are ready than ever to use 4G enabled phones and iPhones have captured their imaginations! In a market survey by Kantar, 42% of people in China plan on purchasing an iPhone, a jump up from the 27% that Kantar estimated a year ago.
Apple's Pricing Strategy
Apple has priced the new iPhone's at a price point in India that is to an extent ridiculous! The whole we have covered it in detail, let's just suffice to say that alienating the country that is touted to be the next big consumer market for smartphones isn't always the best plan. While the exclusivity has served them well till now, India is a different ballgame altogether, and Apple may just have tripped up this time.
In other countries as well, especially in US, China, and Australia, Apple is expecting people will jump to iPhone 6s and iPhone 6s Plus despite the increase in the price. However, compared to predecessors of 'S' range of iPhone 6 and unlike India, the prices are increased modestly.
The Incremental Upgrade of the S Generation
While the iPhone 6s and the 6s Plus are great phones on their own, they are not as significant an upgrade as the iPhone 6 has been to the iPhone 5s. The problem is that in a day and age where even $200 smartphones are becoming increasingly capable, much of the charm of the flagship phone lies in its aesthetics. Apple while staying true to its design and upgrade philosophy may have lost out on a significant chunk of consumers who figured that the iPhone 6 would be good enough for another year!
iPhone 6s/6s Plus Sales Performance: Final Words
So what conclusion does the data leave us with? According to us, Q4 will be another big quarter for Apple. They will do well and while the graph may not be all that steep, the combined sales figures of the new iPhones will have it reaching upwards. We peg the revenue of Q1 fiscal 2016 (Oct – Dec) coming in at $244.8 billion in line with Street's estimated values. With smartphone sales tapering off just that tad bit, we expect this quarter's bottom line to leave Apple with a few things to think about!