Come September and the whole world gets ready for the release of new iPhones from Apple Inc. (NASDAQ:AAPL). So we weren't surprised when Tim Cook took to the stage on September 9 and revealed the iPhone 6s and iPhone 6s Plus to the world. What did surprise us to some extent though was the fact that the despite being an 'S year', Apple managed to sell 13 million devices within the first 3 days of availability on retail channels. That made us think,"Is the new iPhone such a good upgrade that everyone is jumping on it? Or are there some other factors at play that elude us at first glance?" Join us, as we try to answer these questions and figure out if Apple's best selling iPhone yet, is the best smartphone for you to have!
Even before we begin, we must tell you one thing, by the end of this article we may not get a clear 'Yes' or 'No' answer for all of you. This is because as people vary so do their usage patterns and their expectations from a new smartphone. So instead of clumping everyone together and coming to a generic conclusion, we will take it generation wise for the previous iPhone users and find out if it is worth the upgrade!
iPhone 6 And iPhone 6 Plus Owners: Stay Put !
Let us answer this question with another question for you; what do you look for in your phone? Because depending on that, the upgrade might or might not be worth it. In the following paragraphs, we will break down the iPhone 6s and iPhone 6 Plus from a hardware standpoint and then come to a conclusion if the upgrade from the previous generation is worth it or not. Along with that, we will also include which target demographic a specific hardware upgrade would most appeal to! If any of them matches your lifestyle and phone usage, well, then the decision becomes that much easier for you lucky folks!
Design: Externally, nothing much has changed. But then that is to be expected from an S generation upgrade. So then why is design even being featured on the list? Because, Apple has crafted their new iPhone 6s and iPhone 6s plus from 7000 series Aluminium, a much sturdier metal to prevent a recap of Bendgate from happening. A teardown by iFixit also revealed a number of new gaskets and a thicker covering on the sides of the new iPhone, which makes it water resistant to a much greater degree than previous generations. So, you might upgrade to the latest iPhone 6s plus if lead a very active lifestyle and find the enhanced ruggedness useful! A small warning, your previous precision cut cases won't fit on the new 6s or 6s plus as they are a tad bit different in their dimensions.
Camera: The rear camera has been bumped up to 12mp and can now record 4k video. While this seems a major upgrade in terms of megapixels, the still image quality is not that remarkably better from the 6 and the 6 Plus. Unless you're really into videography, you can give this upgrade a pass. The front facing camera though got a significant bump up from measly 1.2-megapixel to a more respectable 5-megapixel. Selfie lovers if you can afford it, go and grab the new iPhones and take your selfies to a whole new level of awesome!
Battery life: This has been more of a downgrade than an upgrade as the battery capacity has been decreased by a slight amount in the new iPhones. So do not consider the new iPhones if greater battery life is what you look for. The only possible upgrade is if you want to move from the 6 to the 6s plus as it will offer you a full day battery life even with heavy usage.
Processor: The new iPhones come with an A9 chip inside that consists of two 1.8ghz powered cores and 2gb of RAM. A processing package that on benchmarks rival those of laptops, this is the most powerful iPhone yet. Consider this as an upgrade if you're a heavy multitasker or use your phone as a primary gaming device.
Screen: The most touted feature of this year's 6s and the 6 Plus has got to be 3D Touch. A new way of interacting with your device, 3D touch in it's nascent stages is only present in a few default Apple apps and a few other apps at the moment. As it always has been with new tech, 3D touch implementations in 3rd party applications will improve with time. However, by the time that occurs, we will probably have the iPhone 7 on our hands. If you are someone who must have the latest and greatest in tech, you might consider the upgrade as it is a unique feature.
So final verdict? If you are a regular user who doesn't fall in the niche categories described above, the 6s and 6s plus isn't that great an upgrade. Sure it's a stellar device, but your trusty iPhone 6 and 6 Plus can tide you over for one more generation with aplomb! So for most of you 120 million guys rocking the iPhone 6 and 6 Plus, hold on to your money, iPhone 7 is just 12 months away!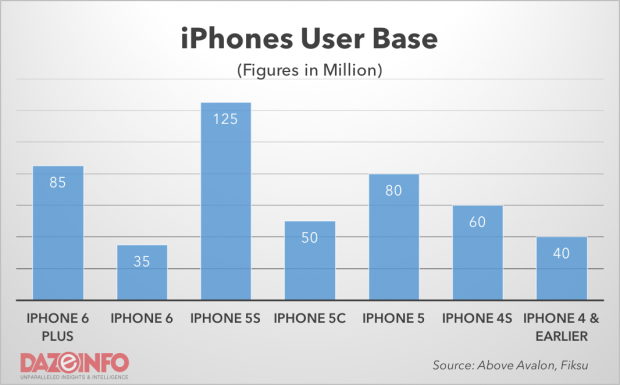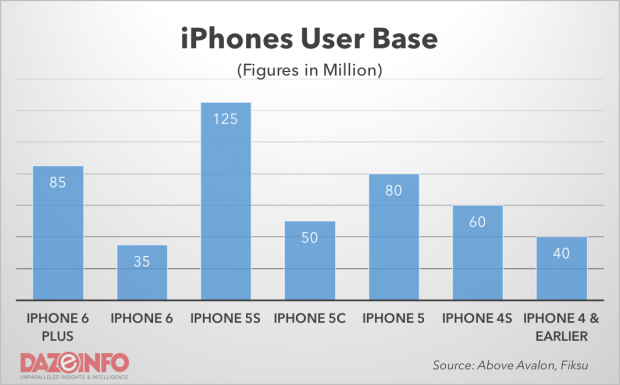 iPhone 5S and Earlier Owners: It's Time !
While the heading does mention iPhone 5s and earlier, most of the direct comparisons will be made with the iPhone 5S. If you have an earlier version of the iPhone like the iPhone 5 and its predecessors, you can upgrade to iPhone 6s in the blink of an eye. You will not regret it for one moment.
Design: Departing from the glass and metal construction of the 5S, Apple has chosen to go with a full aluminium body for the last two generations of the iPhones. The new design doesn't look that elegant in my eye, and I'd much prefer the 5s design language. Also in hand feel of the 5s was significantly better as the newer iPhones tend to slip out and take a tumble because of the rounded sides. "Beauty lies in the eyes of the beholder" and if you ask me, based on design choices alone, makes the new iPhone not worth an upgrade.
Camera: The 6s plus has a beefier 12mp camera with OIS (Optical Image Stabilisation) and 4k recording which makes it a videographer's delight! If videos are your thing, then definitely a worthy upgrade. The quality of still images and selfie camera has also come a long way, so no matter which way you slice it, this a great upgrade for camera buffs!
Battery Life: Battery life has improved a fair bit from the 5s. The 6s provides more juice than the 5s, but a heavy user will fail to make it through the day. If battery life is a priority, consider the 6s plus as it provides great battery life and will survive even the most rigorous days!
Processor: The iPhone 5s has been a little long in the tooth and performance, especially in demanding apps, has begun to taper off. Also, Apple has remedied the abysmal multitasking capabilities of the 5s with 2GB of RAM in the latest models, something that will make the power users very happy! However even as a normal user, the speed up in day to day tasks is noticeable. Definitely a good upgrade!
Screen: The new iPhones come in two screen sizes, the 4.7 inch 6s and the 5.5 inch 6s Plus. Both are a step up from the 4 inch sported in the iPhone 5s. With the iPhone 6s plus, Apple users can get the phablet experience and enjoy media on a much larger screen! Along with the increase in size comes the increase in resolution and colour accuracy which makes these new screens a treat to use and a big yes in terms of a potential upgrade.
Wireless Radios: The 6s and 6s Plus supports the 802.11ac which means that now you can use the 5 Ghz band. This directly translates into better Wifi speeds! Also, VoLTE (Voice over LTE) support is present which overall leads to a better experience in telephony, especially in areas with spotty network connectivity. Everyone should benefit from this spec upgrade, and thus it receives a thumbs up from our side!
The 6s has a lot of improvements from the 5s that makes it a better phone in almost every respect. New components like NFC were added and older features like Touch ID has been optimised to work faster! For the average consumer to the power user, for anyone of the 125 million wielding an iPhone 5s, the new iPhone is a significant upgrade that you will love to own!
Android Owners: Should You Jump Ship?
If you are planning to switch OS's from Android to iOS, we are fairly certain you'd be well versed with the advantages and disadvantages of both ecosystems. So without delving much into the software side of things, let's talk hardware!
As it is with iPhones, it all boils down to which device you are upgrading from and what features are you looking at.
That being said, the current crop of Android flagships has the 6s and 6s Plus beaten in every possible category. The camera, once a stellar feature of Apple phones has been taken over by several of the flagships like the S6, Note 5, G4 and others. With that being kept in mind, the upgrade doesn't seem much of an upgrade at all because the current Android flagships have the definite upper hand on the spec sheets.
However, if you're coming from anything over a couple of years old, you will find the iPhone 6s plus to be a more than capable device and a great introduction to iOS.
The Final Words
Without dragging this any longer, let me finish by recounting something that I had said at the beginning of this piece. There is no single cookie-cutter answer to the question. Apple has been marketing the 6s and 6s plus with the tagline -"The only thing that's changed is everything". While that may be just marketing hype, the latest iPhone is the best one that Apple has ever made. We have the facts laid out for you, but ultimately is the new 6s or 6s Plus the best smartphone for you? That's something you will have to decide!