In a day and age where to search on the Internet has been rephrased as to 'Google' something, it comes as a huge surprise when the search giant Google launches a feature that has the potential to revolutionise our whole browsing experience. With 55% of the world's search ad revenue in their pockets, it comes as a surprise that Google would try to change the core experience for it's mobile users, moving away from the web to an app-centric approach. After all, why fix something that ain't broke, is the common ideology right? But, in the world of technology, you have to evolve faster than the market does in order to hold onto your dominance. And with this new announcement for search, Google has done just that.
So what exactly did Google do? In layman's terms, they allowed mobile search users to access app-only-data from their search interface, without installing the app itself. Is this a real big deal? Speaking at an event, Amit Singhal, Google's senior VP of Search, has been quoted as saying that worldwide, mobile searches are exceeding desktop searches in sheer volume. But search in itself is Google's bread and butter so this should be a matter to celebrate, right?
Well, the scenario in today's app-driven smartphone world is a bit different, with messaging apps ruling the roost and Google's search app being relegated further down the list. With that being kept in mind, Google's new move comes as a masterstroke and today we will unearth the reasons why!
Google Reveals A New Way to Search
Google has been listing apps in its mobile searches for a fairly long time now. So what new facet does app streaming hope to uncover? To know more, we first need to take a quick glance about the new technology and how it works.
The groundwork for this service was laid a few years back when Google started indexing app-only-content to Google show up in their search results, a process called deep linking. Over a period of 2 years, Google has indexed content from over 1,000 apps like Facebook, Pinterest and Instagram forming over 100 billion deep links. Combining that with their acquisition of the cloud-streaming app service Agawi, Google has made a truly unique offering to both consumers and app developers alike. Users can now not only see app-based content on search results, for supported apps, they can also click on a button and stream the app directly from Google servers.
Caveats
As the heading would imply, there are of course a few caveats to this service.
The greatest one being that since it is just starting out, there is only a few selection of apps that can be streamed.
As this is an experimental service, it is now region locked to the US and can only run on Android devices running Lollipop or higher.
And lastly, it seems to work only on WiFi. While not a big problem in the US, this could turn out to be a major stumbling block for their intended Asia markets.
While the first two are just growing pains that can easily be resolved with time, Google will have to rack their heads and come up with a solution to make it work in countries like India.
The Prospects
Whenever a new service is launched, our first job as analysts is to estimate their impact both on the market, the consumers and the industry as a whole. With that being said, online search has mostly been a slow evolution market with the expansion coming from the growth of smartphones without any real innovation in the underlying technology. This new announcement, however, has us at Dazeinfo, excited about the Search Industry after a fairly long time.
While the benefit to the end user is apparent, today we will be looking at how this new technology can influence both Google's fortunes and those of app developers.
Google: Securing the Future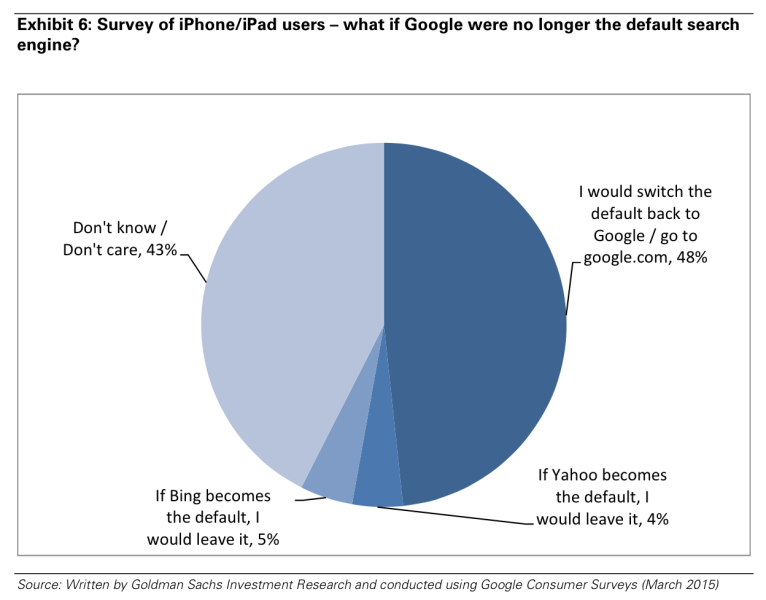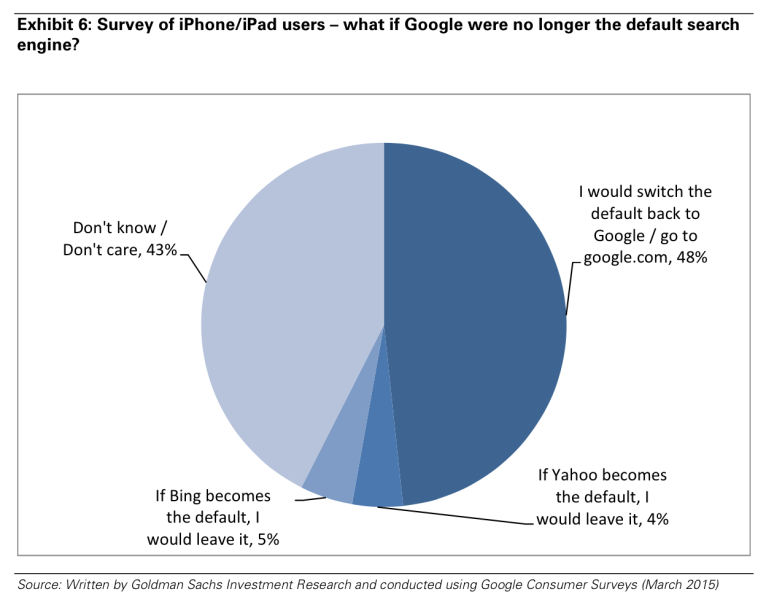 According to a report by Goldman Sachs, a whopping 75% of Google's mobile search revenue comes from Apple's devices. To put those numbers in context, in 2014, out of the roughly $12 billion ($11.8 billion) in mobile search revenue that Google made almost 3 quarters of it estimated at $8.8 billion was attributed to iOS devices. The numbers get even more interesting as roughly half of that, or $4.4 billion, came directly from Google's "default search" deal with Apple for Safari.
Now if we look at the above chart, Google stands to lose nearly 49% of their iOS user base, if Apple decided not to award them with the exclusivity deal for Safari next time around. Keeping that in mind, this new way of searching becomes even more important for Google. This provides them with a unique feature that will help in user retention as well help to make more money off existing customers.
Data Collection is Key
The Internet of things is going to be based on data collection and with Google hosting the app directly on their servers, they will get to run analytics on usage patterns on apps that they previously didn't have any access to. This holds doubly true for iOS wherein if they can figure out a way to host iOS apps on their servers such that the iPhone users will not have to download the app but still get to use it, then they have unveiled a new source of information gathering. For Apple users stuck with low capacity iPhones because of the exorbitant prices, this will be a real boon.
For the Android users, especially in countries like India and China where app content is more than web based content, this new method of interaction with apps provide Google with an outlook to gather information on a new crop of smartphone users. For a company that offers Internet-based services and a comprehensive web-based app suite in the form of Google For Work, streaming apps seems like the next logical step.
App Developers Rejoice
A majority of app problems are caused by bugs and crashes and slow app response times. With an app being hosted on Google servers, three of the top four problems automatically get resolved. The app is hosted on a virtual machine that does the heavy lifting and users don't have to go through lengthy wait times due to slow device hardware.
There are a large number of apps that are created to serve crucial but infrequent purposes. People will often shy away from installing such apps and probably look for some other alternative. With this technology in place, revenue should increase in app developers even if user retention doesn't. 
Final Thoughts
The smartphone industry is changing with app paradigms being shifted. We are moving away from the desktop mould to a truly mobile experience where the cloud is the hub for everything we do. While it is exciting to imagine such a future, there are some harsh realities that Google will have to take into account.
Google's director of Search, Rajan Patel, was quoted as saying
In other places, like China and India, there's lots of app-only content
when asked about the target audience of this new feature. While India may be home to the next billion smartphone owners, the penetration and quality of Internet services leave much to be desired. Will Google be able to uplift the Indian market and usher in a new digital age with their free WiFi initiatives? These questions cloud our optimism, but bullish we remain on Google's new venture.