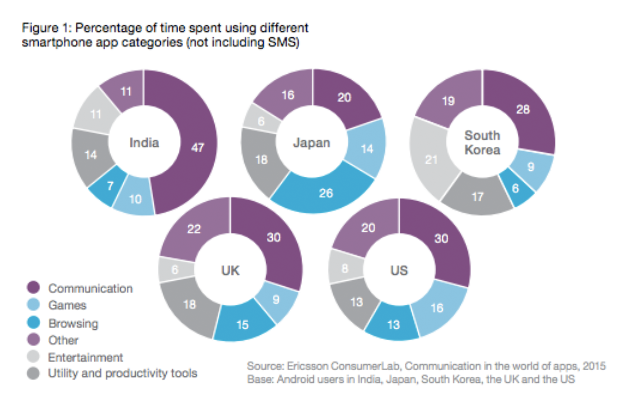 With the rise in the number of Smartphone users worldwide, many startups and established technology firms are busy building mobile apps with an aim to make lives better and easier. According to the Consumer Insight Summary Report – June 2015 released by Ericsson, although there are a wide range of functions and applications available out there, more than 30% of the users especially from India, US and UK spend time on communications apps.
To study the way we communicate today, Ericsson ConsumerLab did a research on consumer behavior by analyzing their app usage, using on device measurements across several markets, with the help of data collected by Nielsen in 2014. The main goal behind this research was to study the influence of social media and messaging apps in our day to day lives. The data collected for the study was from a sample size of 23,800 Android users across India, US, UK, Japan and South Korea, representing 270 million Android users in all.
According to the report, the consumer app usage metrics vary across countries due to the influence of culture and language prevalent in each country. While communication apps continue to be prime usage on smartphones among all the users, the types of communication apps adopted by each country differs from one another.
Communication Is The Key
Owing to the cultural differences, usage of apps differ between Asian and the Western countries. As per the report, Android users in India lead the pack with about 47% of time spent being on communication apps. Though US, UK, and South Korea were on close heels at about 30%, Japanese users seem to utilize their time a tad more browsing than on communicating on their smartphones.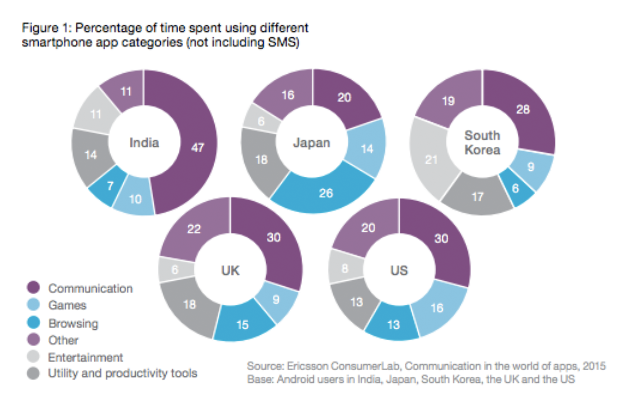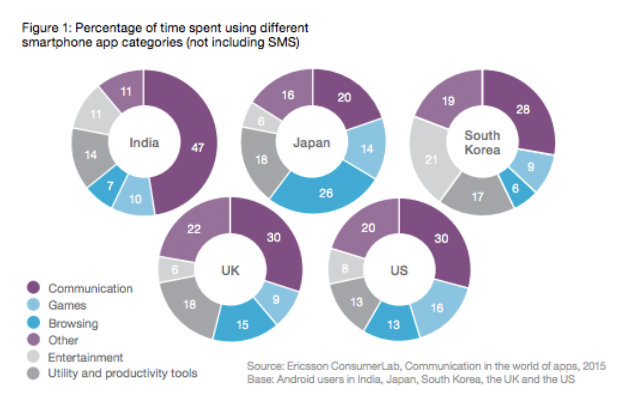 Due to them being the preference among Smartphone users, communication apps also tend to be in the 'Always ON' category. Such apps predominantly depend on mobile data and mobile broadband coverage, especially when used outdoors. While 66% Indian Android users seems to be tradition in their approach and favor communicating through Voice Calling and Instant Messaging Apps, 53% Android users in US and UK prefer Social Networking Apps for fulfilling their communication needs. Japan and South Korea users also seem to like Voice Calling and IM Apps, albeit lesser than Indian users.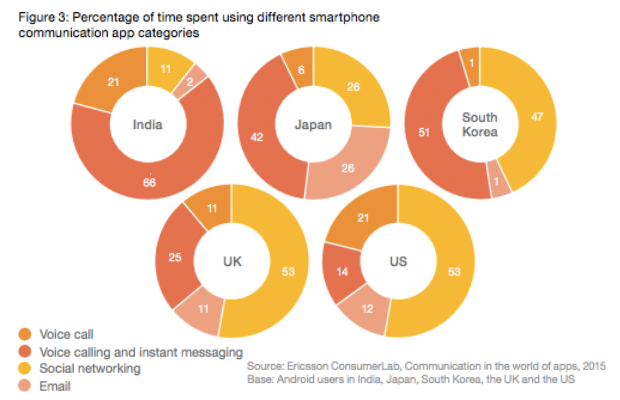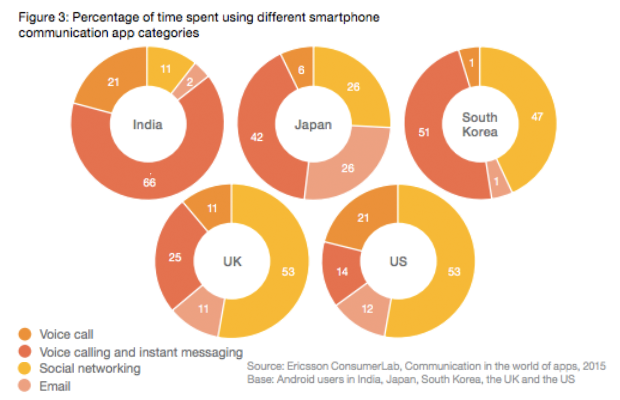 Homegrown communication apps take precedence among Japanese and South Korean Android users, over globally renowned apps like WhatsApp, Facebook Messenger or Google Hangouts. It is also evident from the results that users in the US and the UK like to use voice as a medium to communicate, while Japanese and South Korean users opt for text as their preferred medium of interaction.
App Dominance: East Vs West
When you break down the app usage behavior among Android users, it is found that WhatsApp remains the hot favorite messaging app of 98% Indian Android users followed by Hike (44%), Facebook Messenger (37%), Google+ Hangouts (32%), WeChat (26%). WhatsApp and Facebook Messenger share equal prominence and are also as popular among UK Android users as with Indians. Similar to India, 37% users in the US took to Facebook Messenger as their top communication app and have even mentioned it among the top 5 voice call and instant messaging apps. In spite of its dominance in India and UK, WhatsApp fails to please the Android users in the US, Japan and South Korea.
The report also shows that 62% Japanese Android users consider their own Line app as the best voice call and instant messaging app in the country whereas a whopping 92% South Koreans prefer KakaoTalk.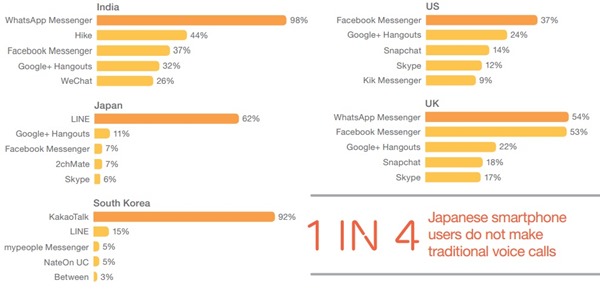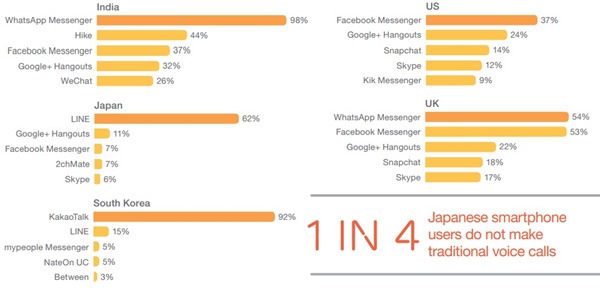 The study clearly illustrates that the English-speaking audience of countries like US, UK and India prefer apps that use English as their prime language of interaction, while south-eastern countries like Japan and South Korea assign higher value to their language and culture and rely on their own local flavor apps for communication as these apps cater to the fancies of the locals within their countries.
How Adaptive Are Modern Users?
The main reason behind the rise in the number of smartphones worldwide is mainly because it makes communications easier and simpler. There are many factors responsible to build loyalty towards the already accepted apps or willingly welcome the upcoming ones. Hence, the popularity of an app among the users majorly relies on parameters such as ease of usage and reach of the app among friends and peers. Adoption of new apps is based on its unique compelling features, the critical chasms of the dominant system  it bridges and the interesting advantages it provides beyond the capabilities of the present app that the people are used to.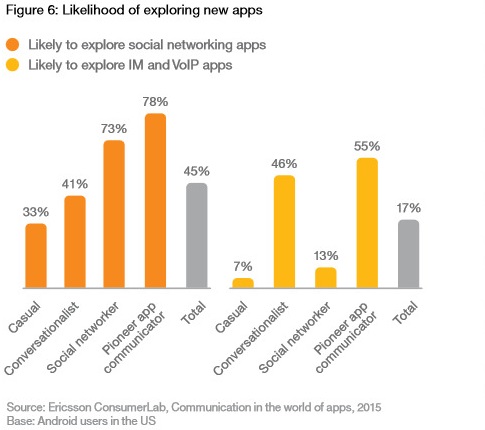 For instance, youngsters prefer new apps but eventually move on as these apps become mainstream. It is also the main reason for Instagram being highly popular among youngsters when compared to the likes of Facebook and Twitter. While a casual user is open to trying out a new social networking app, he is, however, reluctant to switch to relatively new IM or VoIP app. Where 73% Social Networkers are likely to try a new social networking app, only 46% conversationalists are open to test a new IM or VoIP app.
What The Future Beholds for us?
Technology is evolving as we talk and it will keep surprising us day after day. From the time, when telephone dials seemed complex to now when communication apps are transforming the way we interact with each other. It is certainly hard to predict what future beholds for us, however, it is quite evident that the tools or media that we use currently for communication could turn passe with the emerging new technologies.
There was a sudden rise in the interactions through images after the introduction of the selfie trend, offering the much-needed boost to apps like Instagram and Pinterest which promotes the 'click and share' culture. The selfie trend also gave birth to a line of products called selfie sticks in 2014. The popularity of communicating through pictures or stickers can be assessed from the fact that stickers on apps like LINE and KakaoTalk are hugely popular and are a means of primary monetization for these apps, as well.
In the study, consumers also suggested the new technologies they are expecting in the near future. Among the respondents, 40% believe that, within a year, smart watches will utilize light pressure to mimic touch, whereas 70% said that they are hopeful to see devices which allow to communicate via thought by interpreting brain waves in 2020. Although these technological miracles might seem impossible today, their possibilities can't be ignored.