Apple Inc. (NASDAQ:AAPL) unveiled the iPhone 5S almost seven months ago, yet it remains the best-selling smartphone in the world, as of May 2014. The last flagship smartphone Galaxy S5 from Samsung Electronics Co Ltd. (KRX:005935) came in second place while the Galaxy S4 secured third place. Data from Counterpoint Reasearch from 35 countries clearly shows that the top-selling smartphones in the world belong to just three companies; Apple, Samsung and Chinese entrant Xiaomi. Besides iPhone 5S, Galaxy S5, Galaxy S4 and Xiaomi Mi3, the other popular smartphones on the top 20 list includes the Sony Corp (ADR) (NYSE:SNE) Xperia Z1, Motorola Moto G, and LG Electronics Inc. (KRX:066570) G2.
Korean electronics giant Samsung is widely expected to report a major loss of revenue in its Q2 earnings report as Apple continues to exert pressure at the high-end of the smartphone market. The massive success of the iPhone 5S is a positive sign for Apple as it prepares for its upcoming iPhone 6 launch reportedly due in September 2014. Meanwhile, competition is accelerating fiercely at the lower-end of the smartphone market as after Lenovo and Motorola Chinese firm Xiaomi is committing to provide more-value for money to its smartphones users.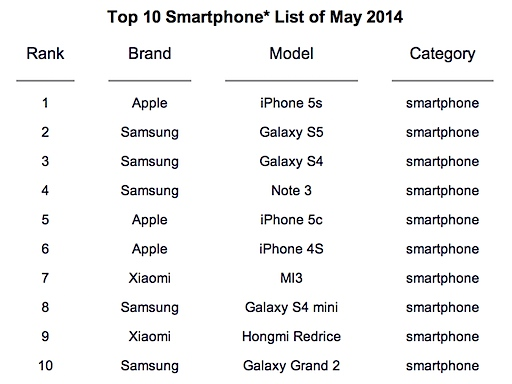 Demand For The iPhone 5S Continues Unabated
Apple reportedly sold a total of 7 million iPhone 5S in May 2014 beating  the Galaxy S5 of which just 5 million units were sold in the first month of its release globally. This implies that the iPhone 5S outsold the Galaxy S5 by a whopping 40% margin in May. Shipments of the iPhone 5C continued to decline as Apple is more focused upon clearing the existing inventory. Surprisingly, the aging iPhone 4S which was released as far back as 2011 occupies the sixth position, and it is still popular among first time Apple users. Out of the 43.7 million iPhones Apple sold in Q1 2014, at least 25% of them were believed to be the iPhone 4S.
It's also interesting to note that three devices on the top 10 are large screen phablet devices. At least 40% of all smartphones sold in May were phablet devices, a reflection of the trend of larger display devices. This augers well for Apple's upcoming iPhone Air, which is rumored to be a phablet device. Counterpoint predicts that the new device will instantly become a hit and become the best-selling phablet within two months of its availability.
Xiaomi's

Super-Cheap Strategy Is Paying Off
Xiaomi's flagship MI3 device currently rests in seventh place, while the Hongmi Redrice took the 9th position. The Chinese firm has done exceptionally well given that it currently sells smartphones only in China, Singapore and Malaysia. It also plans to expand rapidly into India, Indonesia and Brazil, all strongholds of Samsung, this year. The Korean electronics giant has a lot to fear from Xiaomi which produces smartphones on par, especially Apple iPhone replicas, with high-end phones for half  the price.
Within China, however, Xiaomi has supposedly reached its limit. Two of the main models the Mi3 and Redmi have reached their peak, and the competition has taken notice. Besides, in China, there are several competitors who have also released similar products with high specifications at very competitive price-points. Therefore, Xiaomi urgently needs to revamp its products in the coming months if it aims to take the competition head on.
Samsung Failed To Live Up To Users Expectations
Five of Samsung's devices are on the list of top 10 best-selling devices. During the same period last year the iPhone 5 and the Galaxy S4 reportedly sold a total of 7 million units each,. Yet the Samsung Galaxy S5 is struggling to catch up to the iPhone 5S, mainly because the device reportedly did not live up to people's expectations. Issues included the handsets' average display quality and the use of a plastic case, which irritated several users who cough up a huge amount to own the device. In order to win more customers, Samsung will need to be more cautious with its future products and users' expectations. Companies like Xiaomi and Gionee have started testing Samsung in developing markets and it's quite unlikely that the Korean giant could continue its high-profit margin on each of its smartphone in future like before.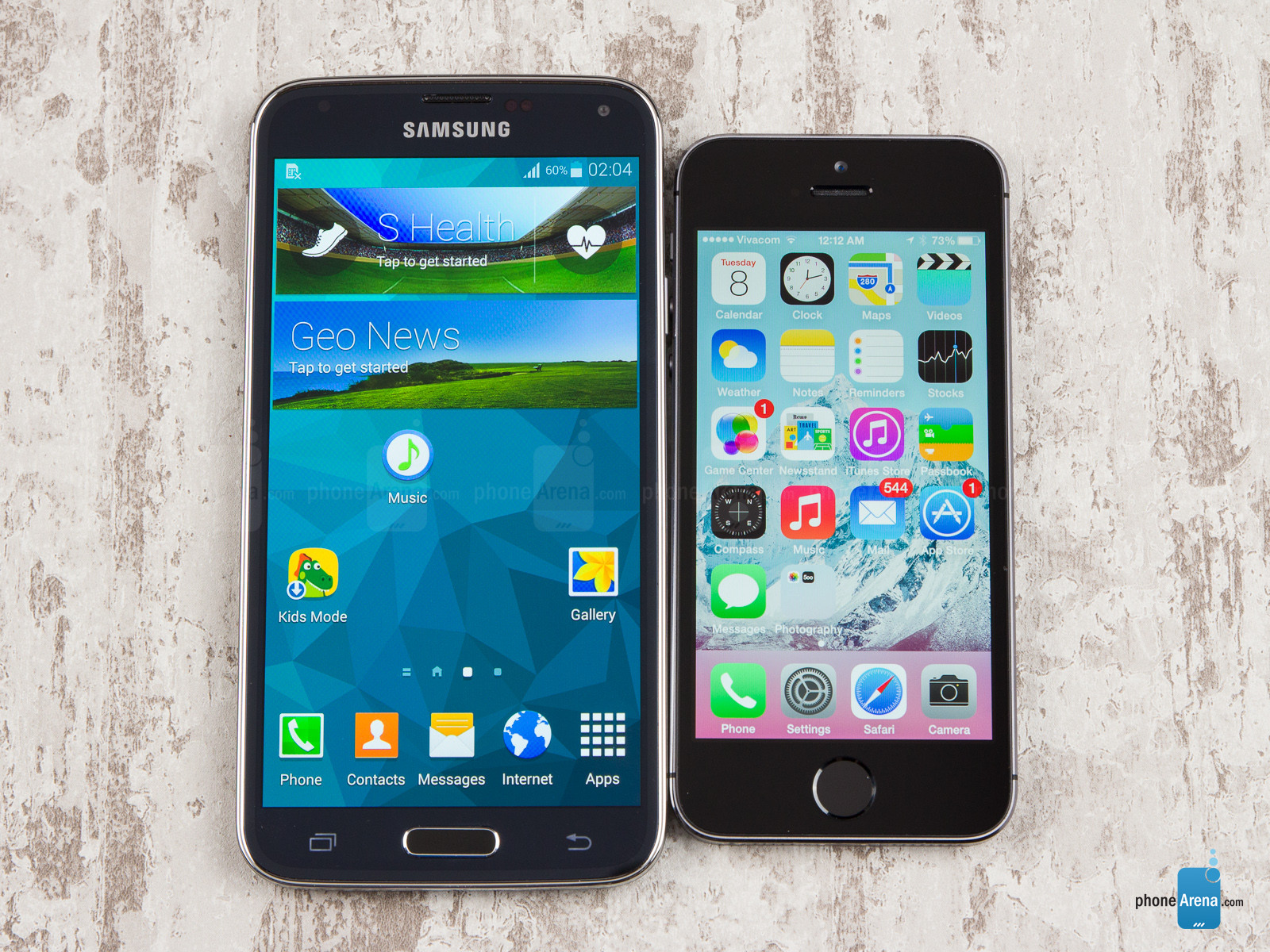 If recent rumors are correct, then Samsung still has two higher-end smartphones planned for release in 2014. This includes the so-called Galaxy F device to release at the same time at the launch of the iPhone 6, and the Galaxy Note 4 device which is also slated for a release over the next few months. It is also widely expected that Samsung will feature a smartphone powered by its Tizen OS for the first time in 2014.
With the high-end smartphone market reaching saturation point in the US and other countries, it appears as if several smartphone vendors are undergoing brand fatigue. Despite the slowdown, Apple continues to be defiant and charge a high-premium price for its products. It will be interesting to see if Apple can match the high sales expectations of the iPhone 6, and outperform its predecessor the iPhone 5S.