Twitter Inc. (NYSE:TWTR) is flooded with condolence tweets, images and video of the Malaysia Flight crash in Ukraine, took place just a few hours back from now. People around the world are hitting to their system only to educate themselves more about the incident and ending up with tears, sorrow and condolences for 270 passenger and 15 crew members who were travelling on Boing 777 MH17 flight. Unfortunately, reports are claiming that they all on board have died.
The ill-fated flight was reportedly shot down over Ukraine by terrorists operating bulk surface-to-air missile system, as claimed by the Ukrainian Interior Minister on Facebook Inc. (NASDAQ:FB). The Malaysian Flight MH17 was bound for Kuala Lumpur, Malaysia from Amsterdam.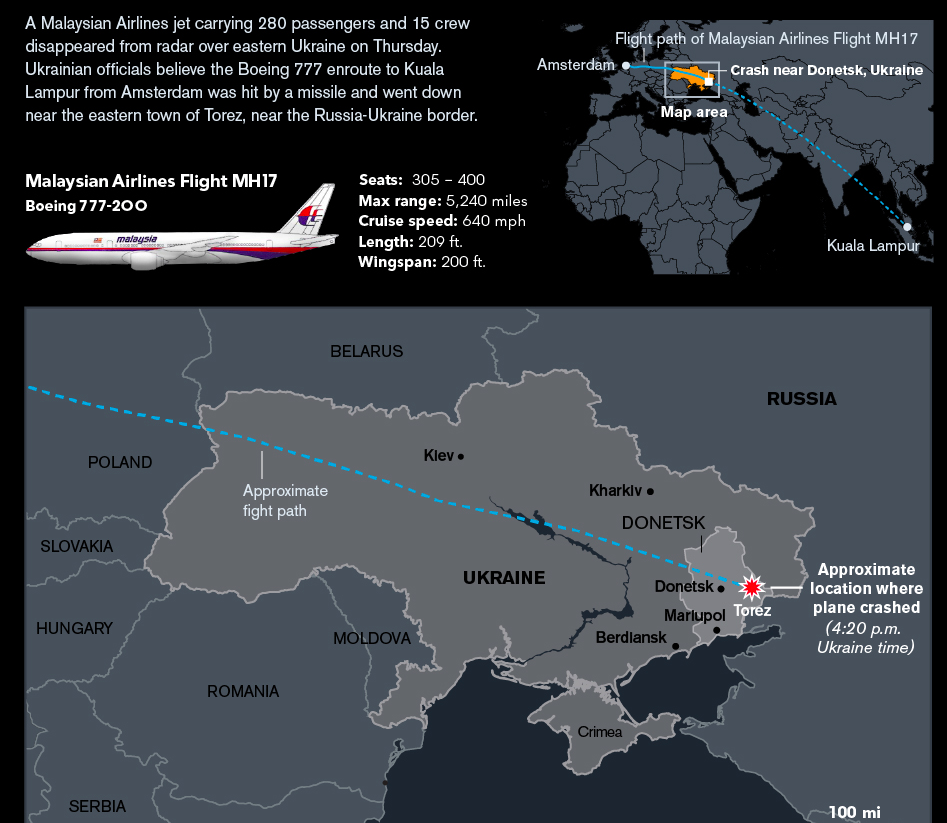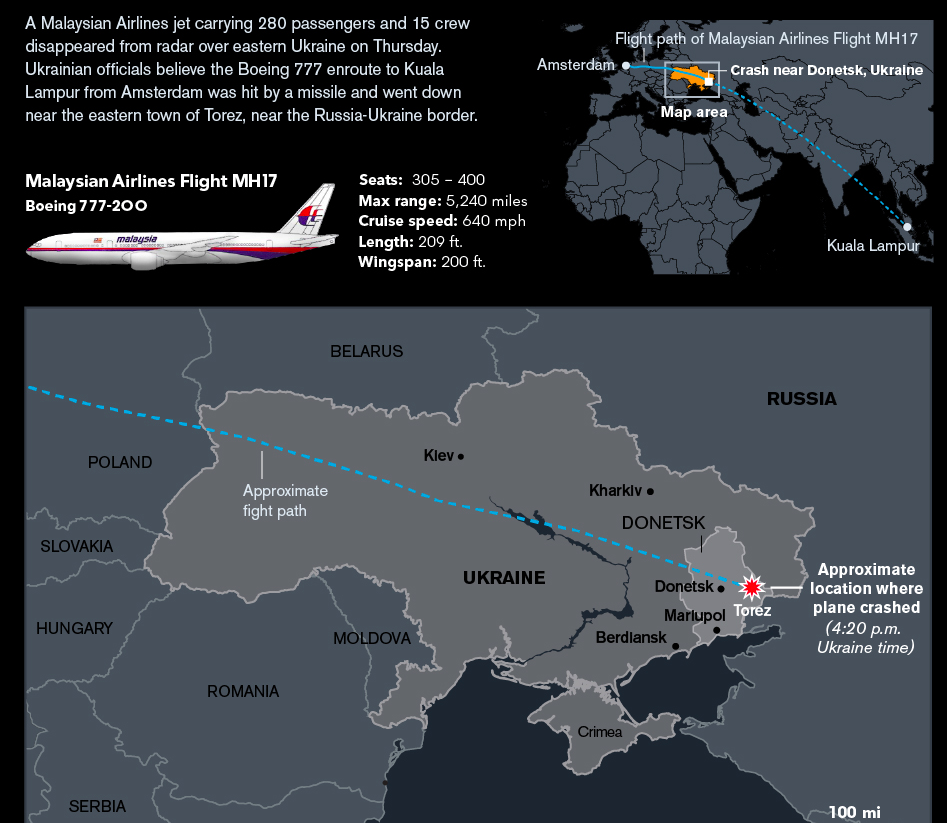 The incident has triggered restlessness among people across the world, who have got immediate access to few raw images and videos of crashed Malaysia Flight MH17 though social networking channels, especially twitter and Facebook.
In the first two hours since the news broke out Twitter has got a little over 425,000 tweets about the incident, while Facebook is recording about similar trend from its 800 million daily active users. On both the leading social networking sites #MH17, Malaysian Airlines are trending at the top since the news broke out.
The prime hashtag #MH17 of the event reached to 55.10 million unique twitter users and generated 395.76 million impressions within first 5 hours from the event took place. We tracked the event's main hashtag #MH17 for first five hours and witnessed an explosive rise on Twitter.
Most of the tweeps who tweeted about the event with a reference url to a site, image or video referred to twitter.com url, followed by bbc.in and youtube.com. This clearly shows that images are still much more popular than video among internet and social media users. More interestingly, among all the tweets with hashtag #MH17, only 19.9% tweets carried original post while 79.1% tweets were just retweets. Nearly 1% tweets were replied.
Android emerged as the top platform for these tweets; 39.8% of tweets with #MH17 were done using Android devices, followed by 24.4% iPhone and 5.2% iPad. This brings Apple's mobile devices share to 29.6%, but still way below than Android. Nearly 21.2% tweets with #MH17 were done through Desktop.
These statics are bound to change as the time will pass by. More and more people will be engaged with the news and social media engagement is poised to grow up.
Though, it's not immediately clear if these hashtags are racing against the top record on Twitter and Facebook, the number of retweets and reshare are multiplying with each passing minute.
One of the important reasons of such explosive attention on social media is unedited, uncensored raw video of Malaysian Airlines MH17 that was captured just a moment after the crash. The images of crashed MH17 with dead bodies and debris is being shared on all the social media networks restlessly. Though, some of the social media users are finding it amusing and urged people to refrain from sharing such disturbing visuals in their network, social media users are on a rampage to criticize Malaysian Airlines, Russia and Ukraine by tagging their text with such images.
Here are some of the popular, but disturbing, images of Malaysia Airline MH17 crash making rounds over the internet.
https://twitter.com/JeromeA/statuses/489812274719113216
Malaysian airliner crashes in E. Ukraine near Russian border, over 280 people on board — http://t.co/OzXo1rA6G1 #MH17 pic.twitter.com/ObVOqdPeun

— Déji Fadahunsi (@DJone01) July 17, 2014
Reported photo from Malaysia #MH17 crash site. PHOTOS: http://t.co/DuKEZd3Oka pic.twitter.com/DJs5oUcuiI

— CBS News (@CBSNews) July 17, 2014
كارثه اخری للطيران الماليزي ..
تحطم طائرة مدنيه ماليزيه فوق اوكرانيا ومقتل جميع الركاب#MH17 pic.twitter.com/KlRwlZihEv"

— محمد المصارع (@joody99999) July 17, 2014
Further pictures from the #MH17 crash site in in Grabovo, #Ukraine #MH17 – @reuterspictures (GRAPHIC): pic.twitter.com/4rc7Y4dBeN

— ReutersAerospaceNews (@ReutersAero) July 17, 2014
The site of a Malaysia Airlines plane crash in the settlement of Grabovo in Donetsk region: http://t.co/yVWeqntSaK pic.twitter.com/guBJ5ppeRy

— Reuters Top News (@Reuters) July 17, 2014
#MH17 updates | Burning wreckage, bodies scattered Malaysia jet #MH17 crash site in #Ukraine http://t.co/RLevQp17Br pic.twitter.com/k4v8hENyGd

— Hindustan Times (@htTweets) July 17, 2014
Pictures from the crash site. Malaysian Airlines flight from Amsterdam to Kuala Lumpur MADNESS! #MH17 #PrayForMH17 pic.twitter.com/VWhpD5KHas

— Baghdad Invest (@baghdadinvest) July 17, 2014
Shocking images of debris from wreckage of Malaysia Airline flight #MH17 http://t.co/N9qsJRaTMg pic.twitter.com/tuDpkeiHMY

— HuffPost UK Pictures (@HuffPostUKPics) July 17, 2014
Reported photo from Malaysia #MH17 crash site. PHOTOS: http://t.co/DuKEZd3Oka pic.twitter.com/DJs5oUcuiI

— CBS News (@CBSNews) July 17, 2014
#MH17 No sign of survivors at #Ukraine crash site (Photo: AFP) http://t.co/ajzptbCUSy pic.twitter.com/g4bLwkvNz1

— Times of India (@timesofindia) July 17, 2014