When there are two giants in one ecosystem like it is with Android and iOS, battles are the norm of the day and sparks are expected to fly. Often we see various reports pitting them against one another, sometimes it's in terms of hardware, at other times it's in terms of market share. However, today we have something a bit out of the beaten path. In a recent report from Blancco, which put Android and iOS devices under the cosh, we found some worrying if not surprising results. In a stability test for built-in hardware functionality, OEM made apps as well as those downloaded from the App stores for both platforms; it was found that Android did consistently worse than iOS.
As smartphone users become more and more dependent on their handheld devices for every aspect of their daily lives, the workload, as well as the expectations from our handheld computers, has increased exponentially. This means that whenever our smartphones fail to do our bidding, we tend to get frustrated. And for someone on the Android side of things, this tends to happen quite a lot with Android smartphones having a 44% failure rate compared to iPhone's 25%. So are all Android OEMs equally guilty? Or is there more to this scenario than the fact Apple makes a more stable ecosystem as compared to Google? These are the questions that we seek to answer in today's analysis as we go around the world, keeping a tab on failure rates of devices.
Android Smartphones Fall Flat: Are OEM Skins to Blame?
While a failure rate of 44% does sound scary at first, one thing that has to be taken into consideration is the fact that there are a lot of Android Smartphone OEMs out there, and Google has given them free reign to customize Android as per their wish. However, this often leads to buggy and unstable software as the OEM features which are built on top of Google's Android Framework often leads to various compatibility issues and app crashes.
This observation gains more credibility if we turn to look at the first infographic. Out of the top 5 offenders, Samsung, Lenovo, Asus as well as LG all skin their devices pretty heavily, Moto is an exception, but we will come to their causes of failure a bit later on. The same trend persists if we look at the device list which is dominated by Samsung devices. With 43% of failures originating from devices running TouchWiz, it is apparent that in spite of all the added functionality that Samsung's version of Android aims to provide, the Galaxy lineup of phones is just not reliable in daily use.
Lenovo with their K3 Note has been guilty of the same mistake as they have slapped on a very iOS-esque skin of Android on many of their devices including the K3 Note that has earned the inglorious honor of the 3rd most failure-prone device in the Android segment with a 6% failure rate. With a 6% overall failure rate, Asus gets the fourth spot om the list however their reasons for being on this list might have had a lot to do with their affinity for using Intel Mobile processors that have been known to sport compatibility issues for a long time.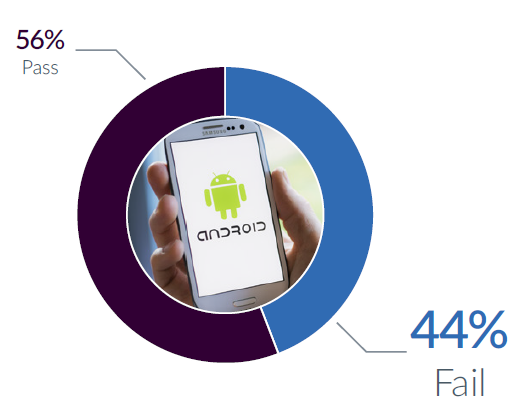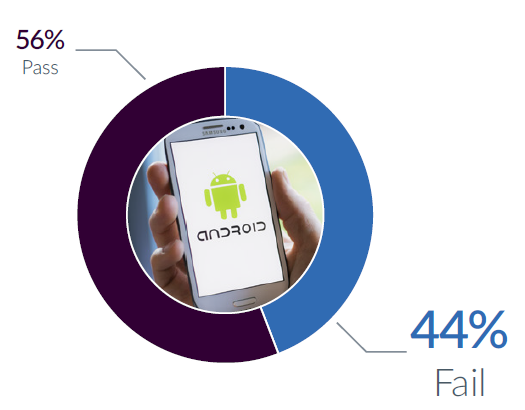 Finally, we come to the device OEM that we had left out at the beginning, Moto. While they have been much applauded in the tech community for their stock Android-based UI, they still find themselves at the second spot on the list with a 14% failure rate. So does this mean that stock Android is just as bad? Well, not quite! To compete with Chinese OEMs like Xiaomi and Meizu in extremely price sensitive markets, Motorola had to cut corners in many of their budget device lineups to keep the prices below the dwindling ASPs of developing market. However, the lack of hardware capability has shown through in this report as we see one of their budget lineup, the Moto G getting featured in the 4th place with a failure rate of 5%.
As for LG, they had one of the best years in quite a while with most of their flagship products like the G4 and V10 sporting something that is quite unique. Despite the second screen of the V10 helping it nab the best smartphone of 2015 award; the unique feature has caused it's fair share of hiccups with certain apps and might have been one of the factors that led to the company getting the 5th spot on the list with a 5% failure rate. Sometimes, the fault isn't all with the OEM; as app developers are often negligent and fail to optimize their apps for various devices. We will see the devastating effects of that on the Android OS in our next segment.
Android Apps Failure Rates Are Alarming


Android apps have been prone to crashes and instability and time seems to have done naught to affect that. As Q1 2016 rolls around, we see that Android apps have crashed around 74% of the times they have been tested on Android devices. Among various categories, Tools are the ones with the highest failure rate at 85% followed by Communication and Social apps. The rest of the categories with a failure rate of below 0.5% are in the clear.


In what can be described as only a cruel twist of irony, the antivirus apps which are supposed to protect the devices from getting attacked by external apps are the ones who top the list of crashing apps. This reiterates the fact that such security apps are not worth their salt especially if someone downloads from the Google Play Store with Play Services being one of the better antiviruses out there. Leading the pack with an 82% failure rate, the Lookout security app may incur more trouble for its users than benefits as they are more likely to deal with the app crashing than a security threat that will go past the ever present Google Play Services.
Taking a Look At Apple's Side of Things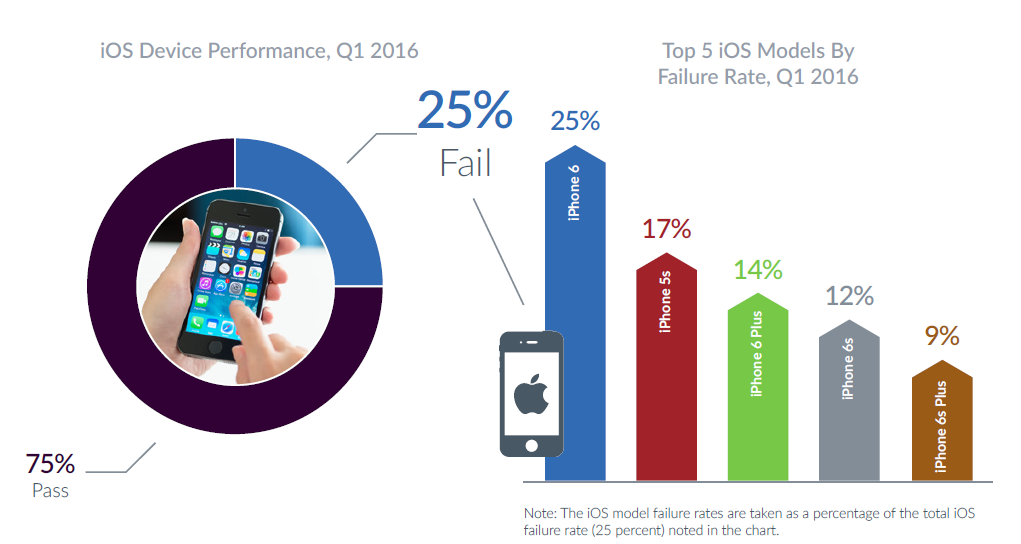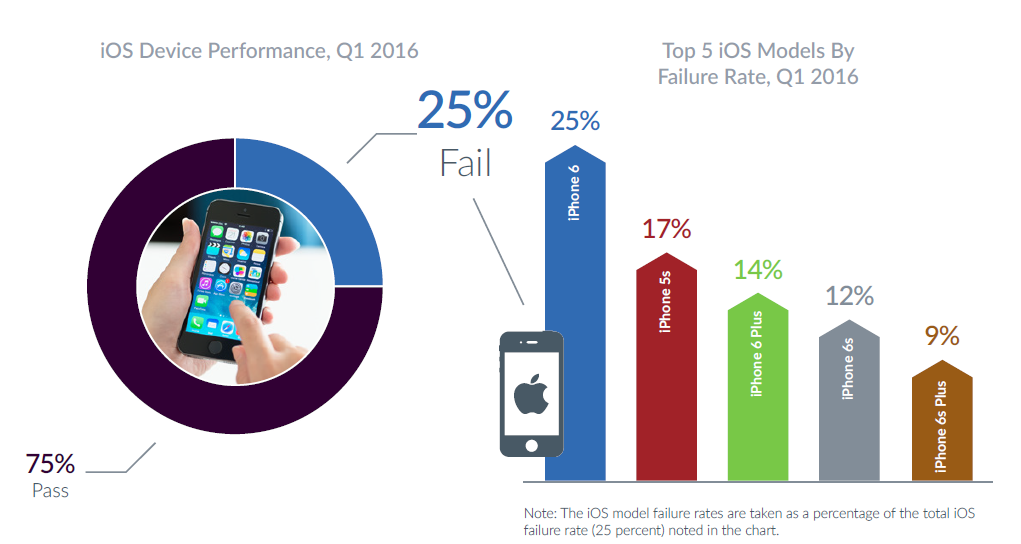 While the failure rates for Apple devices are significantly lower than Android with a mere 1 out of 4 devices showing signs of failure, there are a few signs of worry for the Cupertino giant as well. Out of the five devices that have the highest rate of failure, the one leading the pack is iPhone 6 with a 25% failure rate; the newer models of 6s, 6s Plus and 6 Plus also figure on the list. This has been something which we see on the Android side as well, with the year old Samsung flagship being the device with the most crashes.
Whatever be the reason behind this disconcerting trend, Apple must look to put an end to it as their latest flagships have done rather poorly and with all hopes resting on the iPhone SE for now, Apple doesn't have much wiggle room. So what can the OEMs do to solve these issues? This is what we try to figure out in our ending segment as we wrap up this analysis.
Final Thoughts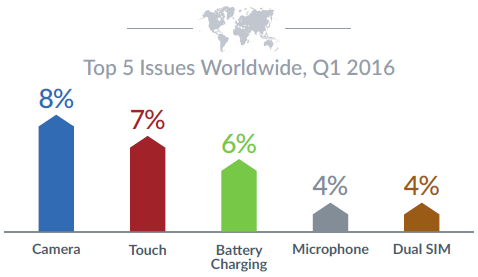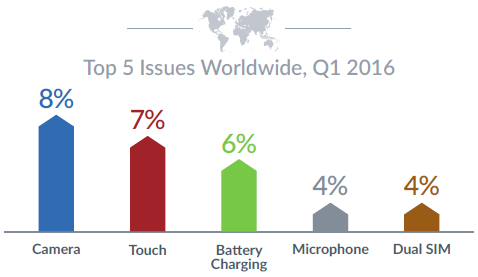 Prevention is better than cure says an age-old adage, and thus, the first step to curing app crashes is by reworking the problem areas so that the device themselves are better made and less prone to crashes. Camera issues lead the pack as the most commonly faced hiccup among the users with problems in auto focus and general picture quality causing consumers much grief. With an increased use of multimedia sharing among people across all social media, camera and battery life usage has jumped through the roof which leads to both of these two features finding the 1st and 3rd spot in the list of common complaints. And with all smartphones being touch devices, it is no surprise that with 7% of the complaints, touch response takes the second spot.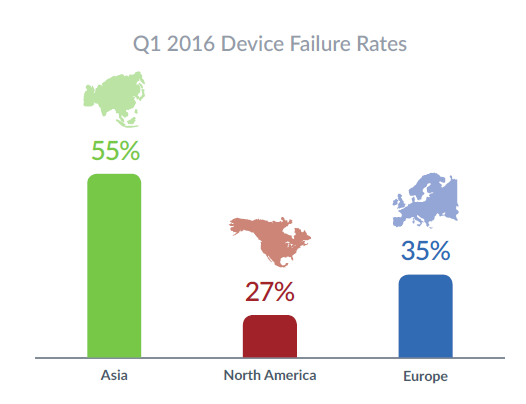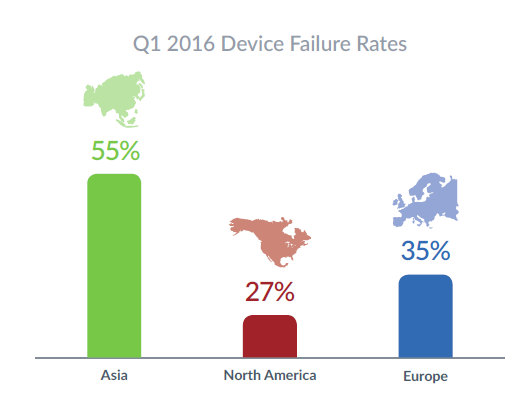 Looking at it from a more geographical perspective, we find that device failure rates are alarmingly high in Asia at 55%. EU takes up the second spot with around 35% failure rate followed by North America at 27%. One of the main reasons that Asia figures so high on the list could be due to the fact that in India and China, two of the world's biggest smartphone markets, the average ASP of smartphones remains quite low. As a result, we find that many more smartphones OEMs in this region cut corners leading to poor build quality and subpar products.
The Asian market also demonstrates an affinity towards dual sim phones, and as the research has found out, there is a higher percentage of faults being found in dual sim phones. While these phones often provide the convenience of having two carriers as a result of which in budget conscious countries like India, the consumer can choose from the best available data and voice tariff rates.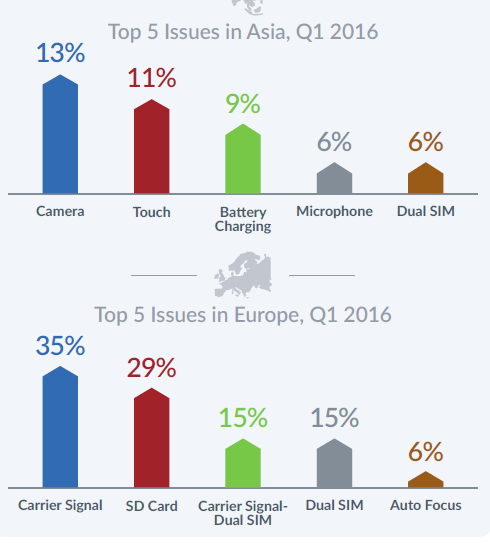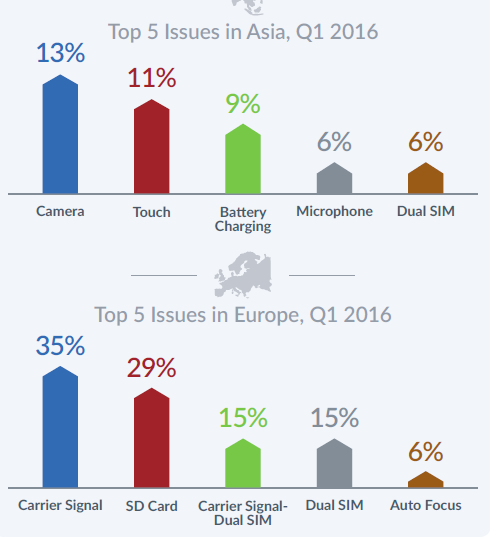 While camera touch and battery remain the repeat offenders, dual sim makes an appearance in both the results for EU as well as Asia. In fact, if we look at the EU complaints we find one of the major complaints being cellular signal quality both on Dual Sim as well as Single Sim Devices.
However, it seems that carriers are listening to their customers at least on the EU side of things as we find that operators are spending heavily in both 4G as well as the newer 5G penetration.
With an increased amount of data caps and more proliferation of smartphones, the EU is expected to have a subscriber base of 450 million by 2020. By comparison, the NA market is expected to have 250 million unique subscribers and 350 million connections by the same time frame.
Taking a look at the NA list of complaints, we find that performance takes the top spot with 5% of the complaints while the usual suspects battery charging, and touch takes the second and third spots with 3% each.
So what can steps can the smartphone manufacturers take so as to ensure a better end user experience? We listed down a few points below that OEMs would do well to follow on both sides of the pond, albeit some of them are geared more heavily towards Android than Apple.
OEMs should try to not mess with core Android features and make changes to the kernel and source code. This leads to security vulnerabilities as well as other bugs and glitches that affect the overall smoothness and performance of a device. OEM skins are also one of the major causes of Android fragmentation in lower tier devices as we discussed in great detail in a previous article.
App developers should bear device constraints in mind while developing their app. One of the secrets of making a successful app is knowing the market, and that means knowing the average horsepower of the devices that the target audience owns.
OEMs should also focus on getting their repair crews more proficient as having a good customer service is paramount to keeping consumers happy. In NA, the NTF (No Trouble Found) return rate was a staggering 73%, and even EU had a rate of 65%. This means that more than half the devices that had arrived at service centers had to be replaced instead of repaired as the problem could not be detected by the personnel employed by the manufacturer.
However, as the last step indicates, there is a need to educate the entire ecosystem on what goes on behind the smooth workings of a smartphone. Knowing simple trouble shooting steps like deleting cache(a problem that affects 44% of Android devices), uninstalling rogue apps, taking good care of SD cards and data storage can, in the long run, result in a much smoother smartphone experience.
As smartphones become ever more commonplace from work to home and everywhere in between, there is a growing need to educate the users on the well being of these little pocket powerhouses that lift so much of our daily workload. With privacy and security concerns at the heightened stage of importance, man and machine need to come together in a united effort to gain the best possible cohesiveness from their digital experience.