Apple Inc. (NASDAQ:AAPL) and Microsoft Corporation (ADR) (NASDAQ:MSFT) are the harbingers of a myriad of technical revolutions. The introduction of desktop PCs, smartphones, tablets, phablets, 2-in-1 devices have clearly changed the world we live in. The roles of devices are shifting as smartphones are destined to become our primary devices. Smart Connected Devices (SCD), led by smartphones, are expected to witness double-digit growth, according to the latest report released by International Data Corporation (IDC).
"Apple's iOS-ification of Mac OS, and Microsoft's implementation of Modern UI throughout different form factors are clear indicators that we're living in a mobile-first world," said Jitesh Ubrani, Research Analyst, Worldwide Quarterly Tablet Tracker.
Key Take-Away of the Report
43.3% smart connected devices to-be sold in 2018 are likely to be less than $200.
Three out of four smart connected devices to be sold in 2018 would be smartphone.
Global shipment of smart connected devices likely to reach 1.8 billion in 2014 with 15.6% year over year growth.
Smartphone market share in the smart connected device is estimated to reach 74.10% in 2018.
Tablet plus 2-in-1 will have a constant market share at 14%.
At 4.90%, the market share of desktop PC is likely to be half in 2018 of what it was in 2012.
In 2018, smartphone shipments expected to outpace total PC shipments by 6 to 1.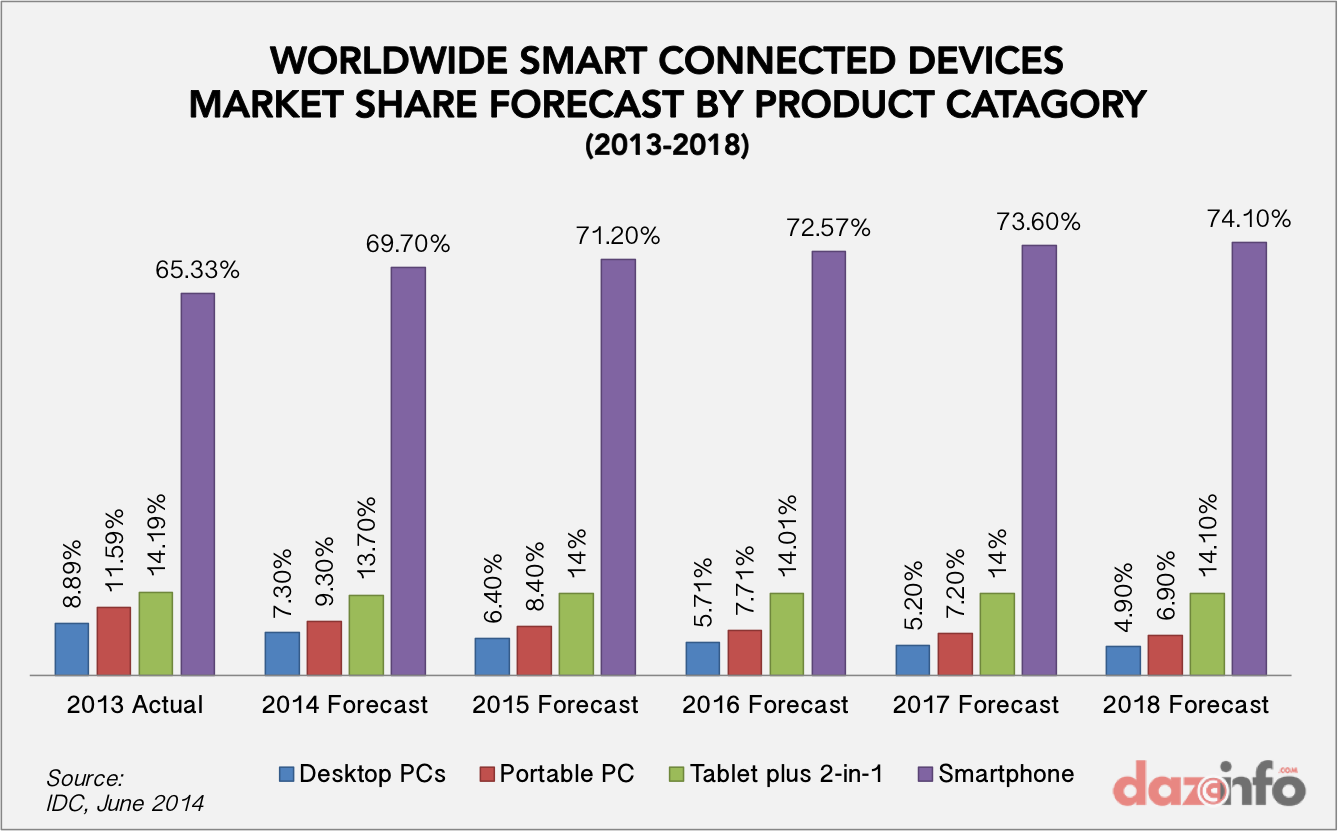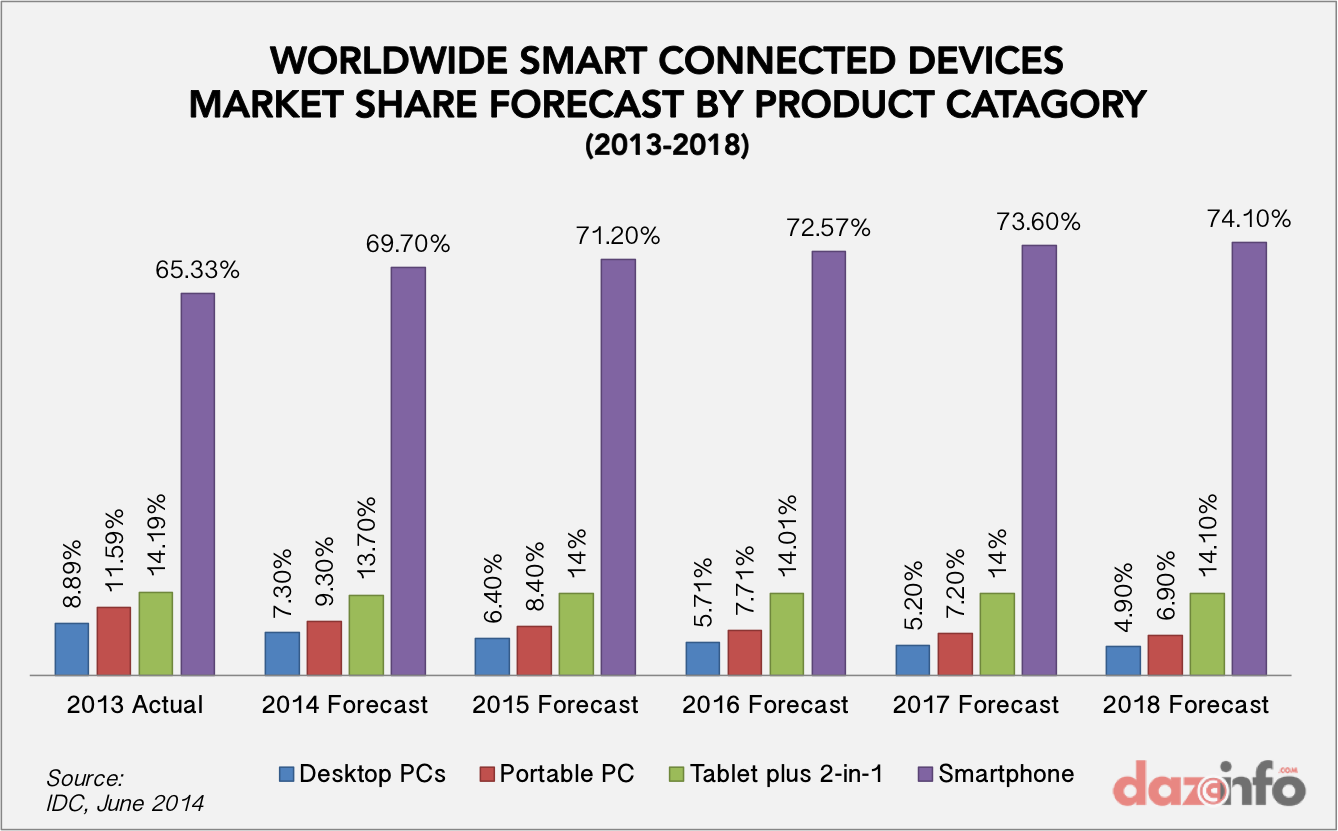 Shipment of Smart Connected Device Likely to Reach 2.4 billion units in 2018.
Fueled by the demand in emerging markets, the shipment of smart connected devices is likely to reach 2.4 billion units by 2018 which includes 1.8 billion smartphone shipments. A majority of these devices (SCDs) are likely to fall in the range of below $200. The smartphone penetration has already reached 50% in most of developed countries, including South Korea, China and USA, and this has forced smartphone vendors to approach the emerging markets where feature phones are still dominating the market but smartphone adoption is pacing up.
The growth of smart connected devices is pegged to smartphones. The market share of tablets plus 2-in-1 devices is likely to hover around 14% with 13.7% in 2014 to 14.10% in 2018. The stagnating tablet sales lead IDC to revise its forecast for 2014 from 260.9 million units to 245.4 million units. In fact, the market share of desktop PCs and portable PCs is also going down considerably. This decline can be credited to the Bring Your Own Device culture and growing adoption of Phablet devices. The price sensitivity of the upcoming markets and the ongoing infiltration of smartphones in every aspect of our lives is plummeting the growth of desktops and laptops.
43.3% Smart Connected Devices to be Less Than $200
In 2013, the division of people going for all kinds of price tags was uniform; one-third of users bought devices which were above $500. But that is all likely to change by 2018. Users are more aware of the average selling price of the product and are preferring to go for products that make sure high ROI with best specifications. It is projected that in 2018, only one-fifth of the users will go for devices that cost more than $500.
"Low-cost Android smartphones will drive much of the SCD shipment growth in coming years," said Tom Mainelli, Program Vice President for IDC's Devices and Displays group.
The global smartphone shipment reached 285 million units in Q1 2014 with 33% Y-o-Y growth. The growth in developed countries is reaching a saturation point, which has led the vendors to head the emerging markets like APAC. The launch of entry-level smartphones is taking the world by storm. New entrants such as Mozilla smartphone, Micromax Windows Phone and Moto E are attempting grab the largest chunk of the pie with highly competitive price tags. Home-grown manufacturers are experiencing the maximum growth in respective nations and few of them have already grabbed sizeable smartphone market at global level. The growth of Chinese vendor Huawei could be well attributed to this trend as the company is ranked among the top-5 smartphone vendors worldwide in Q1 2014.
These findings clearly depict the loss of users' interest in fixed and bulky devices like the desktop PCs and laptops. Users are more willing to spend money on devices that gives them all functionalities at low-cost and allow them to carry their world with them all the time. Therefore smart connected devices vendors must pay attention to these trends as consumers are now making more informed choices.