Smartphone industry in India has been witnessing an explosive growth for last few quarters. In Q1 2014, smartphone shipments in India reached to 17.59 million mark with a staggering 186% Y-O-Y growth. This has allowed India to outpace China, which has recorded 31% Y-O-Y growth during the same period. Most of smartphone users in India have apparently migrated from feature phone to smartphone largely categorized as first-time-smartphone-users, which has resulted in a massive adoption of low-price-entry-level smartphones. Nearly 78% of smartphones, shipped in India during the first quarter of the year, were price tagged with $200 or even lesser.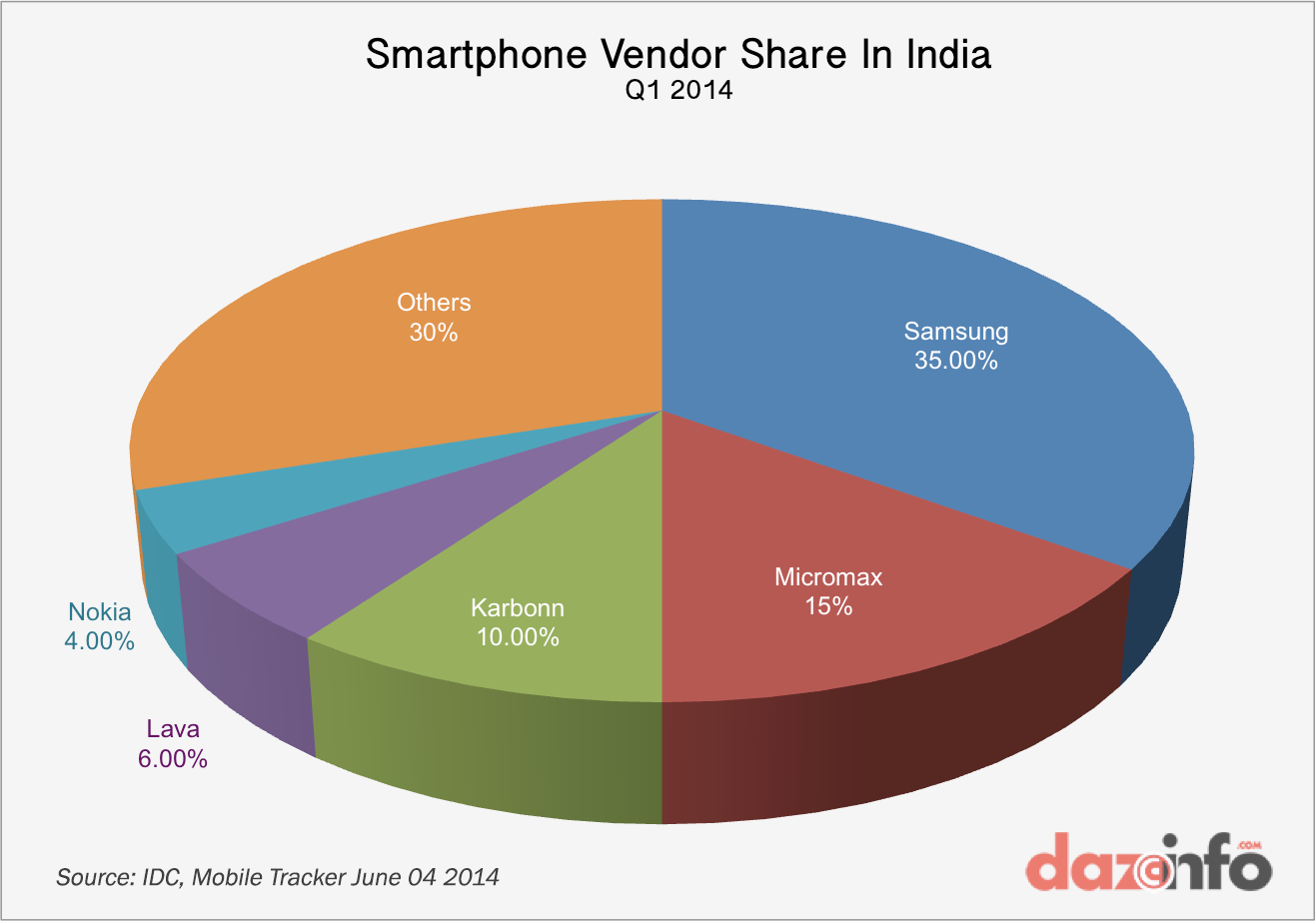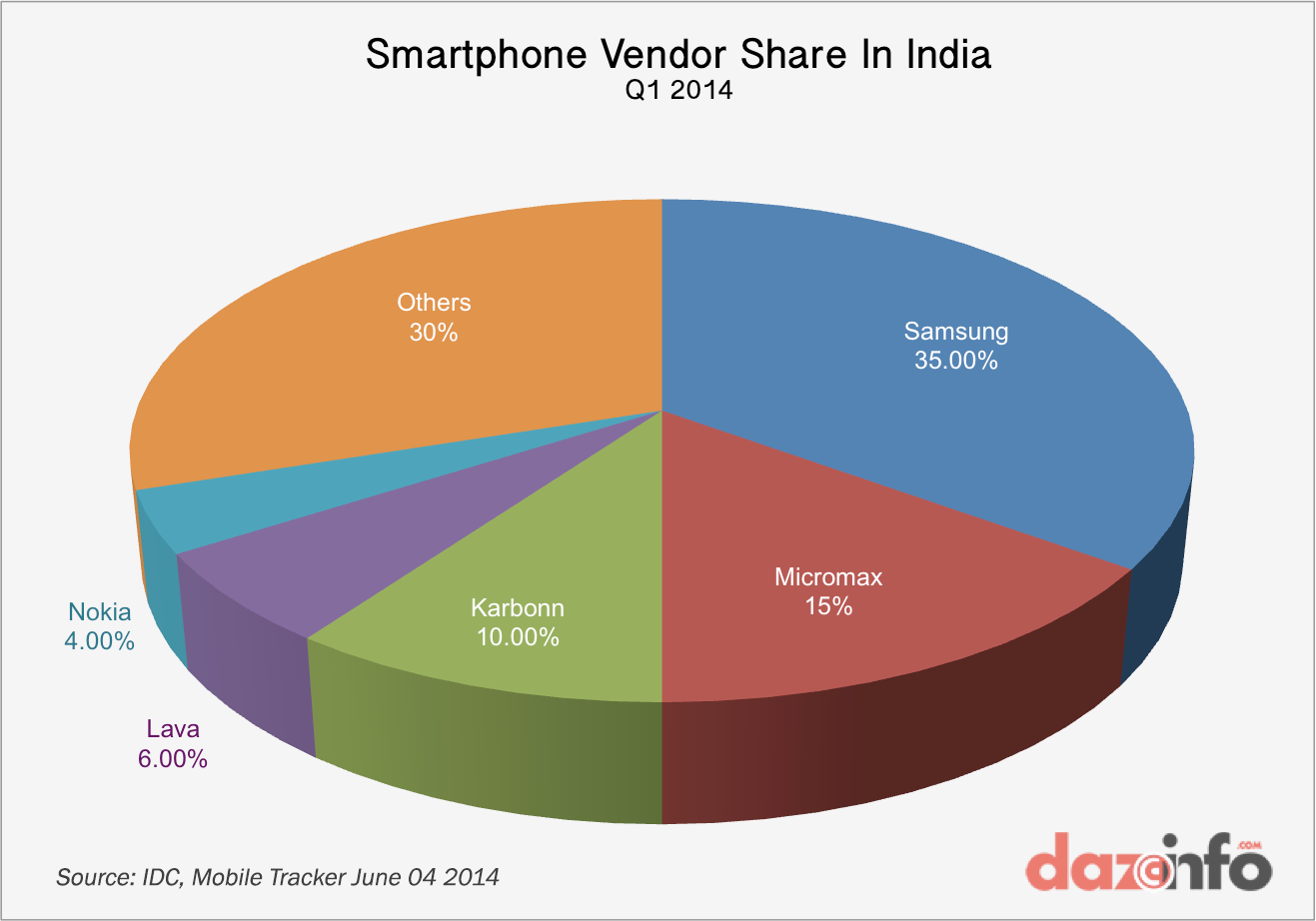 Though, Samsung Electronics Co. Ltd. (KRX:005935) remains the top smartphone vendor in India with 35% market share, the growing demand of low price smartphone ahs helped homegrown smartphone vendors to grab a sizable share of the market. Three top local smartphone vendors in India Micromax, Karbonn and Lava, combined, captured nearly one-third of the smartphone market in Q1 2014.  Once a market leader, Nokia's market share declined further to mere 4% in Q1 2014 as compared to 5.9% in a year ago quarter. The company, owned by Microsoft Corporation (NASDAQ:MSFT) now, is trying to lure smartphone users with Nokia X series smartphones, launched recently.
Smartphone shipments in India accounted for 29% of total mobile phone shipments in Q1 2014 though, the overall penetration of smartphone in India still hovers at 10%. Against 933 million mobile subscribers in India, only 91.59 million smartphones shipments have been recorded till the end of Q1 2014. However, the low penetration of mobile phone, as well as smartphone, provides a big opportunity for all mobile phone vendors. In developed nation, like US, smartphone market is saturating, while in developing markets, such as China, mobile penetration has crossed 90%, while more than 60% of mobile phone users are already using smartphone.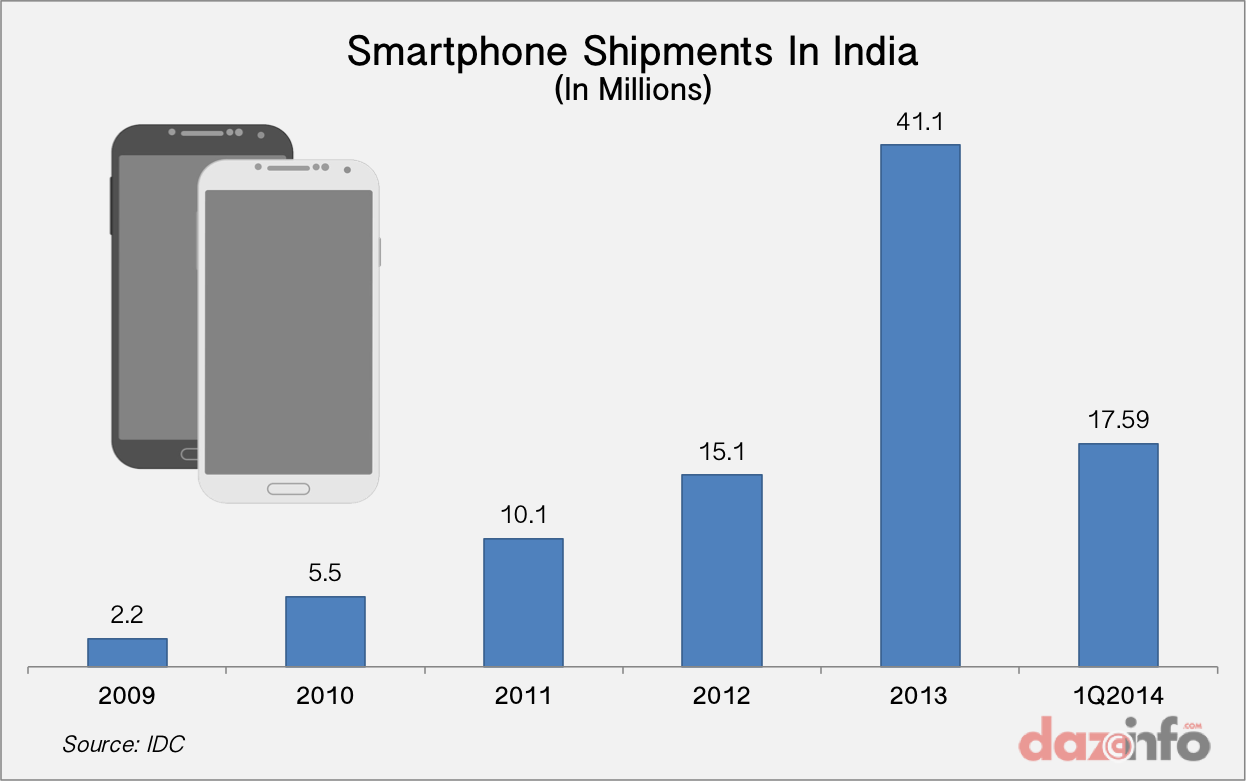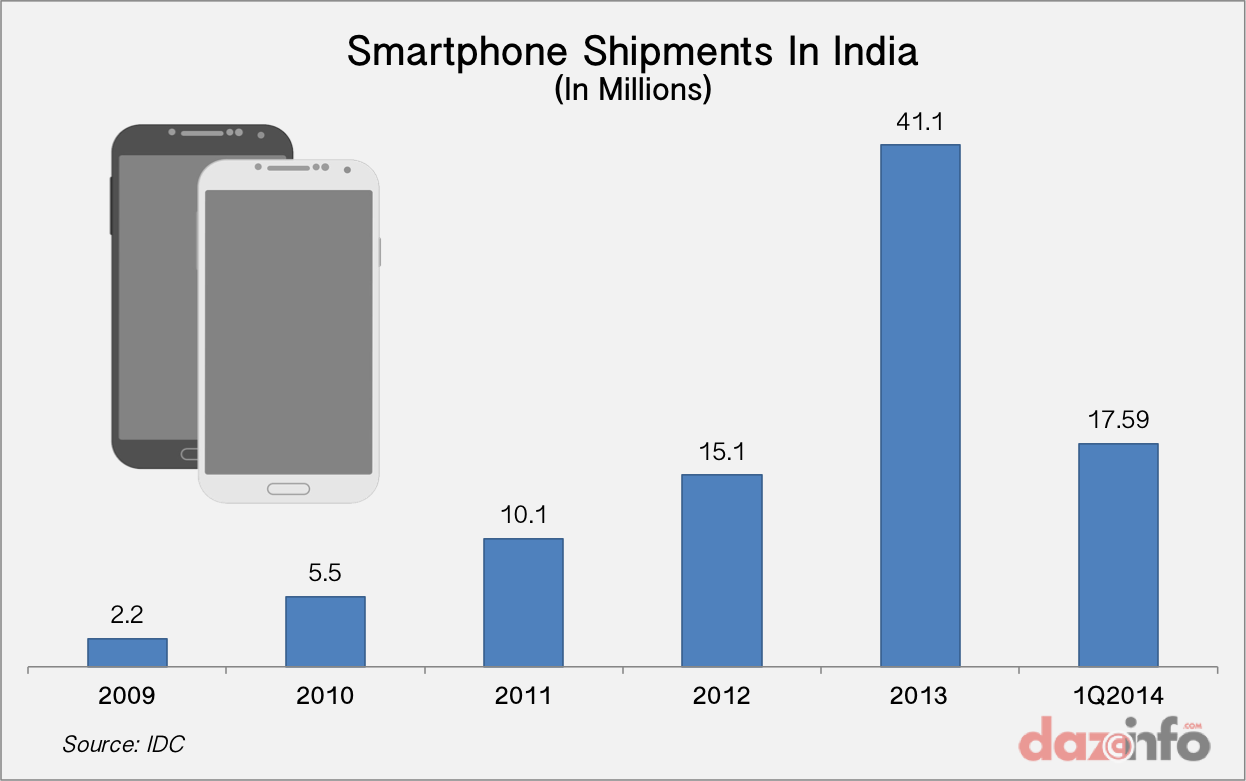 Another important reason behind the growth of indian smartphone market is the increasing popularity of Phablet among users. In Q1 2014, nearly 875,000 units of Phablet devices – with a screen size between 5.5 inches and 7 inches – were shipped. The phablet market is growing at the expense of small-screen tablets  – screen size between 7 inches and 8 inches.  Local vendors have flooded the smartphone market with low-price Phablet devices and, due to multi-functional aspects, users are finding it more useful than non-connected (Wi-Fi only) small screen tablets. In Q1 2014, phablet devices account for 10% of worldwide shipment of smarthphones. The Phablet shipments are expected to reach 120 million by 2018 while small-screen tablet market share will decline to 44.5% in 2018 from 55% in 2013.
The growth in indian smartphone industry is expected to increase by multi folds in next few quarters. Declining Average Selling Price (ASP) and introduction of new vendors, like Obi and Gionee, will fuel this growth, and competition too. The scenario could lead India to become the third largest country by the number of smartphone users by 2017.