Gone are the days when Smartphones were seen as devices that could be produced only in the technologically advanced countries. It was unimaginable that there could be an Indian company that could manufacture Smartphones, let alone an Indian Smartphone industry. However, tides have changed and we have a number of brands that manufacture Smartphones, who seem to be stacking up against the foreign brands quite well. Leading manufacturers in this respect are Micromax and Karbonn, who have put up quite a fight against global manufacturers like Apple, HTC, BlackBerry and Samsung.
In Q3 2013, Micromax emerged as the second largest Smartphone vendor by securing a 17.1% market share, much ahead of global vendors including Nokia, HTC and Sony. It is worth a study to understand what has made these Indian manufacturers so popular so fast, making global manufacturers take them so seriously.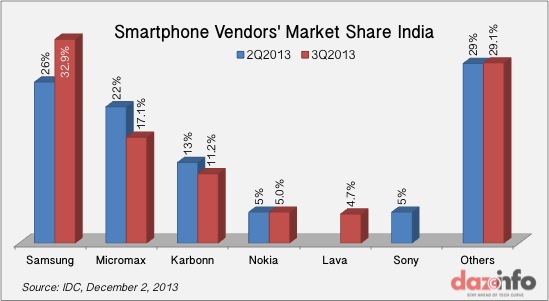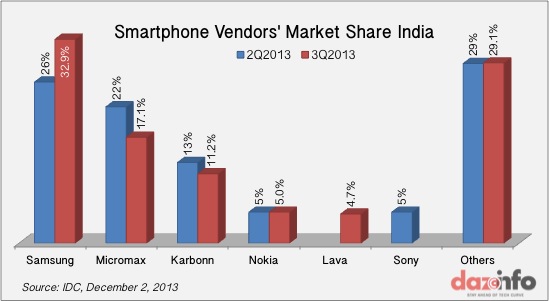 Better Quality
There was a widely held view about handsets manufactured by Indian brands and it was that these devices were of cheaper quality. There was also the view that Indian manufacturers were just remaking cheap Chinese phones. Over the course of time, these perceptions have changed because Indian manufacturers like Micromax and Karbonn have started setting up local manufacturing units in India itself. This was to tell the consumers that they were not importing cheaper Chinese products and selling it to the people.
The Indian companies have become more sensitive to the fact that Indians are becoming more aware of what they sell and that they like to buy quality products. Applying this sensibility into their production plan has helped them produce better products, thus garnering them more followers and customers. Not just consumers but also critics of popular review sites have appreciated the change and effort they have made and the outcome that has resulted from it. Now Smartphones manufactured in India are loved because they actually possess features that are worth paying for.
Affordable Price
It is a well-known fact that market dynamics are affected by economic factors.  Acknowledging the fact that a majority of the Indian population comprises of people from lower middle class and made them produce more affordable products. Most Indians do not have enough purchasing power to buy high-end Smartphones. This is exactly what indigenous manufacturers in the country capitalise on, and produce Smartphones that are affordable to the common man. With these companies providing hardware and software, that do not really lag behind international standards, at really affordable prices, an average Indian does not hesitate in buying their products. Brand names matter, but when you are ready to offer quality with affordability of cost, then consumers can let the  brand name pass.
Changing Status Quo
The mobile phone industry was going through a tumultuous period when Indian manufacturers like Micromax and Karbonn came to the scene. Samsung was gaining fresh ground with the help of Android OS from Google, in the Smartphone segment. Nokia, Blackberry and Motorola were bowing out to the kind of functionality and productivity that Android and Samsung were bringing in.
While Samsung capitalised on this globally, Indian manufacturers managed to quickly realise and fill in the huge void in the market left by these brands. And even with Samsung's popularity reaching India they could pull in large sums of crowd. What these manufacturers did, was incorporating those features that were really popular and had become inseparable with the customers, into their own products. As an example Micromax Mobile provided QWERTY keypads and track pads and made itself an alternative to BlackBerry. Indian manufacturers have been quick to recognise good technology, features and adopting them in their own products, thereby staying with the trend.
Another good thing that they have done is keeping the package exciting by throwing in interesting features every time they launch a new product. Capturing a decent customer base in their early years helped them easily sell their products when they started manufacturing their own Smartphones.
Stagnancy in Innovation
One man's misfortune is another man's gain. Indian manufacturers are the fortunate ones here. The Smartphone industry is going through a phase of technological stagnancy. Manufacturers are not coming up with too many innovations and improvements. However, there seems to be no complaining from the Indian brands and instead they seem to be enjoying it. The industry has reached its tipping point.
There are no real improvements in the features and specifications while introducing a new model, or releasing a successor to a model but the price keeps increasing. Understanding that the actual technology is cheaper and bringing it to the consumers at an affordable price is the policy that Micromax and Karbonn are using. These companies stand a better chance of survival in the long run even when Smartphones become non-luxury items in the future. These companies will already be providing Smartphones at affordable prices, when owning a Smartphone becomes a norm.
Accessibility also plays an important role in making these brands popular. Apart from brand stores, their products are also available on online stores and can be purchased more conveniently. Indian brands are bound to become even more popular and dominant in the Indian market if they continue on the path that they are currently following.
About the Author:
This post is written by Chandan – a tech enthusiast and blogger working with Flipkart.com.