Like the much loved and revered mutants from a popular Hollywood flick, Nokia Corporation (NYSE:NOK) have decided to go back in the past and save themselves from a future that could have rung death bells had it not been for their savior – an Operating System in the guise of the Wolverine.
Enter Android Open Source Project.
Stephen Elop announced at the Mobile Web Congress in February 2014 that Nokia was entering the Android ecosystem (finally). While loyalists were excited to see Nokia enter the Android market, some skeptics speculated that Nokia had come to the party a bit too late for their own good. While announcing the Nokia X series smartphones to those assembled, Stephen Elop laid emphasis on one very important point – the Nokia X was running on the Android Open Source Project or the AOSP. In essence he was trying his very best to point out that the Nokia X was not running on Google Android.
What this means is that Nokia, now powered by Microsoft, came out with a UI all its own for the Nokia X. The UI reminds us of the tiled Windows Phone UI, only less sophisticated. What this also means is that the Nokia X is bereft of all Google services. So there are no Google Maps, Gmail or the like on Nokia X. In fact, there is no Google Play Store altogether. If you wish to download an app, Nokia Store is where you will have to head and judging by its current app offering, though it isn't Play Store just yet, it does host a consortium of top apps which are also available on the Play Store.
On various e-commerce outlets Nokia X is currently selling in the price range Rs. 6500 – Rs. 7000, which sounds like a lot of value for money but let's not get carried away here. Let's put the Nokia X to test and let's try to gauge whether it is indeed value for money in its category.
Considering it is modeled on a relatively old Android OS – Android 4.1 (first released in July 2012) with little hope of an update coming its way, this is one aspect where the phone certainly doesn't warrant a buy. But by providing APIs that will enable easy porting of apps from Google Android to AOSP, Nokia has played its cards smart. Developers have been given an opportunity to port pretty much everything that runs on the Google Android smartphones through these APIs.
Let's put the Nokia X's performance to test.
SPECIFICATIONS: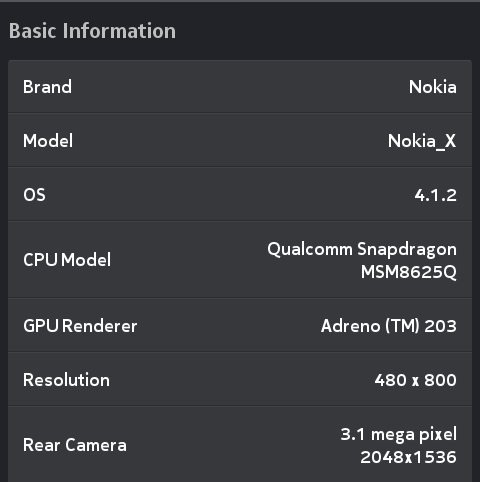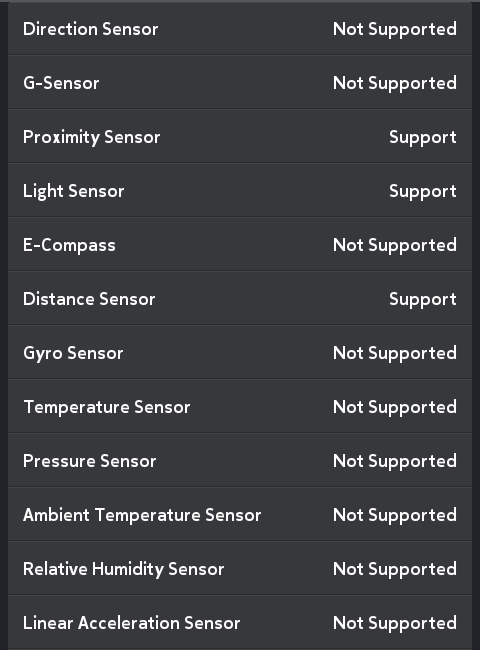 As far as the specifications are concerned, for a budget phone, Nokia X packs a decent punch.
The CPU is powered by Qualcomm's Snapdragon processor. It is a dual core Snapdragon processor running at 1 GHz with 512 MB of RAM.
The GPU supports OpenGL ES 2.0. Ever since Android 4.3 was launched OpenGL ES 3.0 came into the picture and since Nokia X runs on an older and customized version of Android it doesn't support OpenGL ES 3.0, which is a bit of a disappointment given that a number of Nokia's competitors are already offering the OpenGL ES 3.0 on phones with specifications similar to the Nokia X.
A 4 inch TFT display with a resolution of 480×800 coupled with the Bar phone form factor makes it a pleasing to the eye affair.
The Nokia X comes with a 3.1 MegaPixel rear camera but no front facing camera.
Nokia X is powered by a customized version of the Android 4.1 OS.
It is a dual SIM phone with up to 32 GB of expandable memory.
The Nokia X has a 1500 mAH battery and comes with Accelerometer and Satellite GPS support.
All available colours for the Nokia X: Right Green, Bright Red, Cyan, Yellow, Black and White.
BENCHMARKING:
One of the best ways to gauge the performance of a Smartphone is to put it through a benchmarking test. I have used the AnTuTu Benchmark for all benchmarking here. AnTuTu is one of the premier benchmarking tools for modern Smartphones.
The phone scored what can at best be described as a modest score of 7560. Not a high benchmark score by any standard. I would like to point out that benchmarking scores can differ at each run and phones can be optimized to score well at benchmarks but no such optimization was used in this case and at each run the Nokia X scored in the 7500- 7800 range. It didn't touch the score of 8000 in 3 different benchmark runs on AnTuTu.
Here is a detailed breakdown of the score.
The Nokia X scores low in CPU performance and multitasking – two critical factors which determine a phone's worth as far as performance reviews are concerned. It doesn't score very highly on RAM performance or GPU performance either. The low scores in these areas clearly suggest that Nokia's focus with Nokia X was more on build quality and trying to get an Android phone out in the market than on the phone's performance.
One look at the score comparisons above is enough to term the Nokia X a poor performer. While the likes of HTC One (M8) and Samsung Galaxy S5 generate scores in excess of 35000, it is interesting to note that even the up and coming Chinese brand Xiaomi's Redmi outperforms Nokia. This particular comparison was made to give our readers a perspective on where the Nokia X stands in terms of performance compared to some of the best Smartphones in the world today. But to think that not even one Nokia phone, in any price range, any specification makes it to this list is a sad reality for Nokia loyalists.
But let's not get carried away with this comparison as it was only meant to offer a performance perspective. The Nokia X is a very different phone compared to all the others on that list. In order to understand where exactly the Nokia X stands when compared to these beasts, let's compare the benchmark scores of the highest scoring performer on that list the HTC One (M8), side by side to the Nokia X scores.
A close observation of these scores throw some light on certain interesting facts. When compared to a Smartphone which is currently a top performer in the industry :
The Nokia X scores leave a lot to be desired. The HTC One (M8) is 5 times more efficient at multitasking than the Nokia X.
The HTC One (M8) is more than 4 times faster than the Nokia X in RAM speeds.
The HTC One (M8) CPU performs almost 8 times better than the Nokia X.
The HTC One (M8) renders 3D graphics which are 7 times more compelling than the Nokia X.
Some will argue that these comparisons are futile considering the fact that the HTC One (M8) boasts of outstanding hardware specifications, but the fact that two Smartphones running modern System Software (HTC One M8 is powered by Android OS v4.4.2 KitKat) can differ so drastically in performance is an eye-popping observation.
To put Nokia X's performance in better perspective I decided to compare its scores against a Smartphone in its own price range. For this I chose the new Moto E from Motorola. The Moto E is a budget phone targeted at the same consumer market segment which the Nokia X targets. I used the AnTuTu benchmark to derive scores for the Moto E.
Here are the results: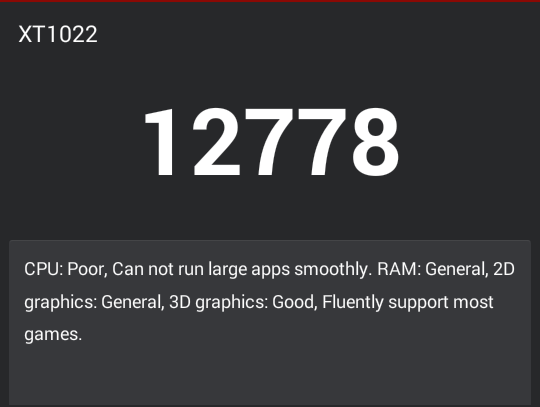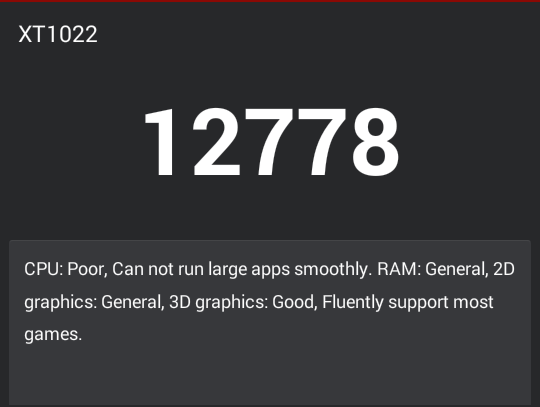 The Moto E scores 12778 in one of the benchmark tests and its score varied between 12600 – 12900 over multiple benchmark tests. For a phone which offers slightly better specs than the Nokia X at pretty much the same price, the Moto E outperforms Nokia X on all counts. The AnTuTu benchmark throws a mini feedback to Moto E's performance stating that it has a poor CPU which cannot run large apps smoothly, a general RAM and good graphics. Considering that the Moto E at a score of 12778 has a poor performing CPU, the Nokia X's score suddenly seems to reflect extremely poor CPU performance.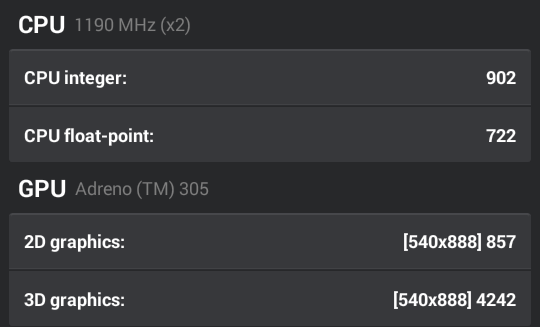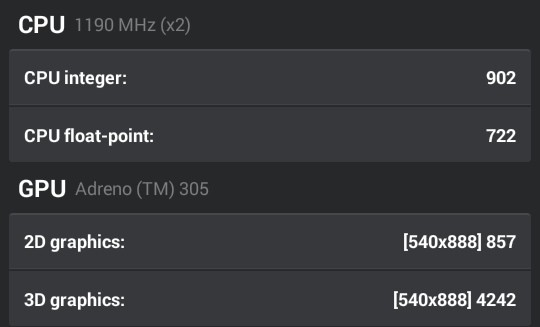 In order to put the graphics on these phones to test I played Danger Dash, a widely popular game on the Android platform. The game is a fast paced adventure run where the screen rendering takes place in the blink of an eye. As you progress further in the game you are required to push your speed to the limits and this is where the GPU comes into picture. A poor GPU would end up leaving the game in tatters and due to the extremely fast rendering of scenes and objects, chances of a phone experiencing a lag are rife.
Both phones do well in terms of not lagging and the game renders smoothly on Nokia X. Since this game required Swipe movements as a major gameplay feature, the touchscreen sensitivity is put to test. Both phones do well in this regard as well and Nokia X's touchscreen is just as responsive as that of the Moto E.
As the scores indicate, the Moto E does better than the Nokia X in terms of multitasking and RAM speeds. However, this difference is observable only when you run a large app, one which consumes a lot of RAM during load time and while processing large volumes of data.
STABILITY TEST:

Battery performance is an important factor that consumers consider while opting for a Smartphone. Some important questions regarding a Smartphone's battery life are:
How long does the battery last after it reaches a 100% charge?
Does the phone's temperature rise sharply when large applications like a game app are run for an extended period of time?
Does the rise in temperature affect the phone's stability?
The images above depict Nokia X's stability results with variations in temperature. The Nokia X fails and succeeds in battery performance at the same time. The phone's battery isn't a powerhouse in terms of long lasting performance and a couple of hours of intense CPU/GPU load can drain the battery pretty quickly. The phone's temperature rises and your hands will start to feel the heat an hour into Danger Dash. But amazingly, despite the rise in temperature and the seemingly average battery performance the Nokia X maintains good stability.
In the images above, while the temperature varies between 39 to 40, Nokia X's stability scores remain reasonably consistent, which means this piece of hardware doesn't let performance vary drastically and remains stable to keep the software functional despite temperature changes.
FINAL VERDICT:

When it comes to performance, these benchmarking scores reveal that the Nokia X is a poor performer even in its own category of low-end Smartphones. If someone was looking to buy a low-end Smartphone in and around the Rs. 7000 budget I would recommend the Moto E instead of the Nokia X, but there is always more to the Nokia brand than just numbers. Considering that the Nokia X marks Nokia's foray into the Android ecosystem I would say they have done reasonably well.
Perhaps with a better UI than what it currently sports, a more powerful CPU and better RAM speeds, the next iteration of the Nokia X could be at par if not better than the Moto E and the likes. Despite being acquired by Microsoft – a software company, Nokia remains a hardware brand that is synonymous with durability and longevity, therefore all it would take for Nokia to storm the low-end Smartphone market would be a strong performer in that price range.
The Nokia X series of Smartphones is certainly the next level to Nokia's experiments with feature phones such as the Nokia Asha series and is clearly an attempt by Nokia to make inroads in what is possibly the most populous segment of the Android market.
On a scale of 5, here are our ratings for the Nokia X:
CPU performance : 2 / 5
GPU performance :  2.5 / 5
RAM performance : 3 / 5
Multitasking : 3 / 5
I/O performance :  3 / 5
Dalvik Virtual Machine performance : 2.5 / 5
Battery performance : 2 / 5
Stability : 4 / 5
UI : 2 / 5
Design : 3 / 5
Features : 3 / 5
Value for money : 3 / 5
Average Score : 2.75 / 5
Check out this hands on video from Dazeinfo TV for a quick walk-through of the Nokia X.
www.youtube.com/watch?v=hkW0hXOsuiI&list=UUjoO1T00YKyS74AQcJ1VrXw