Samsung Electronics Co., Ltd. (KRX:005930) is the undisputed leader of the Indian tablet industry capturing almost one-fourth of the market in Q1 2014. On the parallel development, the tablet market in India is witnessing a rapid decline as shipment of devices are lowering with each passing quarter. The tablet shipments in India went down to just 0.75 million units in Q1 2014 from 1.03 million in the previous quarter, resulting in 27.7% Y-o-Y decline, according to indian research firm CyberMedia Research (CMR). Rising popularity of phablets and BIS certification are affecting the growth of tablet industry.
Tablet Shipments India Q1 2014: Key Highlights
Enterprise tablet shipments accounted for 22.1% of the Indian tablet market in Q1 2014.
The Indian tablet industry witnessed 17.5% decline over the year.
The top 3 vendors capture more than half of the market in Q1 2104.
Out of the 30 national and international vendors, only 11 vendors shipped more than 20,000 units during the last quarter.
Samsung's Strategy Helped To Sustain its Leadership
With 185,869 units shipment, Samsung secured its lead position in the Indian tablet market in Q1 2014. For the same quarter, a year ago, Datawind was the leader with 15.3% market share. The myriad of options that a consumer gets to choose from Samsung's portfolio have led it to victory. The Korean electronics giant deals in various screen sizes, connectivity options and most importantly, the price range. One of the primary focus of consumers in India is on the price range which Samsung has tapped and played on correctly.
The sales of iPad Mini did not help Apple Inc. (NASDAQ:AAPL) much, at least in India. It barely managed to ship 76,139 iPads in Q1 2014 grabbing a one-tenth market share. The iPad maker lost 1.7% point market share in last one year and it's evident that to survive in developing markets like India, Apple needs to play the price card effectively. However, these findings contradict another report on tablet shipments in India, which placed Apple on the second position in the list of top tablet vendors in India Q1 2014. That report, though, claimed almost the same figure on tablet shipments in India during Q1 2014, it positioned Datawind at fourth place behind Samsung, Apple and Micromax.
The top-11 tablet vendors, comprising of the vendors that shipped anything more than 20,000 units, captured 87.6% of market share with 653,901 units shipments during the first quarter of this year. The report, however, hasn't disclosed the name of other 8 vendors included in the list of Top 11.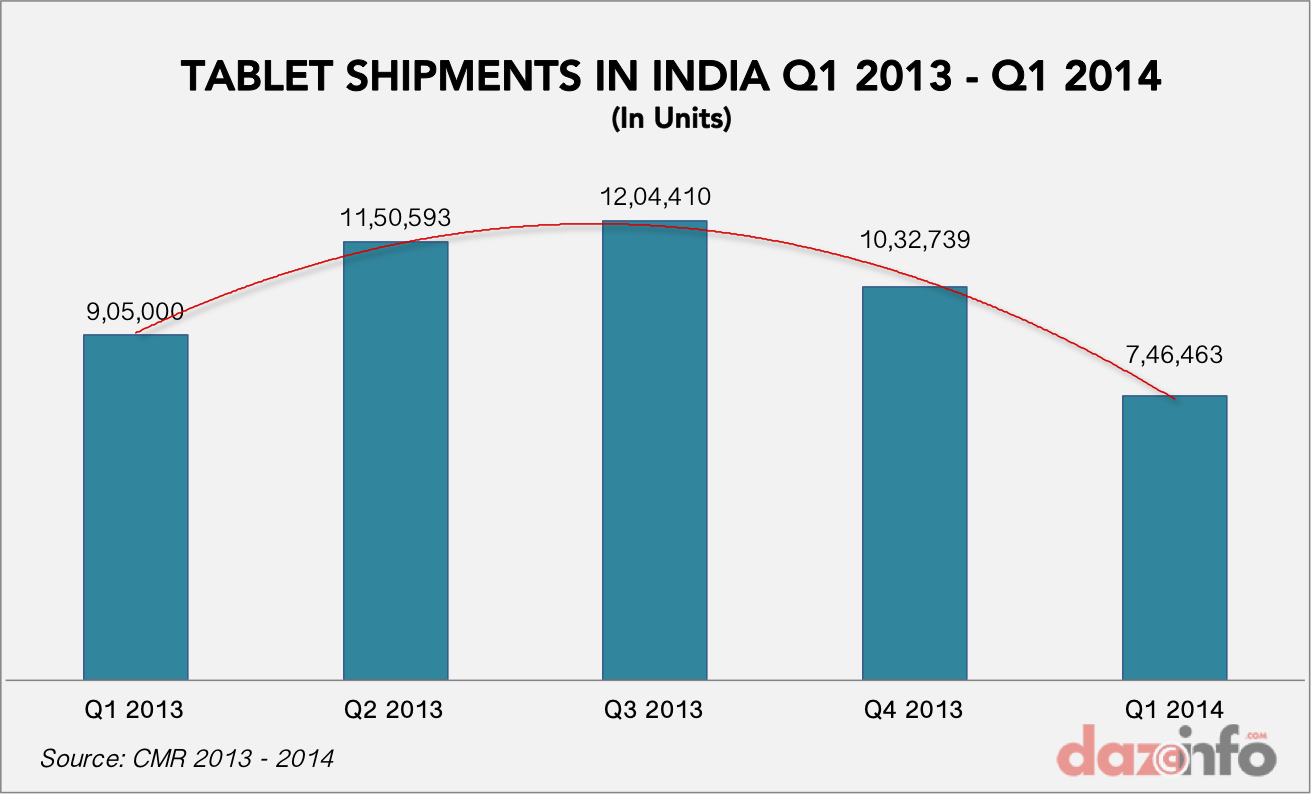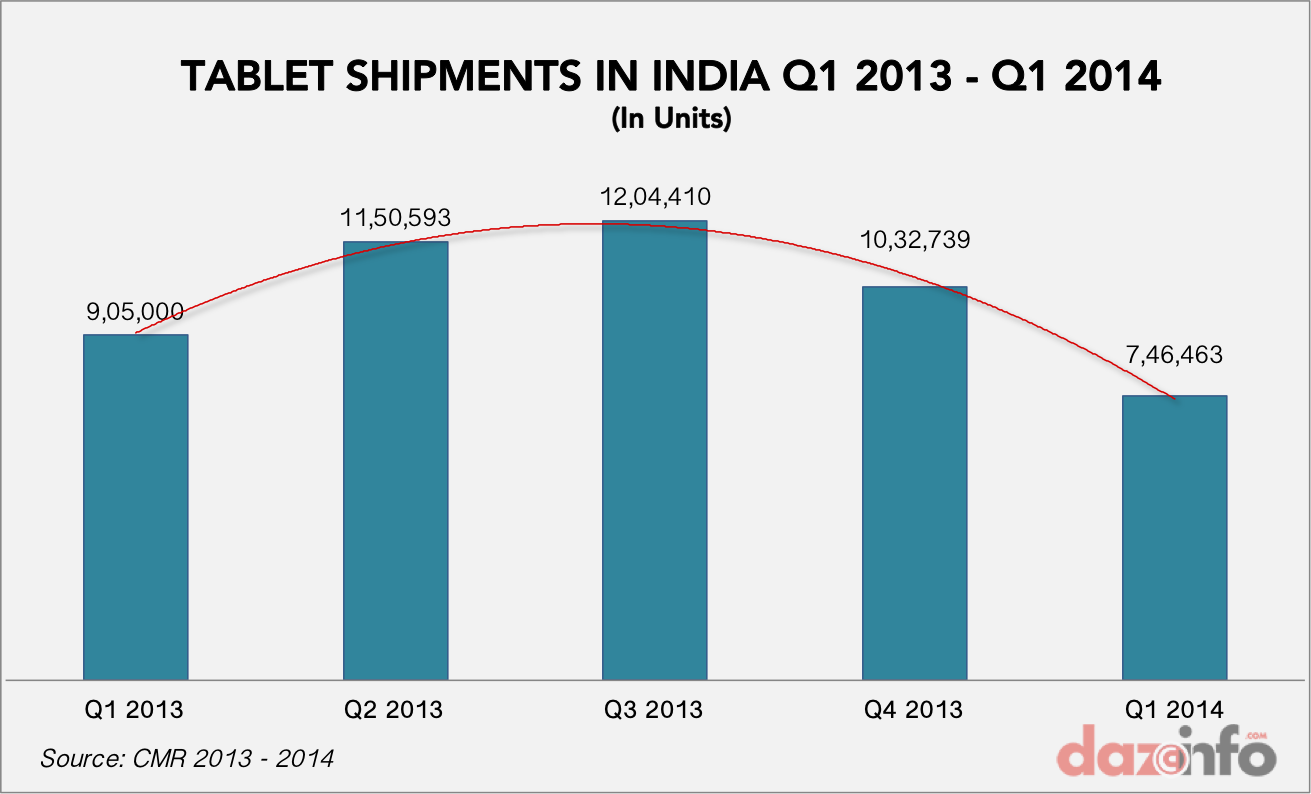 India Accounts for Only 1.5% of Global Tablet Market
The worldwide tablet shipment in Q1 2014 stood at 50.4 million units, while the Indian market accounted for only 746,463 units – just 1.5% of contribution. In Q1 2104, the worldwide tablet industry witnessed a negligible 3.9% Y-o-Y decline compared to 17.5% Y-o-Y decline in India during the same period. Such a disappointing performance is resonated by another report from IDC that mentions the shipments of tablet in India stood at 0.78 million. However, this difference could be well justified as CMR report does not take into account the tablets that were brought by passengers landing on Indian soil from foreign destinations or the devices distributed by government as a part of social welfare schemes.
 "The Tablet shipment results are very much in line with our expectations. BIS certification issues had a temporary impact. However, rise in popularity of Phablets has diminished the significance of Tablets among potential consumers, particularly in the sub Rs 15,000-20,000 price category," said Faisal Kawoosa, Lead Analyst, CMR Telecoms Practice.
The Bureau of Indian Standards (BIS) compilation of embossing the devices with quality certification has affected the market negatively. In addition to that, Indian users are choosing to keep their tablet devices for a longer duration or passing on in their family instead of buying new ones. Furthermore, the rise of phablets and large-screen smartphones is also affecting the sales of tablets.
The sales of tablets has majorly gone down due to the emergence of phablets from homegrown vendors in the price-category of Rs.15k to Rs. 20k. The basic salvation for tablet lies in the sales to enterprise with major modifications that enhance their capabilities from basic computing devices. The 68 vendors that were present in the market during second quarter of 2013 could not sustain their sales and had to move out. In the last quarter of 2014, nineteen vendors failed to ship more than 20,000 devices, which is definitely a soaring point. It's time for small vendors to look into their marketing strategies for tablet devices and probably come out with new tweaks or introduction – if ever they want to survive.