Smartphone penetration is increasing globally and Asia-Pacific region has emerged as the driving force behind this growth. But the sheer numbers and market share tell a very different story. Some of the countries in the region are fast approaching saturation point and are likely to surpass smartphone penetration, against population, in European countries. More than half of population in South Korea, Australia, Japan and China will be using smartphones by 2018, reports eMarketer. Overall, smartphone penetration in APAC region is likely to reach 23.9% by the end of this 2014, increasing to 34.9% by 2018. China will capture more than half of the smartphone market of APAC this year.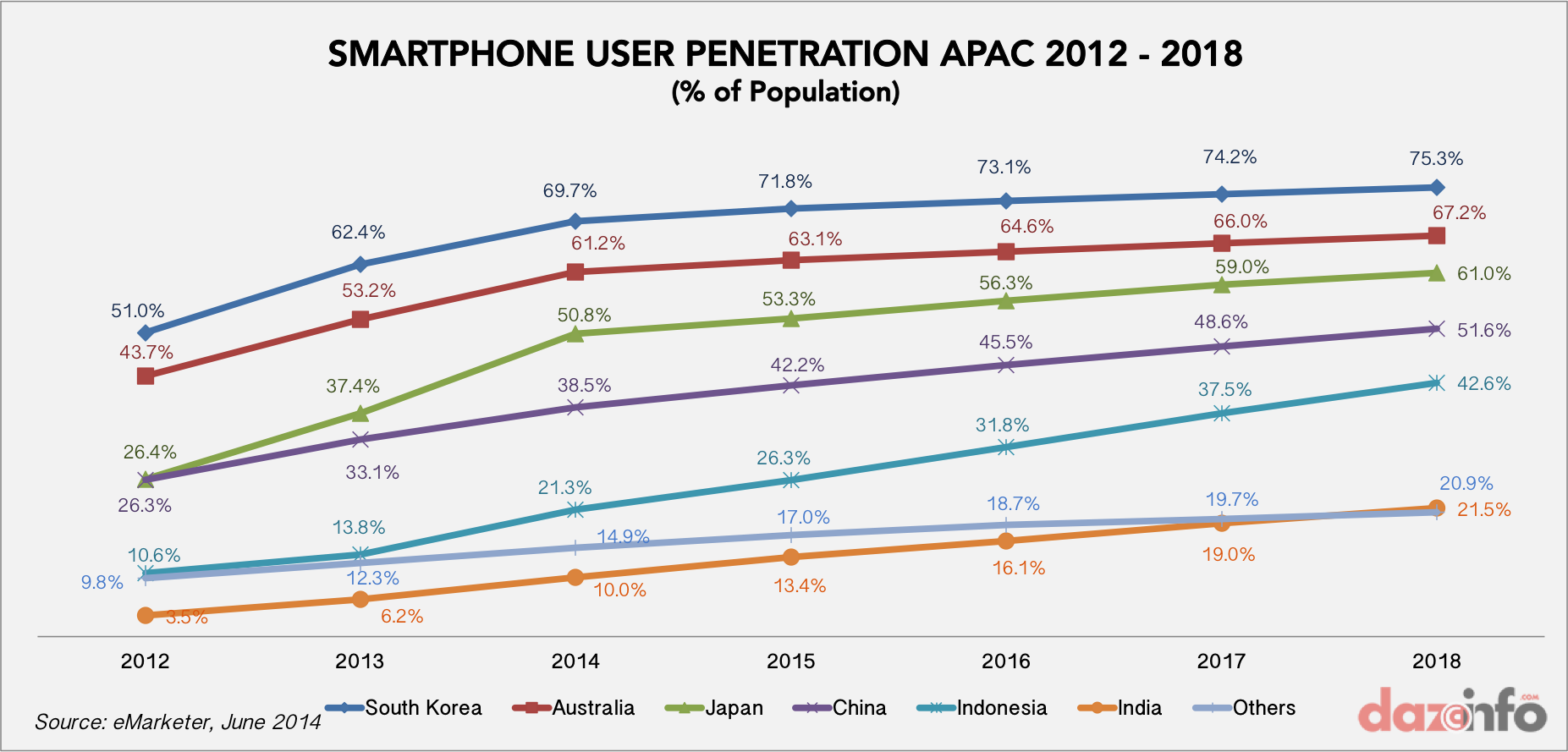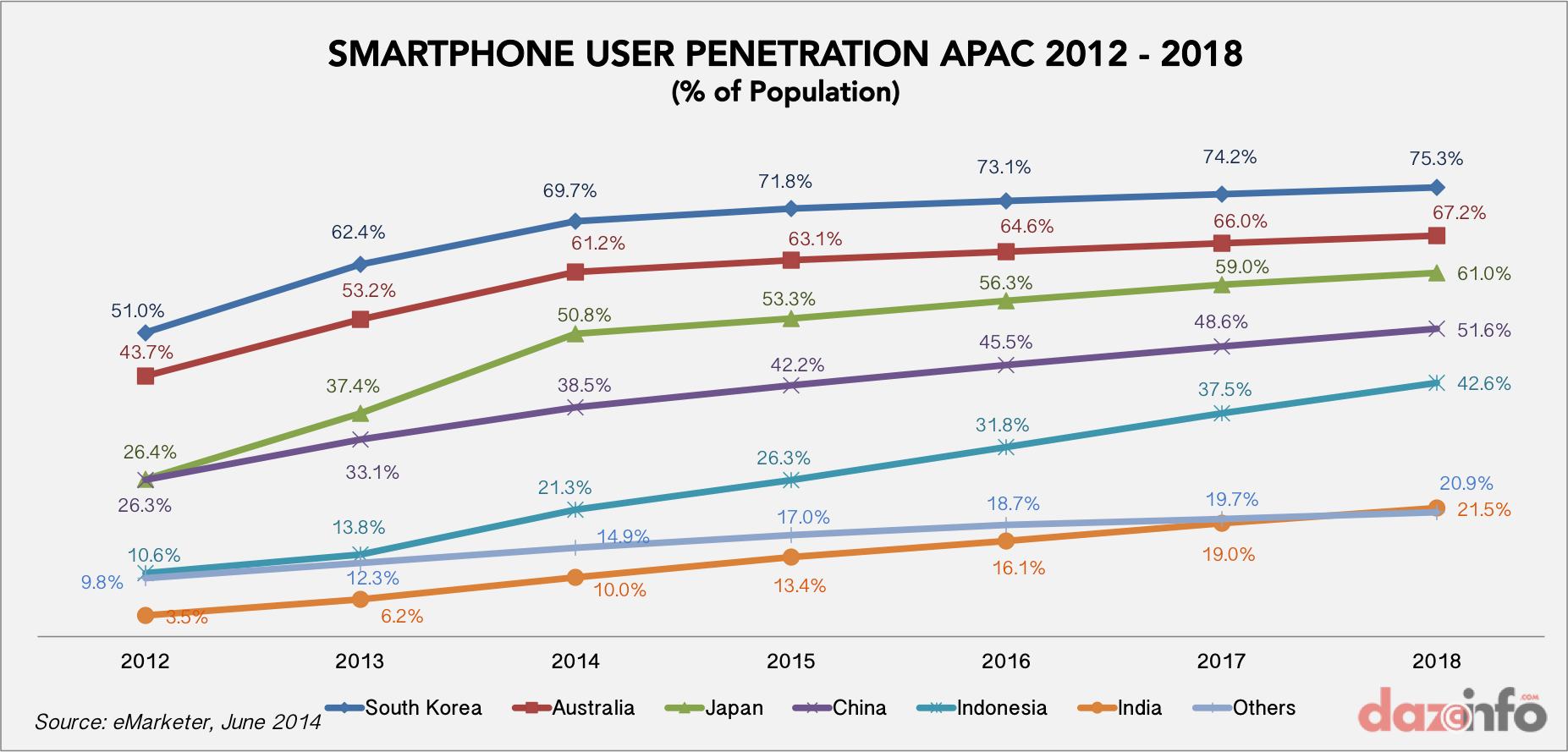 Three APAC Countries To Cross 50% Smartphone Penetration Mark in 2014
South Korea has always been a fore-runner in technologies. The advanced network infrastructure helped the country achieved 50% penetration in 2012 when other countries were largely dealing in feature phones. By 2018, three out of four countryman is likely to own a smartphone. Interestingly, It is also one of the very few nations to boast of 50% adoption rate of 4G technology. The country is the home-land to two of the major smartphone manufacturers – Samsung Electronics Co., Ltd. (KRX:005930) and LG Electronics Inc. (KRX:0066575). Smartphone scenario in Australia is no different that of South Korea. Australia achieved 53.2% penetration in 2013 and is likely to attain 67.2% by 2018, with an average growth of 1.5%.
In 2014, South Korea and Japan will boast of highest mobile penetration in the region with 86% which includes both the feature phones and smartphones. Japan, which has already reached 30% penetration in LTE subscriptions in 2013, is expected to reach 50.8% smartphone penetration by the end of this year. However, the contribution of these three countries – South Korea, Japan and Australia – to the regional smartphone market will remain low due to low population. Altogether, these three countries will contribute only 11.8% to the smartphone market of APAC in 2014. Compared to India and China that account for a low penetration but high contribution to overall smartphone market, these three highly smartphone penetrated countries carry more upgrade opportunities for smartphone vendors.
India and China to Control The Future Smartphone Market
The report portrays a very interesting scenario of India and Indonesia smartphone markets. The smartphone penetration in Indonesia is likely to be almost double that of India but the contribution of India to the regional smartphone market will be more than double of Indonesia's contribution. India has the second largest mobile subscriber base with 933 million subscribers, but only 91.59 million of these subscribers are using smartphone by the end of Q1 2014. With 1.29 billion population, the smartphone penetration in India is estimated to reach meager 10% in 2014. Even by 2018, only one out of five people in the country is expected to own a smartphone.
The eMarketer expects smartphone penetration in China to reach 51.6% by 2018. However, the claim directly conflicts with the findings of another report that reported 700 million smartphone users by the end of 2013. Out of 1.36 billion people in China 1.24 billion are already using mobile phones. Considering the above figures, the smartphone penetration in the country has almost reached 50% by the end of 2013.The growth of smartphones in the country is phenomenal with the shipments expected to reach 450 million in 2014. Interestingly, eMarketer goes on to mention that 80% of Chinese will have a mobile phone in 2014. In contrast, with more than 1.36 billion population and 1.24 mobile subscribers, China already has mobile phone penetration of 91.5%.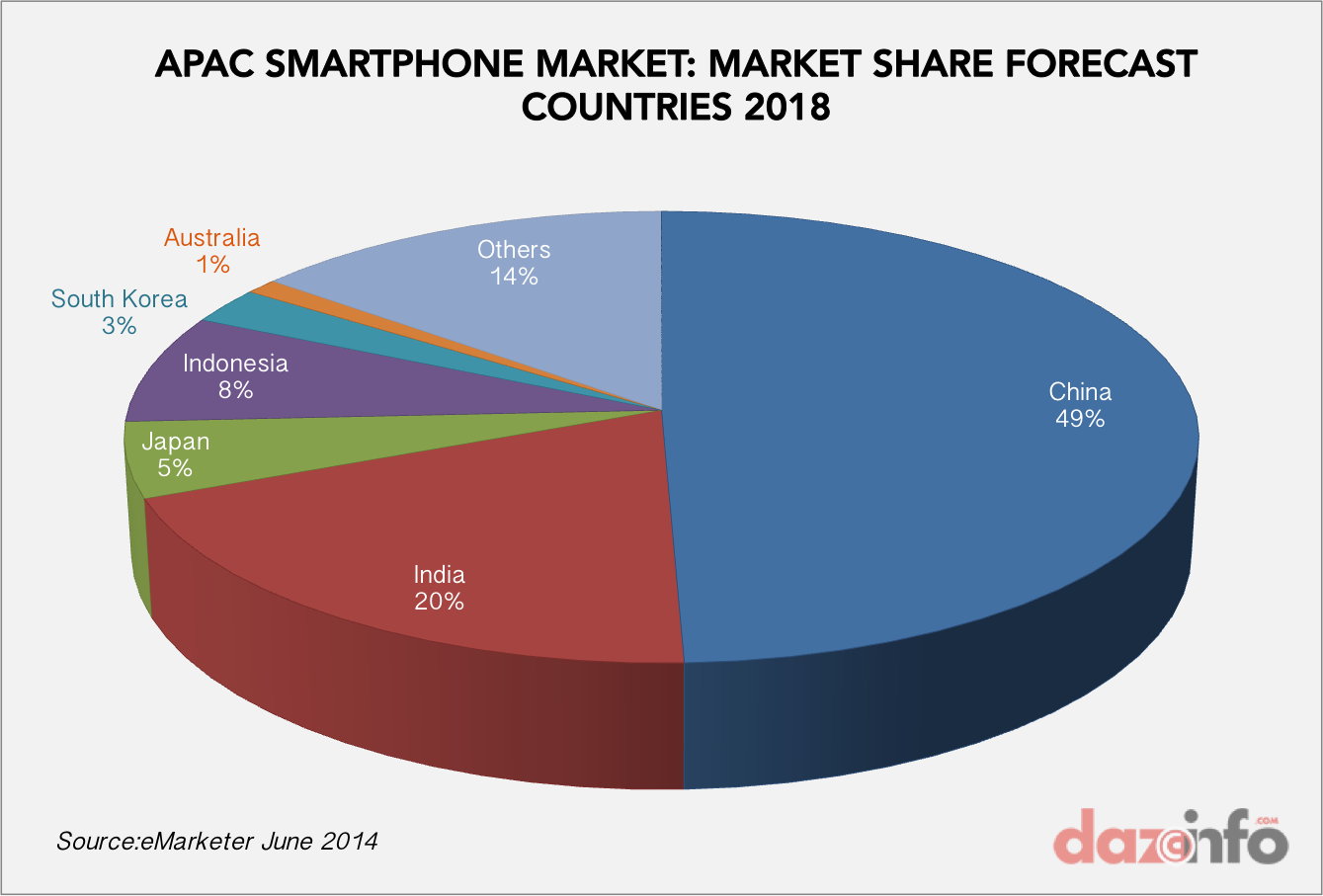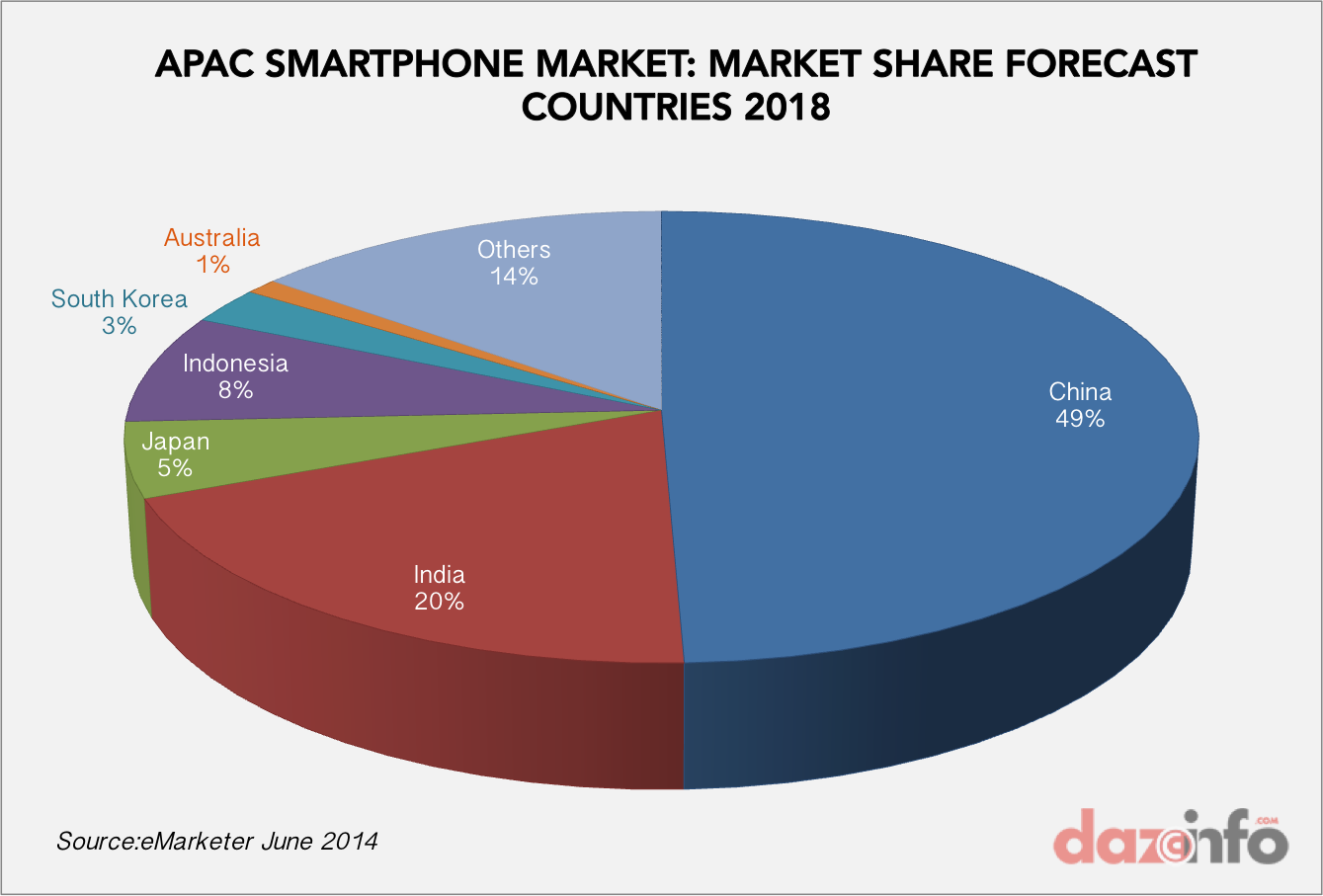 India and China, combined, will capture almost three-fourth of the regional smartphone market by 2018. However, the contribution of China will decrease from 58.8% in 2013 to 49.4% in 2018 but that of India will double from 10% in 2013 to 19.4% in 2018. Such an exponential growth can be credited to emergence of home-grown vendors in both the nations that are already creating waves. In 2013, Micromax captured almost one-fifth of the smartphone market in India while Huawei, a leading Chinese vendor, stood at third position in the global smartphone market in Q1 2014.
Take Aways :
India and China consist the greatest opportunity for Smartphone vendors. However, majority of this growth would be driven by smartphones price-tagged with sub-200 USD.
Smartphone growth in APAC would be driven by China And India. While China is a difficult market to venture for global brands, India could be better prospects with openness of business, investment and opportunity for global brands.
Overall, APAC region still a lucrative market for all smartphone vendors. By 2018 only one-third of total regional population will have smartphone. Smartphone, being the future of mobile phone, the region portrays a huge opportunity for all local and global smartphone vendors.
The smartphone penetration is estimated to double in next four years, which will fuel the adoption of smartphone apps. This will help app developers to double their earrings in next few years.