Tim Cook may be busy with upcoming launch of iPhone 6 in August and in handling growing influence of China in global smartphone industry, but he must be aware of saturating market growth of Apple Inc. (NASDAQ:AAPL) in home-ground. During the 12 months, ended April 30, 2014, iPhone market share in the U.S. recorded negligible growth.
The smartphone penetration in developed countries, like U.S., is reaching a saturation level. With 167.9 million smartphone users in the three months ended in April 2014, the total smartphone penetration in the U.S. has reached 69.9%. All the top OEMs in the U.S. smartphone market, except Samsung Electronics Co., Ltd. (KRX:005930), recorded a decline in their smartphone market share in the US. during the three months, ended April 30, 2014.  According to the report by comScore, Android remained the leading operating system with 52.5% smartphone market share during the same period.
The report also tracked the smartphone app usage in the region for the three months, ended April 30 2014. Facebook Inc. (NASDAQ:FB) reached out to almost 3 out of every 4 app user as 74% of people, aged above 18 years, used Facebook primary mobile app, while 26% also used Facebook Messenger app.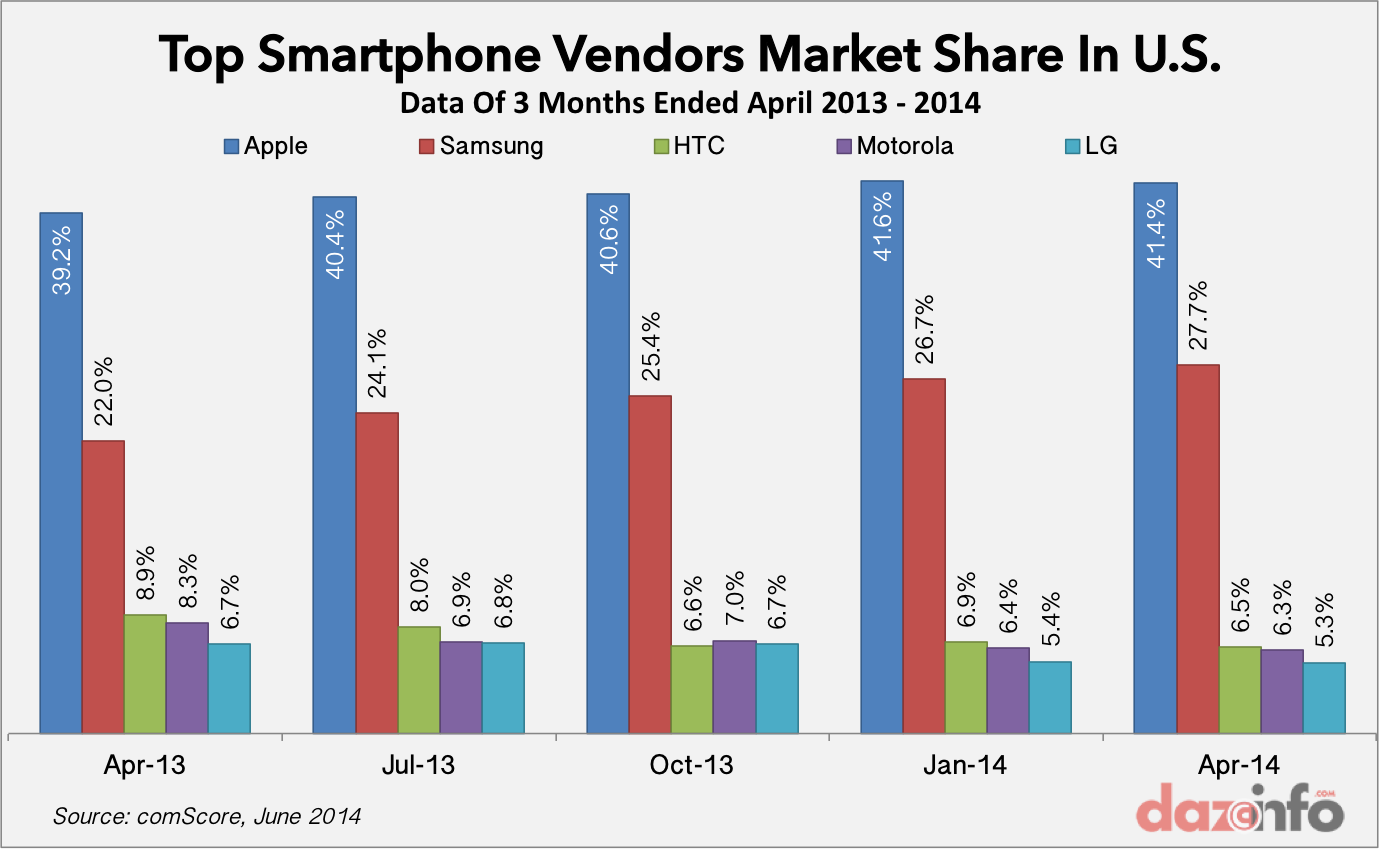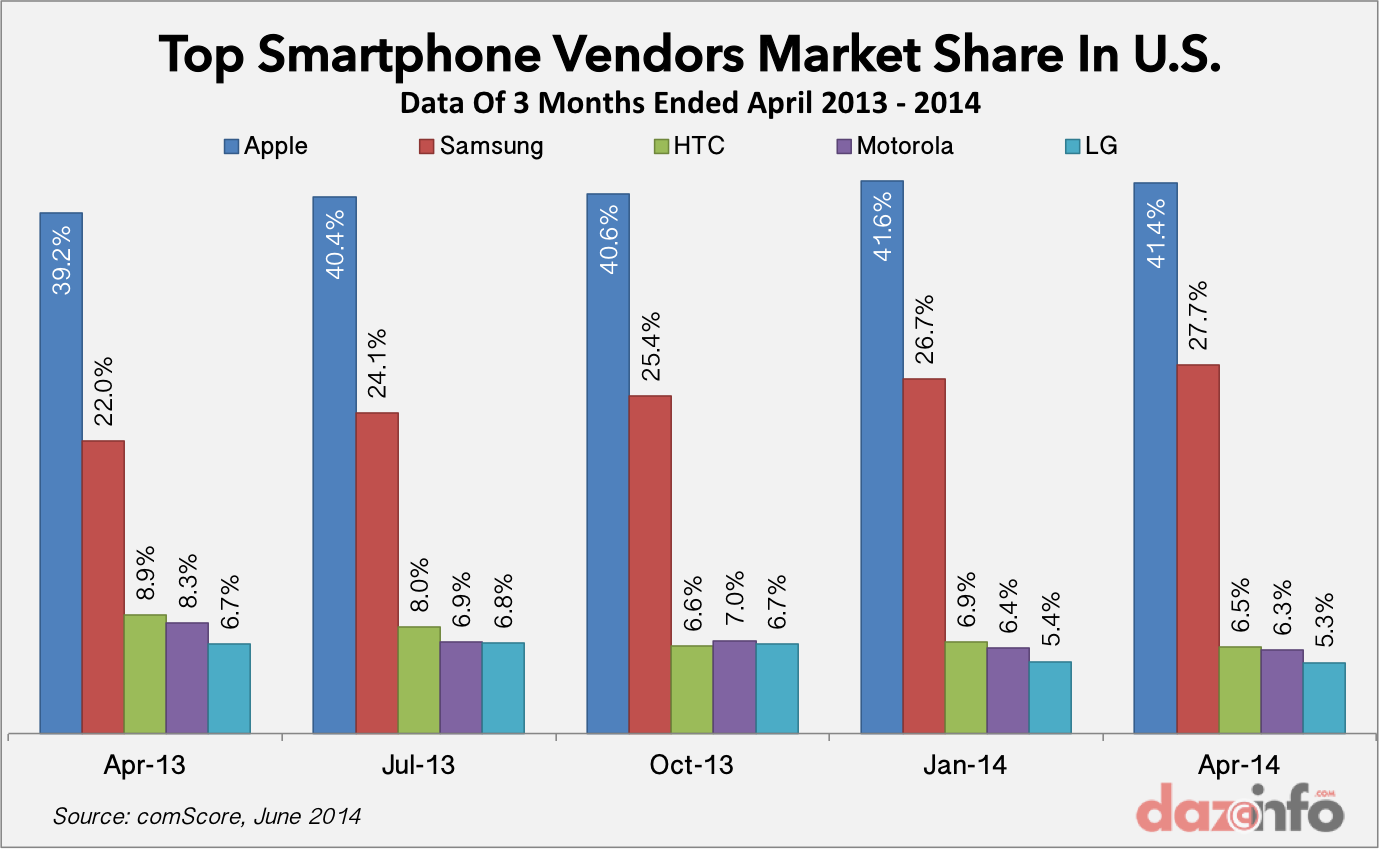 Android Ahead of all Other Operating Systems Combined
88.14 million smartphone subscribers used Android powered devices during the three months ended on April 30, 2014. Android captured a market share of 52.5% registering, with a marginal 0.8% Q-O-Q and 0.5% Y-O-Y growth. During the same period Apple iOS and BlackBerry Ltd. (NASDAQ:BBRY) OS captured only 41.4% and 2.5% of the smartphone subscribers, respectively. Though, smartphone market share of iOS went up 12% from April last year, it dived to 41.4% in April 2014 losing 0.2% as compare to three months ended on January 31, 2014. Despite of having strong user base in U.S. – the main and home market – Apple failed to capture a sizable chunk of the new smartphone market developed between February and April 2014. Windows Phone OS for smartphones acknowledged a gradual growth, both quarter-over-quarter and year-over-year, with a 3.3% share of U.S. smartphone market. Interestingly, all the smartphone OS combined failed to leap ahead of Android in US market.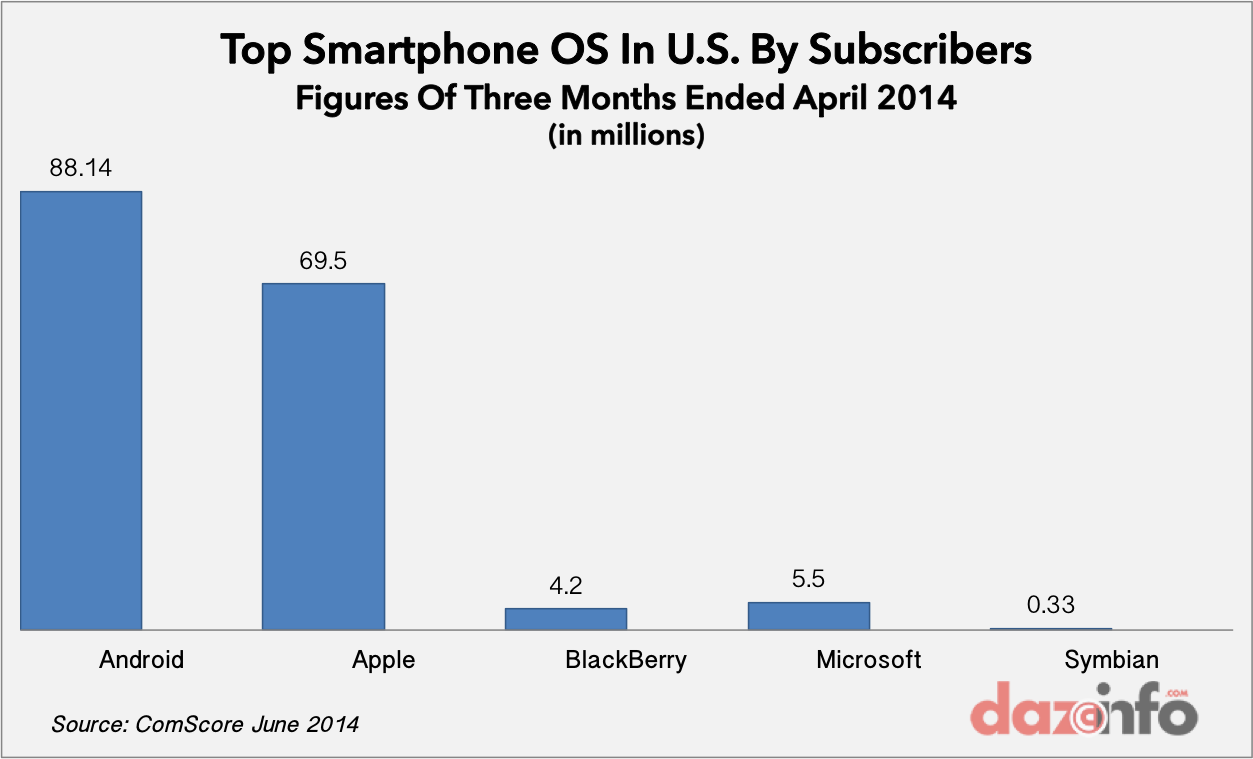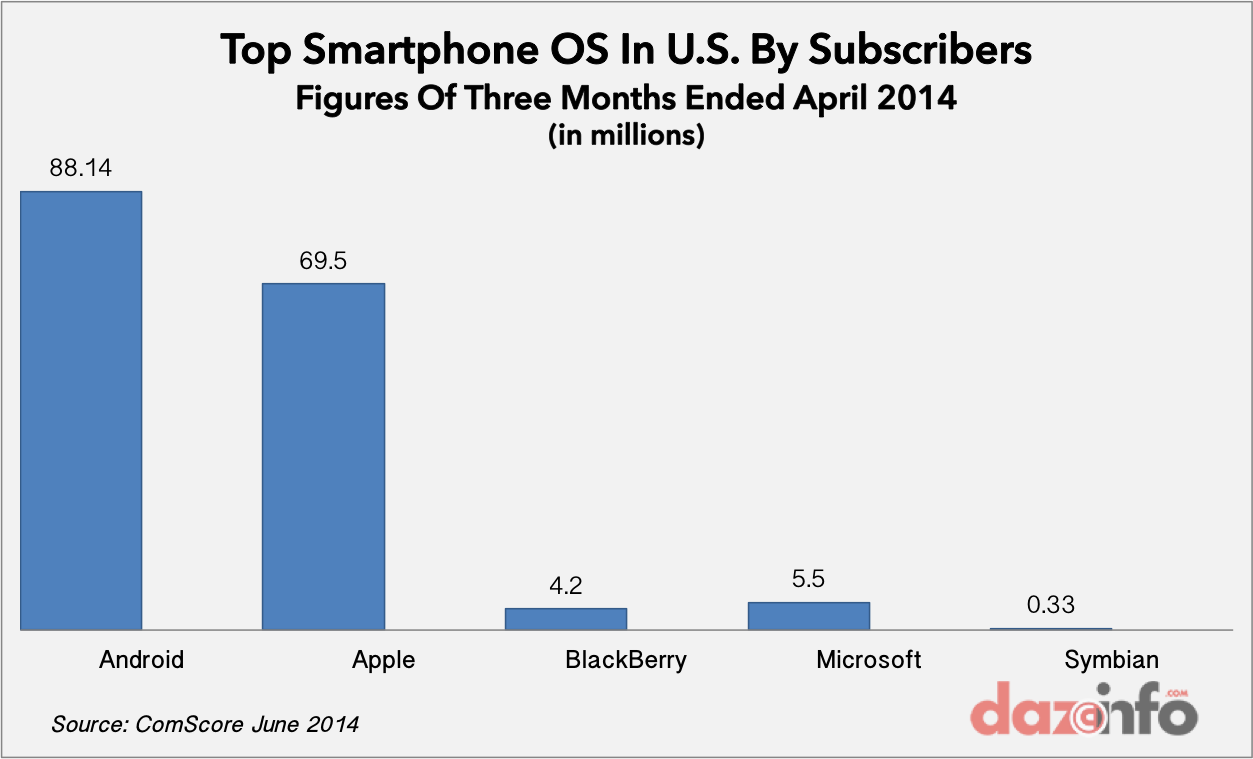 Though Apple Leads in OEM Smartphone Market, Samsung Is the Only Gainer
In the quarter ended on April'14, Samsung captured almost one-third of the smartphone market in the U.S. with 46.5 million smartphone subscribers. The market share of Apple iPhone increased 2.2% point between May 2013 and April 2014, the quarterly growth has been disappointing, with an absolute no improvement in U.S. smartphone market share. During the three months, ended on April 30 2014, Apple and Samsung, together, were the unanimous OEM choice of 116 million U.S. smartphone users. However, Samsung emerged as the only OEM that managed to increased its market share by 1% point. The growth of Korean electronics giant in the U.S. came at the cost of all top smartphone OEMs, including LG Electronics Inc. (KRX:066570) and Motorola that captured 6.5% and 6.3% smartphone market share of the U.S., respectively.
Weather Channel, the New Entrant, Reaches Out to One-Fifth of the App Users on Smartphone
In the three months, ended on April 2014, Facebook remained the most favourite app of smartphone users in the U.S. Though, 74.1% of smatphone app users in the U.S. used Facebook, the usage of Facebook app has declined 2% point as compared to the usage recorded during the same period last year. Interestingly, this decline is recorded at the time when when Facebook is witnessing a huge spike in its mobile users. Nearly 50% of smartphone suers in the U.S. used YouTube app during the three months making YouTube app the third most poplar app among smartphone users. This also certifies the claim of growing consumption of mobile video content in the U.S. The growth of Pandora surprised all as app jumped to 5th position from 8th with 44.9% app users. In the three month, ended on April 30, 2014, smartphone app users in the U.S. preferred messengers, social media apps, app stores, search engine, maps, mailing, stock, weather and music apps.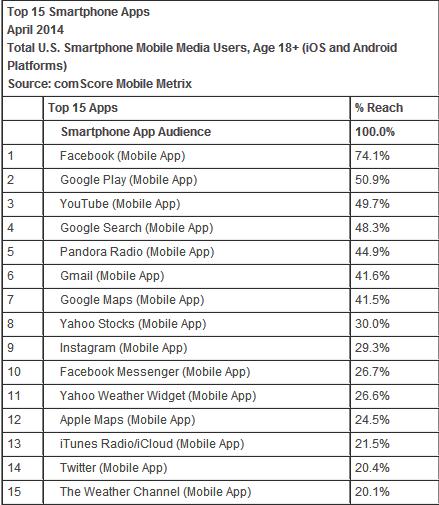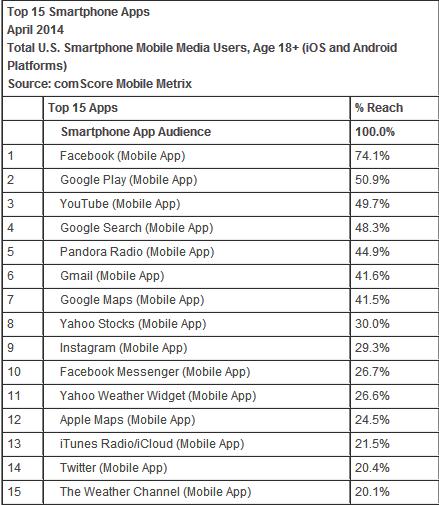 Smartphone Growth Has Stagnated In The U.S.
The U.S. smartphone market has reached a point where growth in number of subscribers is quite unlikely. The negligible growth in all OEM's market share in last few quarters clearly portrays the not-so-lucrative scenario of U.S. smartphone industry. The total smartphone subscriptions in the three months, ended in April 2014, reached to 167.9 million which is just 20% higher as compared to the same duration last year. This goes on to prove the level of saturation and stagnation in the market. Consequently, smartphone vendors are turning towards emerging markets, such as China, India and Africa, which has a big opportunity window for smartphone vendors. However, constantly declining ASP (Average Selling Price) is another challenge these vendors will have to face there.