Apple Inc. (NASDAQ:AAPL) surprised investors during its fiscal Q2 2014 earnings report with its spectacular growth in China. The results broke the long-held myth that the smartphone market in China was simply impossible for foreign brands to penetrate into. According to marketing research firm Strategy Analytics, China is all set to overtake the United States as the world's largest mobile phone market by revenue in 2014. The finding has enormous implications for Apple, as it mobile phone arm generated one-fourth of the company's revenue in Q1 2014. This revelation is likely to force several smartphone OEM's to increase their sales targets in China, and ignore developed markets for long-term growth prospects.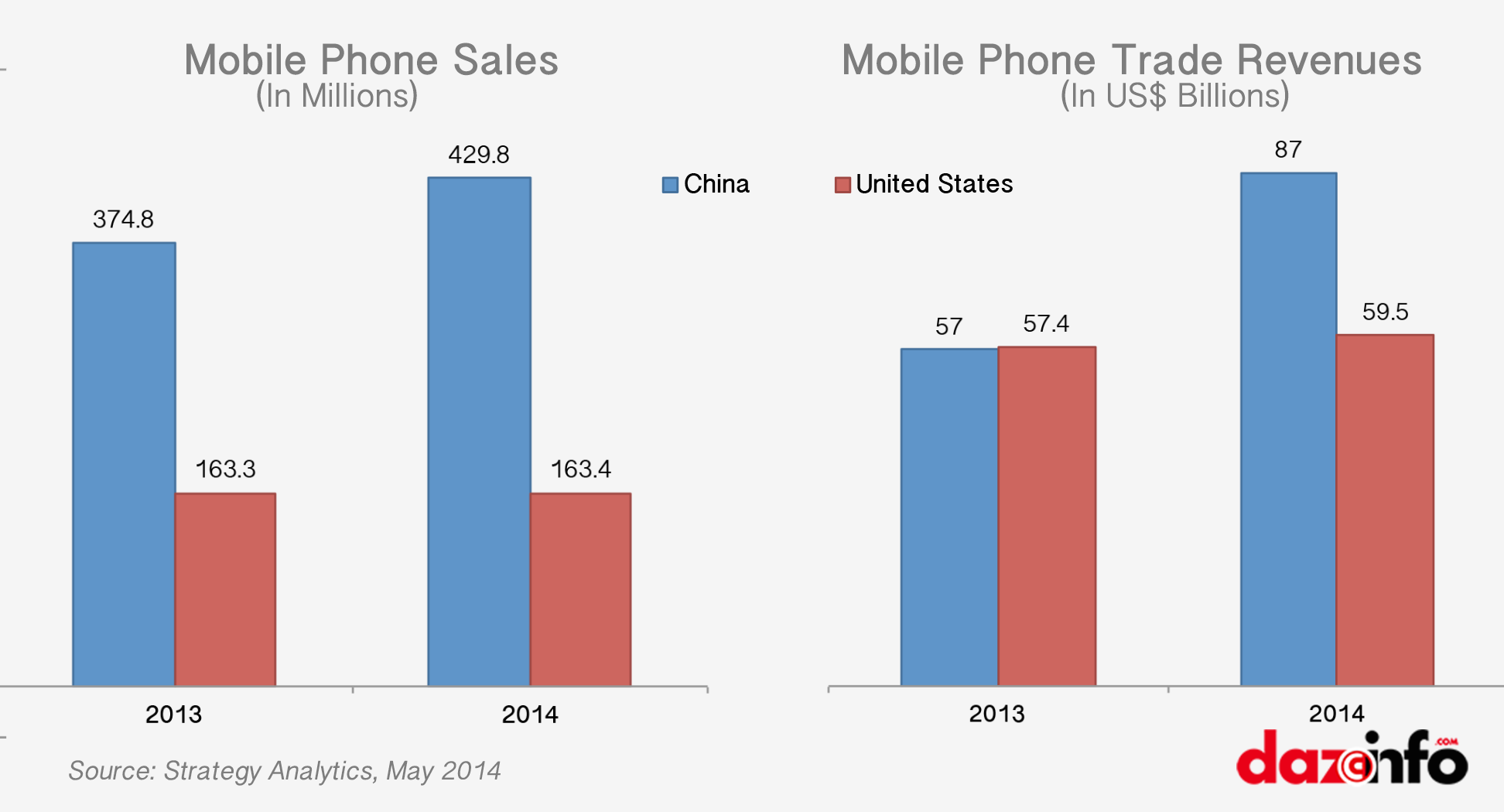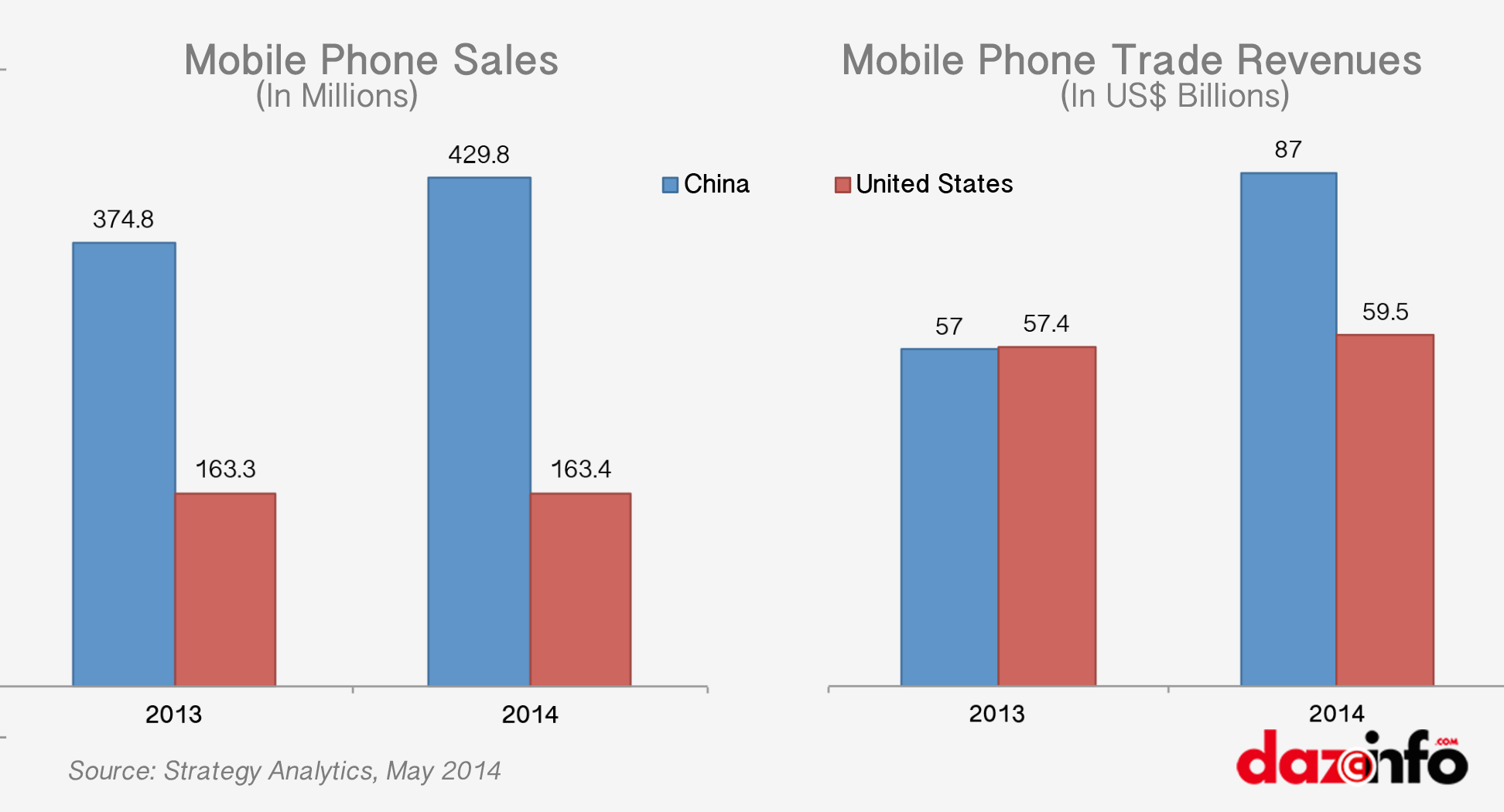 It also bolster's the case for more budget smartphones to target customers in developing countries. The four BRIC countries will generate 36% of global mobile handset revenues in 2014. The average ASP of smartphones is on a steady decline to fall to U.S$ 267 by 2018, but all major vendors are still focused on maintaining large profit margins from sales of high-end devices. This is particularity bad news for Apple, which has thrived so far on selling high-end products to consumers in developed markets.
Smartphone Market In China: The Biggest Opportunity In 2014
A total of 407.9 million mobile phones were shipped in Q1 2014 worldwide, and a majority of these shipments went to China – world's fastest growing smartphone market. With 15% growth projection in mobile phone sales, Chinese consumers will spend an estimated US$87 billion on mobile purchases in 2014, a massive surge 53% from last year. Currently, Samsung Electronics Co., Ltd. (KRX:005930) is the largest smartphone OEM by market share in China. The Korean giant has earned the distinction, thanks to its wide range of phablet devices that are popular among Asian consumers. Second place was held by Apple till recently, when Xiaomi surpassed iPhone maker in Q1 2014. The other top contenders include homegrown Huawei Technology Co Ltd. (SHE:002502) and Lenovo Group Limited (ADR) (OTCMKTS:LNVGY). The companies are indulged into a price-war, resulting in low prices mobile devices and this has become a major factor in emerging economies such as China.
In 2014, an estimated 430 million mobile phones will be purchased in China, and most of these sales will be driven by low-cost large screen devices. Apple will be benefited largely in China if it launches its much-rumored 5.5 inch phablet device. The firm already has announced a tie-up with the world's largest mobile subscriber China Mobile to sell an estimated 20 million iPhones throughout 2014 in the region.
U.S. Smartphone Market Is Saturated, But Remains Most Valuable By Profit
The U.S market is no longer an attractive option, at least for most smartphone brands. In 2014, the 163.4 million units of smartphone are estimated to be sold in the U.S. which presents a zero percent growth compare to last year. Already, smartphone penetration in the U.S. is 68%, with 163.2 million smartphone users. In 2014, U.S. consumers will spend only US$60 billion on mobile purchases. Apple is the largest smartphone vendor in the U.S. with a market share of 41.3%, followed by Samsung with 22%.
The U.S. is one of the largest markets for Apple along with Japan and China. If the trend continues growth will slide into negative in 2015, forcing all major brands to divert their focus more on BRIC countries. Commenting on the findings, Strategy Analytics executive director Neil Mawston sounded unconvinced of the skepticism in the U.S. market.
"High average selling prices for mobile phones and huge operator subsidies from Sprint and others continue to make the U.S. a very profitable market for major device brand such as Apple, Samsung and Alcatel"
BRIC Mobile Growth Is Well Above Global Average
Although China is leading the way, the remaining countries especially Brazil and India are still lagging behind, mainly because of poor infrastructure to support the 3G and 4G networks. The lack of purchasing power among citizens in the BRIC means that brands will need to roll out more budget products, such as Moto G. The average ASP of a smartphone is declining fast, and brands will face severe challenges in maintaining the high profit margins on the sales of their flagship devices. Apple will be hit the hardest as the company produces neither high-end feature phones nor a low-cost smartphone. Samsung has also been at the receiving end as local brands have adapted and devised new tactics to attract customers.
Will these findings shape Apple's future? Can the company create a low-cost product? Has the global smartphone market finally matured? or, more importantly, can Apple still maintain huge-profit margin from its largest market U.S. ? Let us know in the comments section below.