Facebook Inc. (NASDAQ:FB) is experiencing an explosive growth globally despite of a slow down in the home country. The overall number of monthly active users may not be growing as fast as it used to be one year back but users' transition to mobile has helped Facebook record positive growth in reach and engagement. Besides, constant growing adoption of rich media content and highest yearly growth in number of comments remain among the driving forces behind a social network maintaining a whopping 1.27 billion monthly active users.
According to the latest report from Adobe titled Social Media Intelligence Report Q1 2014, video content are the only post type that recorded positive increase in engagement on the Facebook platform during Q1 2014 compared to the year ago quarter. As the penetration of high-speed internet connectivity increases worldwide, internet users are consuming more video content than ever before, resulting in 25% Y-O-Y increase in engagement on Facebook. In contrast, text, links and images slowly lose traction among Facebook users as their share on Facebook declined in Q1 2014. However, posts with images still provide the highest engagement rate, followed by video closely and with positive growth in video content engagement, it will soon become the most favorite content type among Facebook users.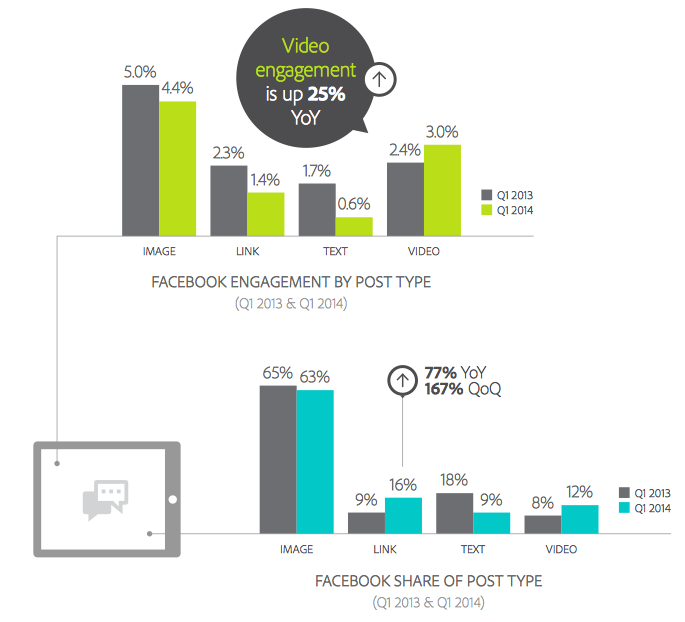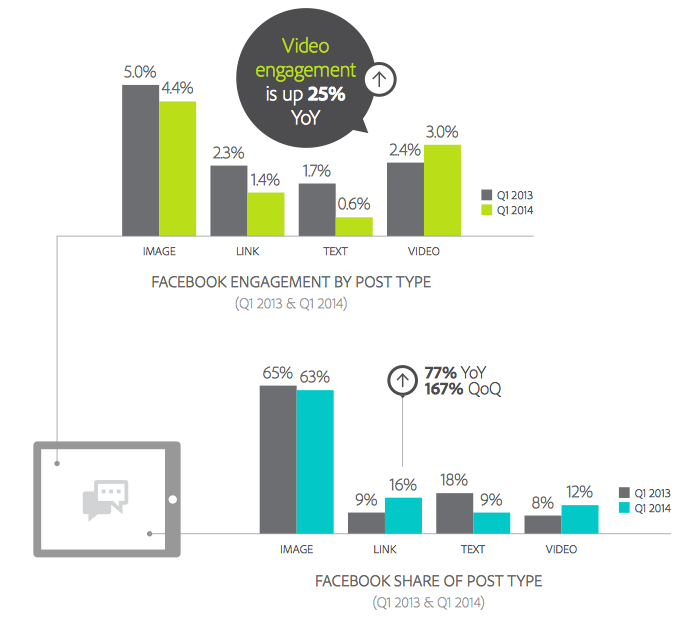 Engagement and sharing of posts go hand-in-hand on Facebook, therefore the study also addresses the section highlighting shares of posts by type. Image posts emerged as the most effective form of communication as it captured the greatest number of engagement and sharing. The growth, though, has declined marginally but it leads with distinction than posts with links, text and video.
The findings clearly highlight the scenario, and opportunity, for social media marketers that video content are the future on Facebook. Brand marketers must focus on creative promotion besides links and text updates. As engagement and sharing of video content grows fast, it's time that brands should make a significant investment in creating video content for Facebook. Recent Facebook changes, especially auto-play introduced in Q4, have increased the amount of video being watched. Video plays are up 134% quarter over quarter.
Friday Facebook Marketing: Highest ROI
According to the study engagement and sharing is at its best on Friday. While brands love to share more on Friday, Facebook users are responding with better engagement rates and video plays.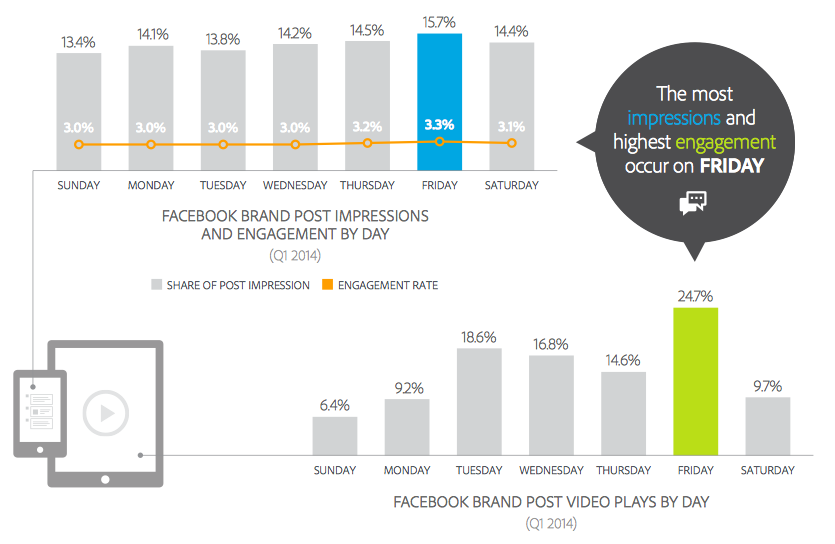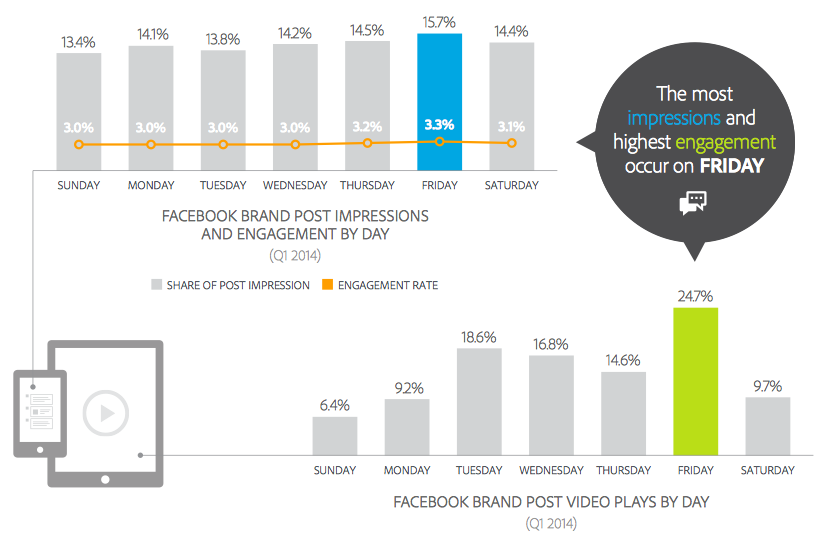 Post engagement and impression is at its best on Friday reaching nearly 15.7% of all impressions, followed by Thursday and Saturday. Similarly, one fourth of all video play occurred on Friday, marking Friday as the busiest day of the week for social marketers. Surprisingly, besides Friday, people were found to be more fascinated and relaxed to see video content on weekdays, especially on Tuesday.
The above unparalleled intelligence is based on 260 billion Facebook ad impressions, 226 billion Facebook post impression, 17 billion referred visits from social media sites and seven billion brand post interactions including likes, comments and shares recorded by Adobe in Q1 2014.