NewsFeed ads, a prominent part of native ads on Facebook Inc. (NASDAQ:FB) is rising in prominence as it drives 5X higher conversion rate than right hand side ads. With an increasing demand for NewsFeed ads, the competition for high value ad placement is also increasing. As Facebook does not feature ads in the users' feed with lower CTR, it is important for markets to adopt various ad creative techniques.
Ad Creative Strategies Can Drive Off Ad Fatigue Amongst Users!
Brand content must be attractive, engaging, embedded with rich media content like images, videos and links. Unless CTR is above threshold level set by Facebook, promotion campaign is likely to cease in its effectiveness. Marketers must continuously optimize their ad in terms of frequency, content, CTR and other forms of engagement rate. When same ads are shown repeatedly, users are likely to get frustrated and ad fatigue is likely to occur. Consumers might not only ignore ads but also hide or block further ad display from that particular brand. Hence, marketers must focus on periodically reviewing the ad performance via dark posts and published posts and make modifications based on its performance.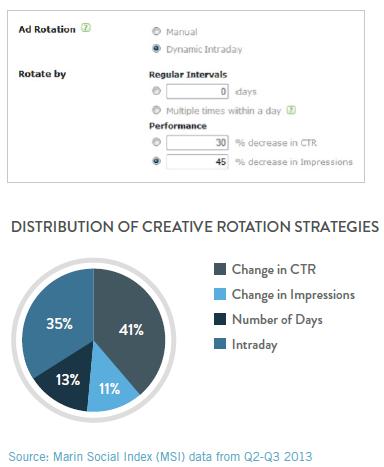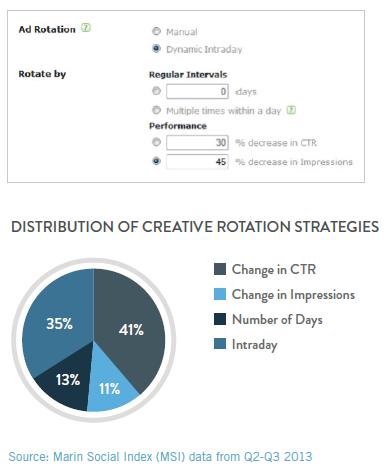 If brand ads perform below average in terms of CTR on the first few days of ad inception, then impressions are likely to drop and might not recover, as Facebook provides higher priority to better performing ads so that users' browsing experience is not affected. Hence, it is vital to gain an initial momentum required to push brand ads to top of users news feed to gain higher CTR to attain desired result.
"Creative Rotation has helped us maintain Performance over time, and the automated bid Optimization ensures we are as effective as possible with ad-spend." – James Connell, Search Director, Path Interactive.
Top marketers known to drive required result for an ad campaign, on an average revise their ad creative every 2-3 days and in some cases every hour to maintain threshold CTR level and to increase engagement at peak hours, when maximum users are online. In a certain demography, ad engagement might be higher when video links are posted and in certain others, it could be peak hours when most of the teens and professionals are online. They might love engaging with informative and cheeky content containing links, if an ad is targeted for an adult age group, they prefer engaging with ads with more deals and offers as they are more price sensitive. Based on observations of the above order, moderation must be done to keep up the CTR rate and improve the ad creative techniques.
More than 41% of Facebook advertisers use a change in CTR as a measure for rotating creative tactics. Nearly 35% rely on Intraday creative rotation, where advertisers frequently change ad creative tactics to keep up the required engagement level from time to time. This method is indeed the best possible option at initial stages, to attain the desired buzz level amongst users on Facebook which might translate well at a later stage to provide valuable returns on long-term basis. About 11% believe in change in impressions as an indicator for measuring ad creative strategy and 13% in number of days.
Direct Response Campaigns Produced 35% Higher CTRs And 34% Lower Cost-Per-Conversion
According to a study by Marin Software, a 21% increment was observed in usage of ad creative rotation strategies in Q3, 2013 compared to Q2, 2013, and it reflected quite positively in favor of brands, eliminating ad fatigue factor and increasing CTR and engagement rate. Direct response campaigns in collaboration with ad creative tactics drove 35% higher CTRs than the ones without ad creative methods. Even cost-per-conversion for ad creative direct response campaigns was 34% lower. Fan acquisition campaigns using ad creative options recorded 60% higher CTRs and 75% lower costs per fan, than the ones who do not use creative rotation strategies.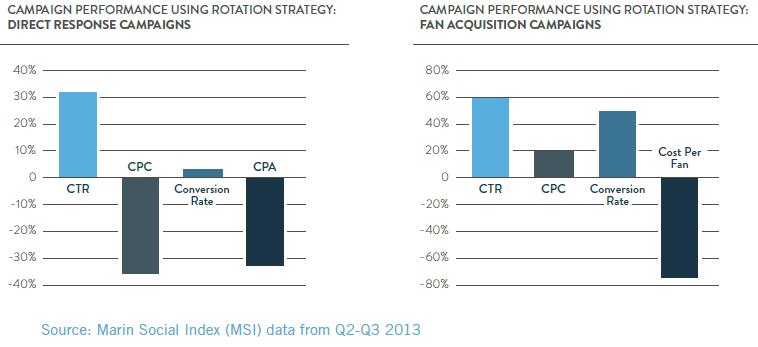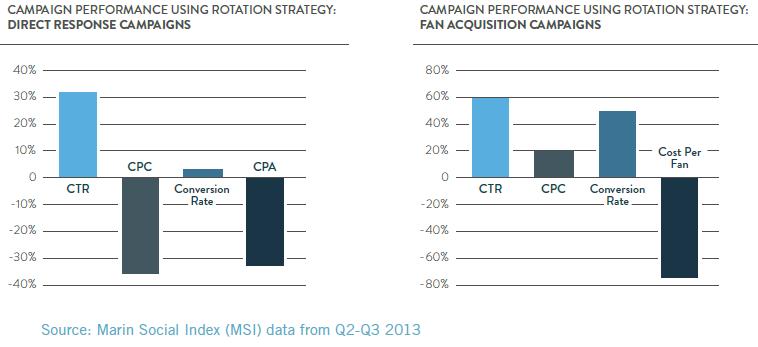 Marketers must follow basic norms to drive engagement and desired ROI or engagement rate from an advertisement campaign. Creative rotation tactics has become the most practiced method by various top brands. Advertiser should try to design their ad creative tactics in alignment with Facebook's threshold engagement level limit so that their ads are prioritized more in the users' news feed (due to higher CTR/engagement). They must follow Facebook's advertisement guidelines and also 20% rule for uploading images with texts. Text part in the ad must be limited to 90 characters and images and videos must be embedded well within the content. Ad exposure frequency must be smartly chosen to avoid ad fatigue, a particular ad must not be exposed more than 10 times to a particular user. Proper analysis must be conducted between various performance parameters like impressions, CTR, frequency of ad exposure, CPA and cost-per-conversion to maintain high-level engagement through the ad campaign.
Source: Marin Software