Social Media titan, Facebook is facing one of biggest challenges as large number of its users shifting to mobile platform, and very few of them being patient enough till a webpage loads. The success history of Facebook Inc.'s (NASDAQ:FB) website is not getting translated well on mobile platform.
With increasing smart phone penetration, most of the advertisers and marketers are concerned about their Ad campaigns, brand visibility of their firms via Facebook, as it's not yet well adapted to mobile platform. On the other hand, Its close competitor Twitter is well ahead with its ''Mobile First'' approach. Twitter was born as a mobile network like Instagram while Facebook was incubated as a website that adapted – as all websites does – the online space before mobile. No matter what type of Facebook message you type on your phone, tweeting from a mobile device will always be quicker and easier. Catchy interface and the fascinating arrangement of tweets are leading to large number of users shift to Twitter from Facebook.
How's Facebook Coping Up (FBX and Promoted posts)
FBX, Or Facebook Exchange, is one the unique less-known initiatives adopted by Facebook to boost its chances of attracting advertisers. FBX is an Ad buying platform of Facebook that allows Advertisers to creep in cookies whenever the users use their website. If the same user logins to Facebook, an Ad pops up of same website, which might remind the user to use/like/comment their experience of using website on Social media platform. Also Marketers with knowledge of FBX have found Dynamic FBX better than Static FBX in terms of ROI.
According to Kenshoo Social, when compared with static FBX ads, dynamic FBX ads resulted in: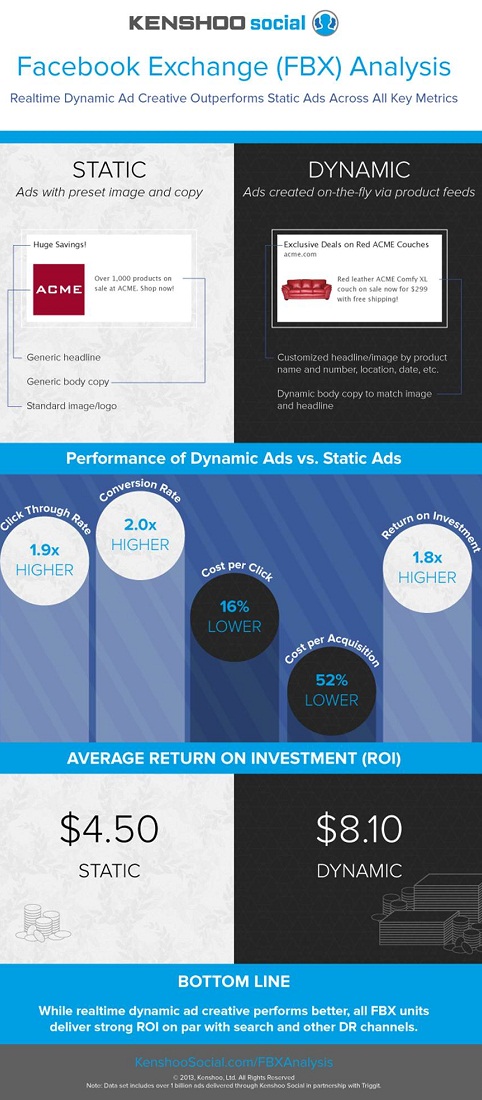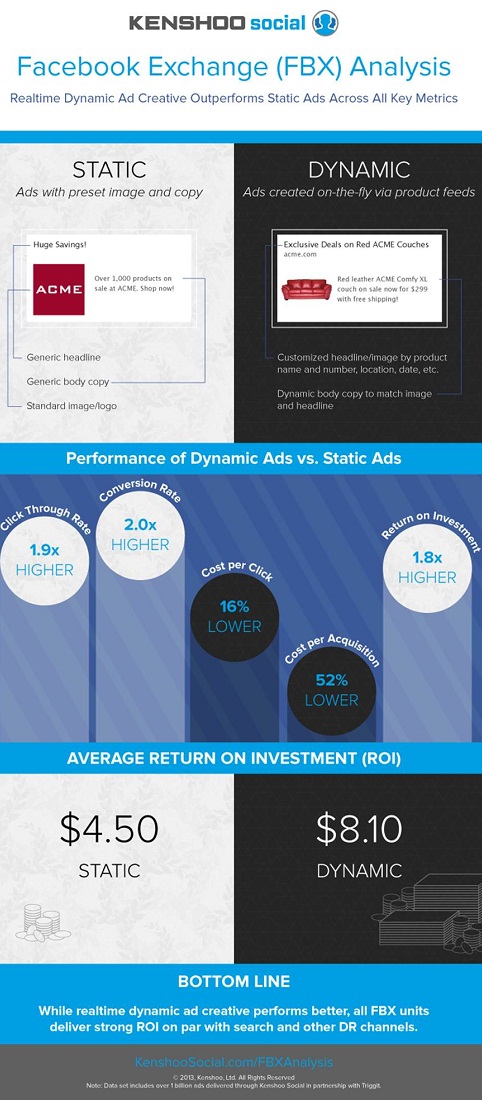 FBX was the company's effort to help advertisers capitalize on the targeting potential of Facebook, by allowing advertisers to serve ads based on users' web-browsing behavior. Although FBX isn't widespread yet— 18% of marketers had used the platform in September—advertisers who have purchased through FBX seem reasonably happy with the results.
The number of respondents who said FBX was very effective for their ad campaigns rose from 11% in January 2013 to 20% in September 2013. In total, 87% found FBX at least somewhat effective as of September. There wasn't much told about revenue from FBX in Q2 report from Facebook, as component was less significant .But efforts, ideas initiated by Facebook in order to battle out other social media sites is commendable.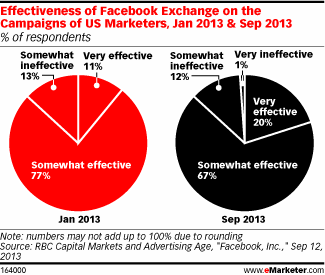 Promoted Posts/Ads  by Facebook  Vs  Promoted Tweets
Promoted post was started off as free service by facebook at initial stages, but later on, service was charged starting from $5. More the budget more is the Reach; once you promote a post it gets notified to all the ones who liked your page and their friends as well. Promoted  posts seems to give better ROI compared to side Ads.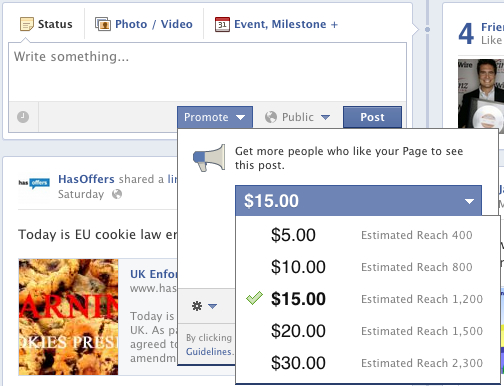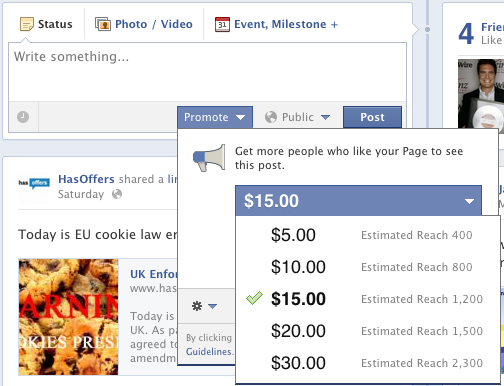 Facebook COO Sheryl Sandberg (Jan 2013) announced that almost 500,000 Pages have tried Promoted Posts, the ad product that gives Page owners a chance to push a status update to more Facebook users. Also 70% of them are now repeat advertisers.
But the main disadvantage is the outreach which is limited to the ones who have liked the page and their friends only. Recently Facebook has come up with Geo-targeting of promoted posts so that page admins could target crowd of certain area, city based on which areas they are expanding their products. This feature is on trial basis and is found effective to majority of users.
In close race to the above is Promoted Tweets. A study by Kantar's compete market research division looked at 7,600 users and their interactions with 700 brands, and found that customers who were exposed to any retail tweets (as in, they saw a single tweet from a retailer or visited a retailer's Twitter page), were more likely to make purchases and visit online retail sites than people who had no exposure. These Twitter users are more likely to visit online retail sites than non-Twitter users, and they're more likely to make online purchases.
In rush to compare the advertisement engagement levels between Facebook and Twitter,TBG digital apparently made a hasty and significant error. The social media marketing vendor originally reported that Facebook mobile ads outperformed Twitter by at least four times, but days later it reversed its opinion, admitting that it was not comparing Facebook "like" for actual like.  "With Promoted Tweets, we've seen engagement rates from 1 to 3 percent on an average. On mobile, the engagement rates are even higher," said Twitter spokeswoman. Mobile Newsfeed ads on Facebook garnered a 1.14 percent CTR on average.
Twitter's emerging success could make it a more viable alternative for businesses looking to advertise.
What Advertisers, Marketers Think !
Although Facebook has nearly 1.5 Billion users, with gradual increase in Twitter users (over 200 Million ) and decrease in number of active users on Facebook, advertisers are in great fix over issue of adopting social media platforms. Despite the fact that their Facebook page has nearly 3x the number of fans (over 100K) as Twitter followers, logic might conclude, "If we can reach 3x the number of potential customers, why not spend more money there?''.  But the Deciding fact here is ''Engagement''. Not 'Likes'  or 'Follows'  but more valuable forms of engagement such as shares, comments, replies & retweets. Also there is a lot of difference between ''Facebook Like'' and ''Like' – representing users' behavior. Many businesses miss out on these opportunities because they don't understand Twitter and how it can be used to drive business. As the current trends are showing, Twitter is likely to gain more popularity compared to Facebook and this will definitely attract higher number of advertisers in favor of former one, provided they use it wisely.
Source: eMarketer