Consumption of digital contents is all time high across the globe due to its nature of instant accessibility and free-flowing updates. This is clearly visible among online readers in India – world's third largest country by Internet users – as average daily visitors surged up to 9.4 million, a growth of 34%, in last one year. However, Online News and Information portals are yet to attract a sizable share of users in India available online.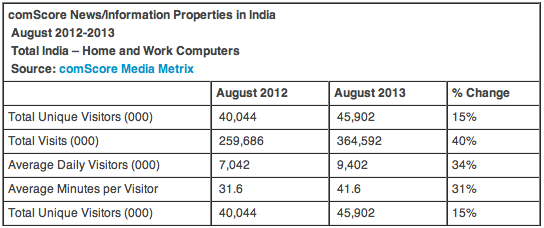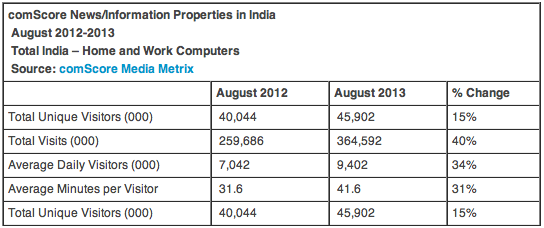 According to latest report from ComScore, News/Information portals in India attracted 45.9 million unique users available online in last one year. The number looks promising though; this results in growth of only 15% which is much lower compare to the growth in number of Internet users in India that stood to 31% in last one year. Therefore, It's evident to understand that the growth in readership of Online News and Information is largely being driven by matured Internet users while the first time internet users are apparently more fascinated towards other online activities such as Facebook, Chatting, Email etc.
Traditional Media Leads In Indian Online Space Too
The report bifurcate various Online News and Information properties by Unique Visitors and traditional offline media houses such as The Time of India, HT Media Ltd, India Today Group etc. have emerged as the clear winners in online space too.
The Times of India leads with a distinction by engaging 12.7 million unique visitors in August 2013, followed by Yahoo-ABC News and HT Media Ltd with 10.7 million and 8.2 million unique visitors, respectively.
The report also showcases readers' engagement that spiked within past year and regional online properties are keeping their site visitors occupied for longer duration. On average online visitors are spending 31% more time on News and Information site at 41.6 minutes per visitor compare to last year. Regional Online news properties DivyaBhaskar.co.in and Bhaskar.com depicts users are more engaged at 100.3 minutes and 62.1 minutes, respectively.
A Sizable Traffic From Abroad
Online traffic from abroad is surging up significantly. With 51% growth in last one year in traffic from abroad Firstpost.com is the only online Indian news and information site that grabs more foreign visitors than in India. The data suggests that in August 2013, firstpost.com recorded 1.9 million unique visitors from abroad compare to 1.8 million from India. Malayalam online property Manorama sites also presented a great overseas performance by recording 0.902 million unique visitors from abroad – majority of Gulf countries.
Source: ComScore