The very common saying regarding mentality of Indian retail consumers "Can't touch, can't buy" is apparently being proved wrong by E-commerce giant Flipkart for 6th time in a row. The Bangalore based E-commerce startup seems to be dominating and drinking all the water in the Ocean alone. It has strongly replied to all its the critics by the news out burst of seeking to raise another round of investment of $125M, approximately Rs. 800 Crores. Not to forget, just 100 days ago (July 2013) it had raised around $200M by its investor group that includes Naspers, Accel Partners, Tiger Global, and ICONIQ Capital.
Though e-commerce investment opportunities are shrinking in past 1.5 years, Flipkart continue to be dominant player in the online shopping in the sub-continent. In last 3 years nearly 53 e-commerce Indian firms have raised $853M from venture capital, but only 11 have managed to raise further rounds of funding. In 2013, 39 investments (except Flipkart) worth $17 million were made in India, in comparison with $332M in 2012, whereas Flipkart alone raised $200M (July 2013) and is on rampage with yet another $125M investment. They are continuously proving themselves to be gigantic, unbeatable leader in e-commerce (India) and shutting down all doors for new or existent competitors, there by alarming possibility of ''Lets Shop it'' being replaced soon by ''Lets Flipkart it'' in near future.
Flipkart: $381 Million of Funding In Five Years
Since 2007 Flipkart has raised nearly $381 Millions in 5 rounds of funding. Earlier in July 2013 Flipkart raised $200 Million from its investors (Tiger Global, Accel Partners, Iconiq Capital, Naspers Group). This time it's planning to raise another round of funding from existing and 2 other investors from the U.S. However, the upcoming round of investment would be claimed by Flipkart Holdings of Singapore to bypass FDI laws in India. To ensure adequate fund flow to sustain its diversified and rapidly growing operations it has moved its backend technology company out of the country to Singapore whereas operations and other activities are carried out in India.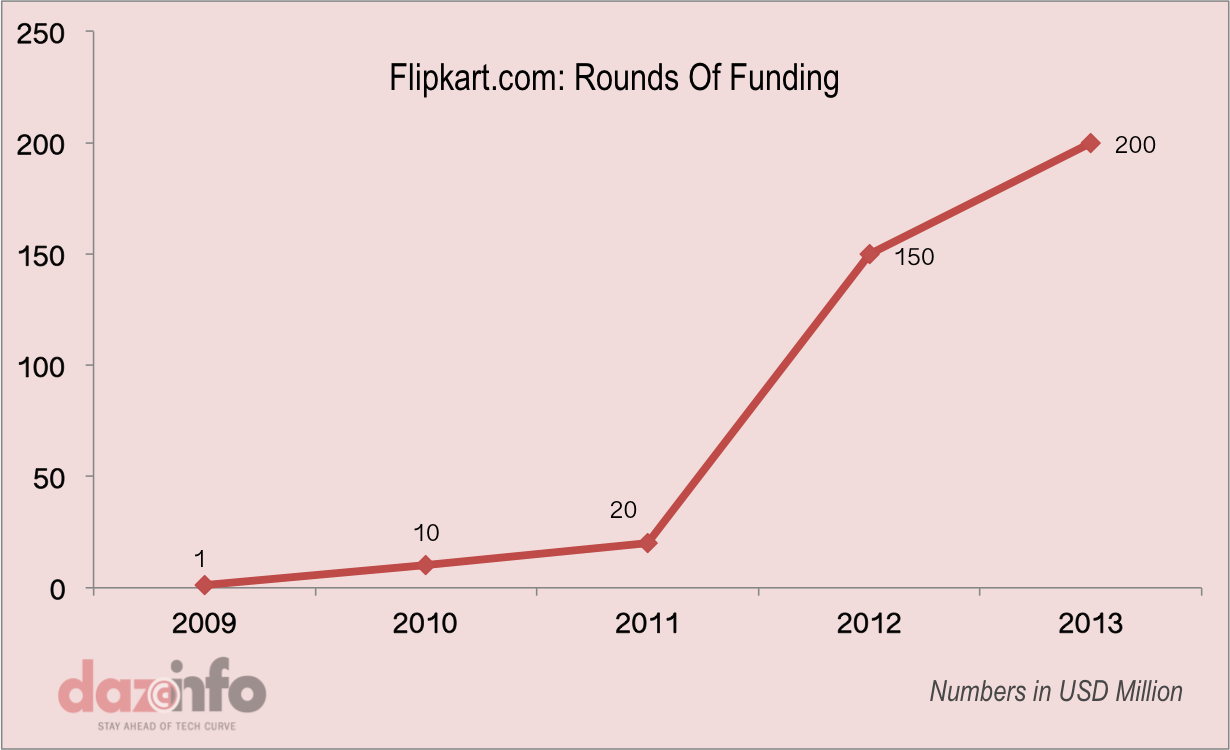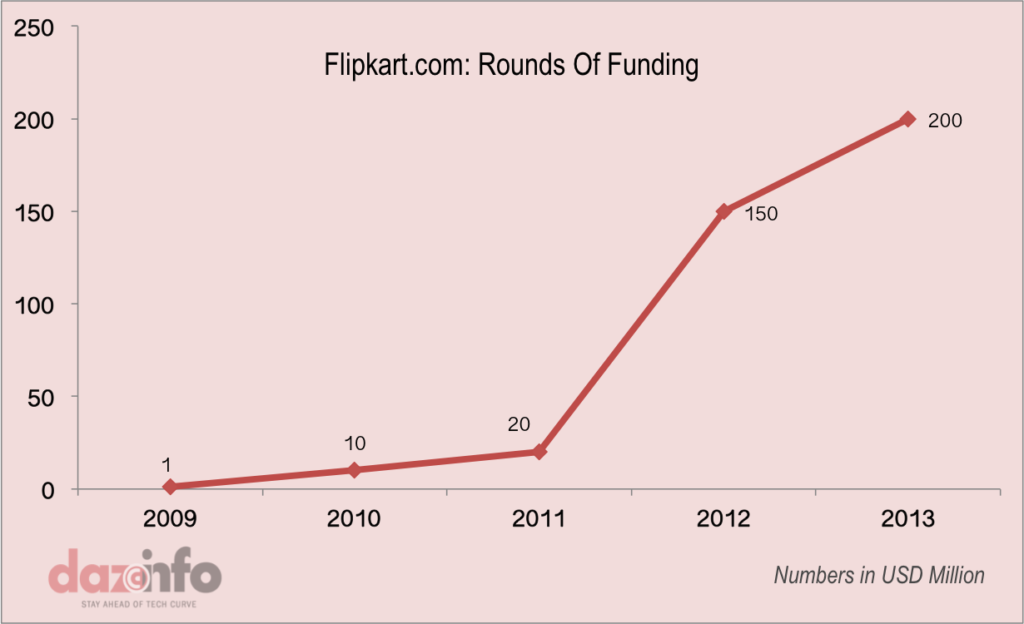 If we can observe the last few years, the company valuation has increased steadily more than rest of entire E-commerce (in India) put together.
By 2015, Flipkart is hoping to sell products worth $1Billion. Investors are continuing to pump money into Flipkart with an eye on a large ticket public sale of shares in four to five years says Harminder Sahni, managing director of consultancy Wazir Advisors.
E-Commerce Market In India: Yet A Smaller Pie
E-Commerce market in India is growing by leaps and bounds; in 2012, consumers' interest went up by 128% compare to 40% in 2011, quotes a report from Google India. It wouldn't be wrong to quote that e-commerce growth in India is being driven just because of Flipkart. According to Technopark Advisors, the e-commerce market in the country is estimated to grow from the current $1 billion to $56 billion by 2023. Currently online sale comprises just 0.1% of retail section and is expected to grow up to 6.5% by 2023.
However, there is also a gloomy picture of e-commerce growth in India; The global E-commerce sales (B2C) is expected to touch $1.22 trillion in 2013 and Asia-Pacific will emerge as the second largest contributor with $388 billion of sales. By 2016, e-commerce sales in Asia-Pacific are estimated to cross over $700 billion figure – the highest among all regions – as China and Japan will emerge two of the biggest contributors of this growth while India will be left much behind.
But again, industry pundits still see India as a big potential market considering the number of Internet users and mobile subscribers compare to other countries. "Future of E-commerce in India is very bright commerce and E-Commerce as a whole; we have just scratched the surface and particularly in India where there is a huge number gap between internet users and online shoppers, there lies an enormous opportunity" said Mr. Ram Kumar – Product Head, ebay India, while speaking with Dazeinfo.
Flipkart: Riding Over Optimum Customer Satisfaction
With large penetration of Internet users in the sub-continent, Flipkart seems to be making the best out of it and building biggest ever brand in online sales section in India. Also, establishment of offices developed in Singapore to ensure continuous funding is an indication of expansion of this E-commerce dragon to other parts of sub-continent and its neighbors with less main players in the stream.
During the last round of funding in July, CEO Mr. Bansal had said '' We would use money to build the technology platform, further grow the supply chain besides talent acquisition, The company has currently 9.6 million registered users and over 1 million unique visitors a day''.
Flipkart currently has 1,000+ sellers on their site and by 2015 Fiscal quarter, they are aiming to reach 10,000 sellers and also reach dream target of 1 lakh sellers in future. The company would also utilize the recently raised funds to build a good supply chain and logistics infrastructure.
Customer satisfaction and brand development has always been priority of Flipkart and this has definitely helped them to be at top of the column in next generation online shopping era. Flipkart gained the maximum customer satisfaction score beating other prominent players of e-commerce market such as Jabong, Snapdeal and Myntra. Nearly 13.2% customers find Flipkart more satisfying than other e-commerce sites in India.
IPO or Acquisition?
Flipkart looks like a speeding train without brakes. Since its inception in 2007, the company is still not profitable but managing to extract funds very often. The business clearly needs money to grow and the Bansals of Flipkart have managed to raise it through the only way possible, private equity. E-commerce currently is not a bankable business since it does not have any assets, thus leaving either private equity or the share markets as the only possible way of raising money. But Flipkart seems to go in direction of private equity for now to avoid possible financial data leak out by an IPO. It would be interesting to see how long investors would retain their faith in this Indian E-Commerce giant.
Nevertheless, continuously pumping of funds by Flipkart has definitely restored belief for e-commerce firms in the sub-continent.