Days are gone when e-commerce industry in india used to be treated like a 'man-with-a-plastic-bag' who wants to touch and feel each and everything personally before reaching to his pocket. A latest report from Google India reveals that Indian consumers' confidence in online shopping recorded 128% growth in 2012 compared to mere 40% in 2011. The report is based upon a study combined conducted by TNS Australia in November and collected data from Google Trends.
TNS study is based upon sample data collected from 800 respondents having monthly avg household income of Rs 55,051 spread across Mumbai, Delhi, Kolkata, Bangalore, Ahmedabad, Hyderabad, Pune and few other cities.
 Mobile Devices Played A Vital Role
In the year 2012, search queries generated through mobile devices doubled compared to 2011. Almost 30% of total search queries originated by mobile devices. This clearly showcases users' constant increasing interest in Smartphones and Mobile internet despite of the fact that only 2.7% mobile users hold Smartphone in india and only 22% of mobile internet users pay Rs 500 or more per month.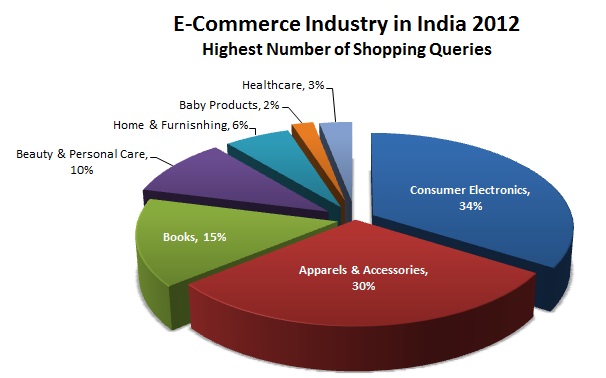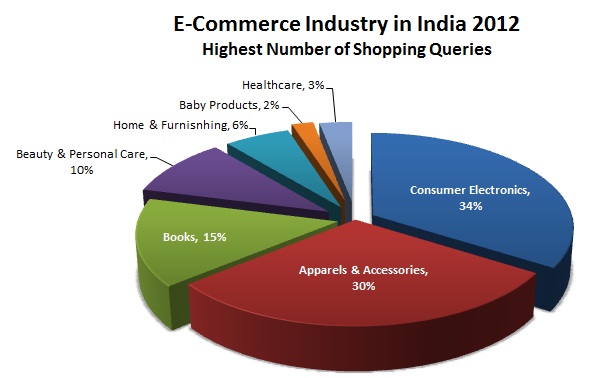 Apparel: Online Indian Consumers Loved The Most
According to the report, Apparel and electronics were the top categories which fascinated online shoppers the most. As 84% users purchased from these categories online, 71% users preferred consumer electronics, while 64% users bought beauty products online.
The fascination towards apparel among online users comes as no surprise, as the category was marked as one of the fastest growing e-commerce industry in India back in August 2012. The emergence of Zovi, Myntra, Jabaong and many more local players compliment the commendable growth. While eBay India is also stocking majority of its inventory for the same, Flipkart is also rumored to jump into the business with focused approach by late March of this year.
In fact, the frequency of purchase was also the highest in Apparel category with 33%, followed by electronics with 28%.
Payment Gateways Still Disappoint
Despite of such enormous e-commerce growth in India in 2012, the absence of effective and impressive presence of online payment gateways is still lagging behind compare to other countries. Consequently, COD is still the most preferred most of payment as 74% users preferred the same. And, that's the reason e-Store are bound to offer COD in India despite of fact that realization of payment against goods is delayed due to the involvement of many offline collection agencies.
Debit card and credit card were the other mode of payment with 18% and 5% opted ratio among online shoppers.