Undoubtedly, the last holiday season was outstanding for mobile device vendors, as the global Tablet shipments reached all time highest for any single quarter in Q4 2012. According to a recent report from Futuresource Consulting, 64 million tablets were shipped in Q4 2012. More importantly, Q4 2012 accounted for almost half of all tablets sales in the last year. In 2012, 136 million tablets were shipped by hardware vendors.
Breaking the facts, sales of tablet surged by 127% in Q4 2012, compared to the same quarter of the last year. In 2012, lots of innovations were seen, including the launch of Microsoft Surface Tablet. It's expected that Microsoft sold 1 million Surface RT tablets in the last quarter. As per Apple's quarterly report, the company sold 22.9 million iPads in the last quarter.
Global Tablet Shipments in Q4 2012
There's are numbers of reports (based on tablet web traffic) available worldwide revealing that the sales of tablets were primarily driven by Android and iOS devices. By separating the sales of Android, iOS and Windows RT tablets, the shipments of other OS-powered tablets were meager in Q4 2012, almost flat compared to the previous quarter.


In Q4 2012, Android powered Google Nexus, Amazon's Kindle Fire and Samsung Galaxy Tab 2 played significant role in terms of shipments. Android has seen 218% Y/Y growth in the last year, compared to Q4 2011. The main reason for the prevalence of Android tablets across the world is its affordable price tags. However, with the launch of iPad Mini, Apple succeeded to achieve its all time highest tablet shipments for any single quarter in Q4 2012.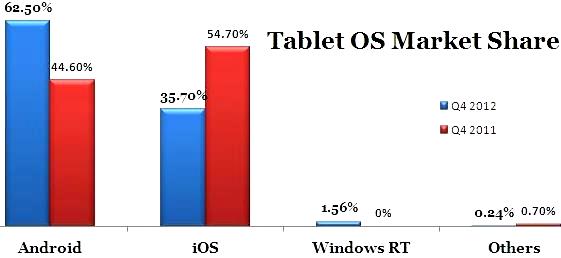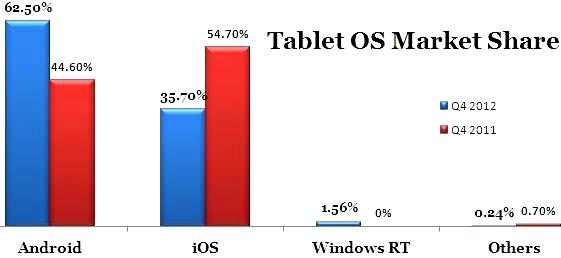 Although Apple made a record with the sales of 22.9 million iPads in Q4 2012, but its overall tablet market declined to 35.70% during the quarter, from 54.70% in Q4 2011. On the other hand, Amazon's Kindle Fire HD emerged as one of the most popular smaller screen tablets in the last year. In the U.S., 33% of Android tablets shipped in the last quarter were Amazon's Kindle Fire.
In Q4 2012, Microsoft succeeded to grab a big chunk of Tablet market shares. With the launch of Surface RT, the software giant managed to hold 1.56% of overall tablet market share.