India has become one of the best places for mobile vendors to invest. The reason is quite obvious that the country ranks second in the world in terms of mobile subscriber base. As number of mobile handsets (especially Smartphones) ramping up, internet access on the device has become one of the hottest trends here. In addition, mobile devices account for about 50% of all web traffic in the country.
2.7 Million Users Accessed Internet Using Dongle In Oct, 2012
As usual, mobile handset users in India often use their device for accessing information, playing games, communication, watching videos and listening to music. According to a recent report from IAMAI, an online publisher tracking digital and online industry, the country had 78.7 million users, accessing internet on their mobile device in last one month, in October 2012.
Among entire mobile internet users, 61 million were 'Off Deck Users' (accessing sites other than operators), while 15 million were 'On Deck Users' (accessing sites only specified by operators). Besides, 2.7 million users accessed internet using dongles, connected to internet using using 2G, 3G or high speed data cards.
22% Of Mobile Internet Users In India Spend INR 500 Or More Every Month
As competition is ramping up in Indian mobile segment, it's tough for the device manufacturers to manage high ASP (average selling price). This is the reason why average selling price of mobile devices (among users those are accessing internet) is just INR 8,250 in the country. In simple words, still majority of users have low-cost and inexpensive internet-enabled mobile handsets.
The firm has reported that an average monthly bill of users, accessing internet on mobile device, is about INR 460. More importantly, users spend INR 198 (out of INR 460) towards internet expenses. Really, it's nice to listen that users are more likely to spend (nearly 40% of their mobile expenses) on internet access. However, they still spend 60% of their entire mobile expenses on voice services. One of the noticeable point here is that 22% of mobile users spend in the range of INR 500 and above.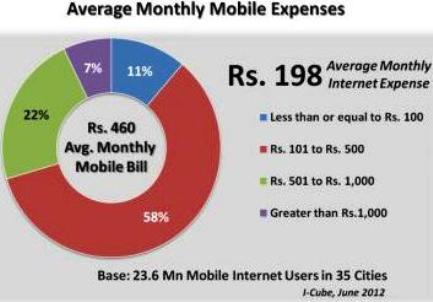 'Email Accessing' Is The Most Preferred Activity On Mobile
Among all internet activities, Indian mobile users prefer most to access emails (send or receive) and social networking sites. Besides, users are also more willing to access app stores as well as online videos. By the end of 2012, India is expected to have 87.1 million mobile internet users, accessing internet every month.
At the end of October last year, the country had 904 million mobile subscribers, categorized into two segments–'Off Deck Users' and 'On Deck Users'. Apparently, the main credit goes to low-priced feature phones for the prevalence of mobile internet across the country.
Mobile internet users often use emails, social networking services and messengers daily on their device. However, app stores are being accessed by lower proportion of the users, but in terms of engagement, it's mind-boggling.


Prevalence Of Online Gaming, Video Streaming And News On Mobile Devices
Online activities such as tickets' booking and bank service access on mobile devices have also increased over the past couple of years. However, still a low proportion of users access these services on their mobile devices. Some other activities such as watching online videos, reading online news and playing online games have also surged on mobile devices; users access internet on their mobile handsets for these activities approximately 2-6 times a week.
Interestingly, 50% of mobile internet users in India use their device for online games, while less than 30% of users read online news and watch online videos.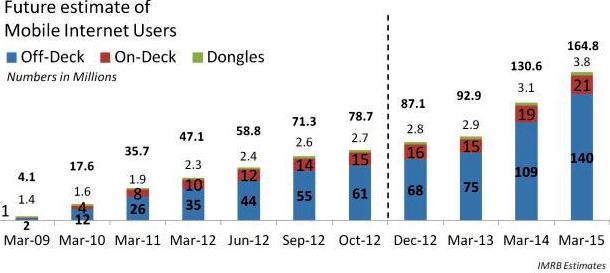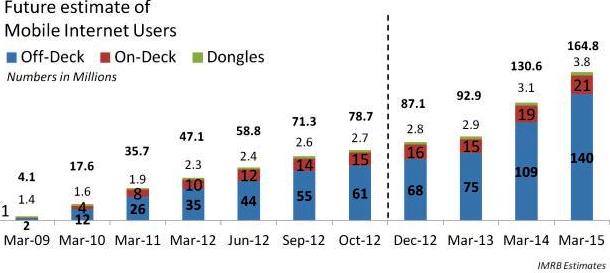 Mobile Internet Users In India Would Hit 164.8 Million Figure By March 2015
It's beyond the shadow of doubts that the growth of mobile internet will still remain strong over the next few years. As the trend of on-the-go internet access is mounting up, users are more likely to adopt internet-enable mobile devices in forthcoming years. On the other side, deployment of 3G and 4G networks across the country by the carriers could also fuel adoption of internet-enabled mobile devices in the country.
As demand of internet on mobile device is growing, the day is not so far when mobile internet users will hit 150 million milestone. It's expected that the country will achieve 100 million mobile internet subscribers by March 2014 and 164.5 million by March 2015.