The smartphone battle has been triggered with full form and big players like Apple, Samsung, Nokia, and HTC have extended their mobile market share throughout the world. But, the vast majority of mobile users still relying on traditional phones compare to smartphone. That's the reason why smartphone segment has only 10% penetration in total mobile segment.
"Communities Dominate Brand" has gathered smartphone usage information from 42 different countries. The data set has provided by the consultant is fascinating, which reveals that the smartphone penetration is still not up-to-the mark.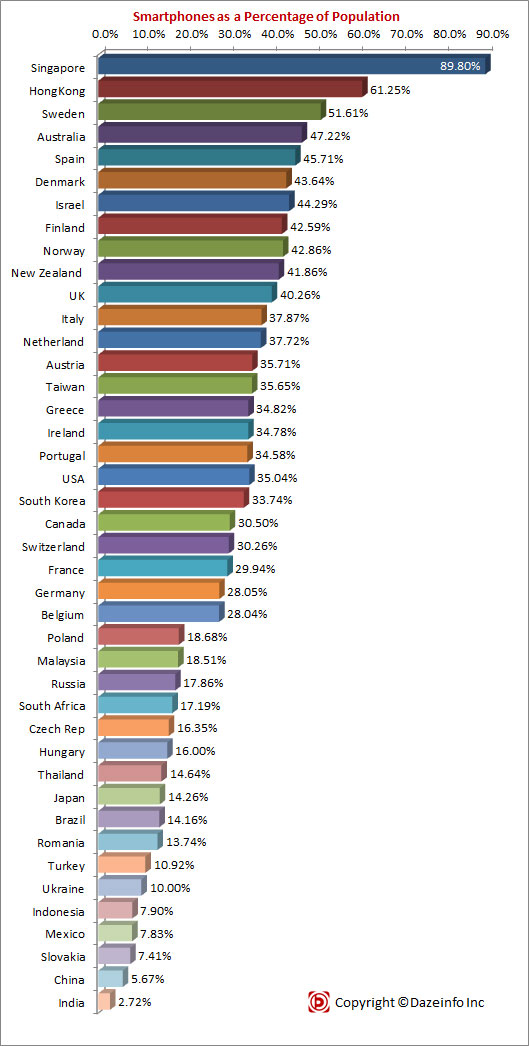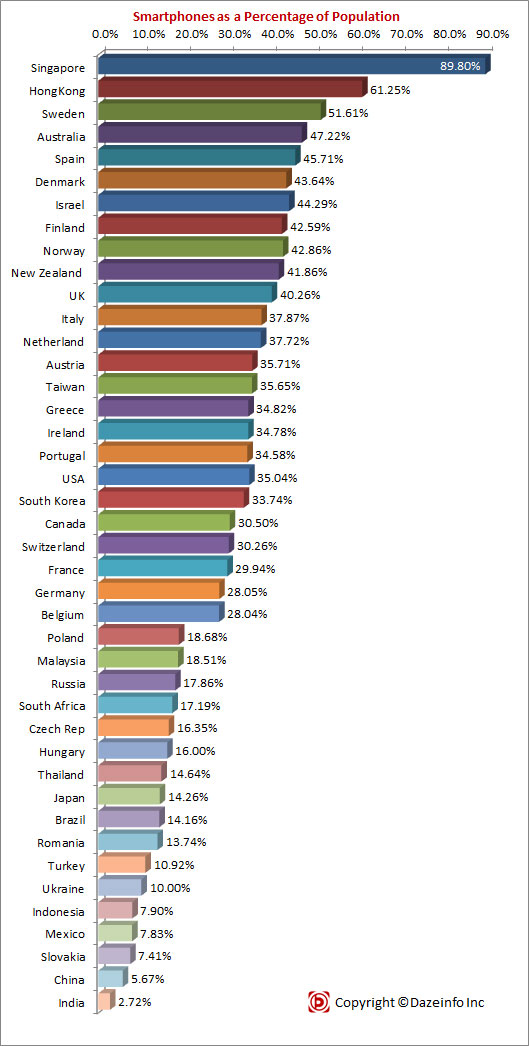 From the data sheet provided by source, only 10% of global population owes a smartphone. In which Singapore holds the top position with a population of 90% smartphone owners. Whereas, Hong Kong and Sweden has marked 61% and 52% of population own smartphones respectively.
Dediu at asymco.com reports, "ITU data shows that at the end of 2010 there were 5.4 billion global subs. This survey was conducted more recently so the total is likely much higher (perhaps around 6 billion). The survey thus covers about 72% of the world. That implies that at least 90% of the market remains unserved."
The fact that astonishes most is smartphone penetration in US and South Korea; Being as one of the technically advanced countries these were expected to have more smartphone penetration but figures depict reverse – The penetration is only 35 and 34 percent respectively. The country like Japan known for its technology affinity population has only 14% of citizen equipped with smartphones.
It's amazing that the most post populous country like China and India – known as the biggest market for mobile with highest number of subscribers – have more traditional mobile users than smartphones. In these two countries, the smartphones users are still in worse number; china has starved at 6% whereas India is even worse having only 3% of participation in smartphone segment against their population.
Smartphone has revolutionized the world and there are numbers of competitors and lineup of smartphone in the market. There are lots of thing which is still lacking inside this segment and marketers have to identify the people interests. Generally, smartphones' costs are number of times higher than the traditional phones and people from countries with poor economy won't be aggressive towards smartphone.  Few countries are still starving for 3G network, which distracts smartphone penetration. Yet, it would take some time but definitely smartphone will dominate over the traditional mobile sector.