Despite of tough competition in online deal market PayPal is planning to jump into the online coupon business with a twist to tap users based upon their buying habits and mobile locations. Company is ready to compete with online deal market leaders like GroupOn and LivingSocial. The EBay owned company, which has more than 103 million members, will make it first incursion into mobile location-based deals in first quarter of 2012. For this, company has partnered with more than 200 merchants in U.S.
PayPal is mainly chasing the online deal market to double its revenue as high as $7 billion by 2013. Last year company revenue was $3.4 billion and with the debut into online deals business, PayPal can easily seek towards its goal in the mentioned time.
PayPal which has more than 103 million members will be benefited if it launches coupons based upon mobile phone location. Last week, PayPal indicated that in coming weeks company will launch some new features which will definitely boom the market.
 "The experience is going to be completely different from anyone else's through and through". "We'll only give you something that we think fits the category of unique and relevant. Everyone else is going to bombard you," as said by Scott Thompson, President PayPal.
PayPal's new services will benefit both the users as well as retailers since the payment need to be made online through credit card in this business model. Company already has Target Corp., Hewlett-Packard Co. and Best Buy Co. as customers along with 103 million of members (near about) who have accounts to pay and use the system.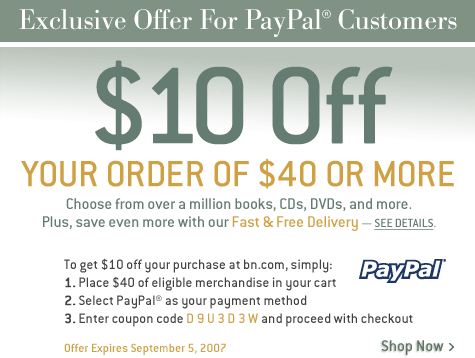 However, it might be a tough task for PayPal to give direct competition to GroupOn and LivingSocial since both of them control combined market share of 73 percent till October. Also, both these are in this field from half a decade and they provide daily offer which is more significance to customers' needs.
According to U.S. department of commerce, the coupons are supposed to keep the customers of EBay beyond the payment process and will also help EBay to extend its user base. The overall percentage occupied by E-commerce in market place is only 4.6 percent in third quarter of 2011.
Interestingly, it has been found that internet retailers, like Amazon Inc. and BestBuy, are also  focusing on small retailers to increase their market share as well as revenue.
However, the time of such debut by PayPal is an interesting aspect. Many daily deal sites have either been transformed into E-commerce site or have shut down their shop. Recent downfall of a daily deal site Taggle is a great example of saturation in this business. Though, it doesn't mean that people are keeping themselves away from daily deal business but economy slow down and 'monkey-share' in daily deal business have definitely put the business on slow movement.
Since PayPal has got certain pre-owned advantages – like online payment processing engine, brand and huge customer data base aggressive with online transaction – it would be interesting to see how the company will leverage on this and stay profitable from new business initiative.