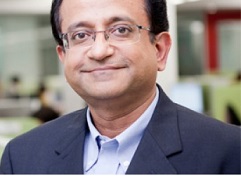 Being as third largest country in terms of Internet users, India is witnessing explosive growth in E-Commerce space. Majority of Indian Startups are consuming the warmth of E-Business model to en-cash the brewing opportunities between 7 million Indian e-commerce users and 150 million internet users in India. Mr. Ram Kumar, Product Head – eBay India, feels that there is a lot to be done by Indian E-commerce companies to reach to sizable market penetration and we (as an Indian e-commerce industry) are only scratching the surface. Speaking to Dazeinfo at the event of Institute of Product Leadership – of which he is also an EPIC board member – he said online payment gateway and the adoption of local language to comfort consumers from Tier 1 and Tier 2 cities are the biggest challenges for Indian E-commerce companies today.
"Future of E-Commerce in India is very bright. Commerce and E-Commerce as a whole; we have just scratched the surface and particularly in India where there is a huge gap between the number of the internet users and e-commerce users, there is a huge opportunity", Says Ram Kumar.
The growth of Internet and Mobile is going had-on-hand. In last few years, number of internet users as well as mobile users surged up drastically. While mobile subscribers in India are about to reach 1 Billion, the number of mobile internet users in India is expected to touch 100 million by 2014.
"E-Commerce companies need to have deep pockets as there are substantial amount is being spend on acquiring and educating Indian internet users for e-business adoption. Though, this is pushing e-commerce companies towards low-margins, but next wave of such e-com startups are going to enjoy the benefit coming out of pre-educated internet users by earlier companies. Besides, the model of 'slicing the pie' is also being tested which are producing some results too. However, consumers would look for online market places having lots of products' categories and variety. Consequently, bigger marketplaces, like eBay and Amazon, would be benefited significantly from such trend.", added Ram Kumar.
When asked about the discouraging situation of Affiliate programs offered by Indian E-commerce companies, Mr. Ram felt this is area where Market places are leapfrogging stand-alone category focused e-commerce companies.
Taking up on 'not-so-lucrative' daily deal business model in India, Mr. Ram Said "Consumer is coming only for one such deal and they are not going to repeat themselves unless and until there is no other similar deal is happening. Now, to acquire that customer, online companies spend a good amount of money and if the customers is not keep coming back and buying multiple products, it's impossible to defray the cost of acquisition of that consumer. And, that's why daily-deal 'survivals' are adding multiple categories to record customer's revisit."
The full length video of Mr. Ram Kumar's interview, speaking about E-commerce industry in India, after the break;