Marketers considered Email and social media marketing as most effectual customer engagement channels. It is just like we say some things just go better together. That's why integration of social media with email marketing sees hike this year. To add, SMS integration with social media and email marketing too can do wonders. This can give your customers the ability to spread your messages on their own terms.
Also, marketers believe that this year about 50% of the customers will view the email marketing messages on their mobile, but unfortunately only 40% of the marketers are ready for the mobile marketing strategy. Its also said that consumers who receive brand updates/offers on email (42%) show more interest to purchase than those who receive in SMS (33%).
Octane Research, "Spark the Surge: India e-Marketing Outlook 2013", says that marketers in India are more focused on engaging customers through content and techniques. When the respondents were asked about their digital spending this year – social media and Email marketing gained more budgets. The investment plans in these streams of marketing are the clear indications of their importance this year.
The report observed that nearly 91% of the Indian marketers believe that integrated marketing campaigns can have an impact on the rate of conversations out of this, almost half of the marketers believe that integrated campaigns would have a significant impact as opposed to around 41% who see a more moderate impact.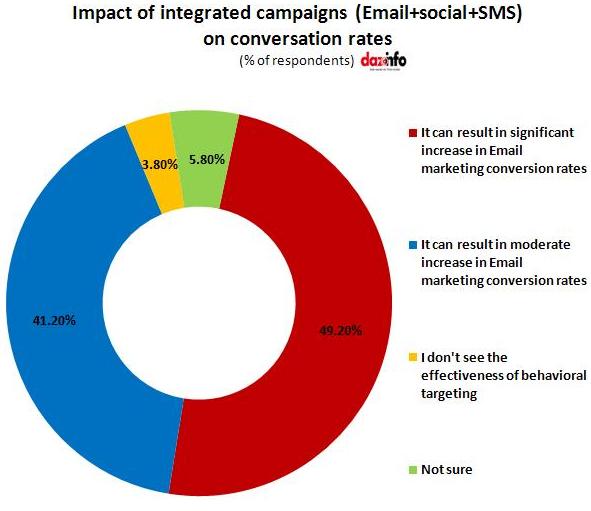 In addition, about 47% of the Indian marketers this year revealed that they use analytics software to track the success of their marketing campaigns, followed by 21.71% of the respondents who simply go by the rates of their Email campaigns and another 21.71% of them who calculate success based on the ration of the user registrations gained through a particular Email campaign. Close to 11% of the marketers either do not keep a track themselves or leave the tracking to their ESP.
This time marketers have revealed that they plan to invest more in Email/mobile marketing. 35% of Indian marketers plan an increase more than 11% in their budgets towards e-Marketing. Marketers planning to increase budget by 51% or above have almost doubled YOY from 2011 (from 2% to 3% in 2012 to 6% in 2013).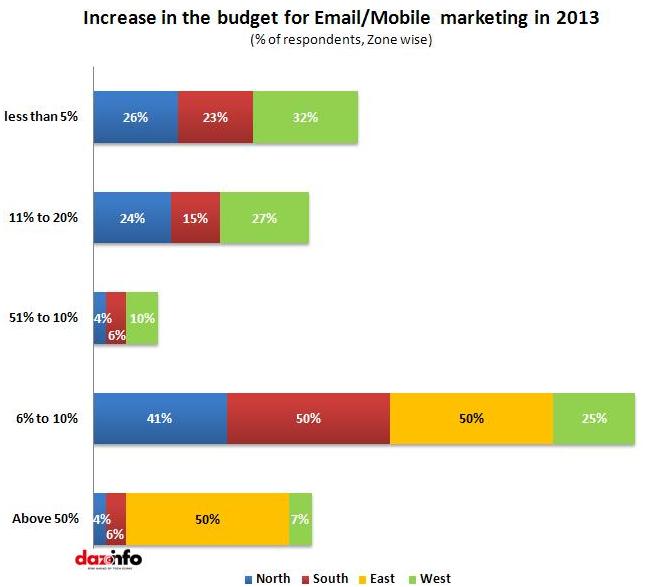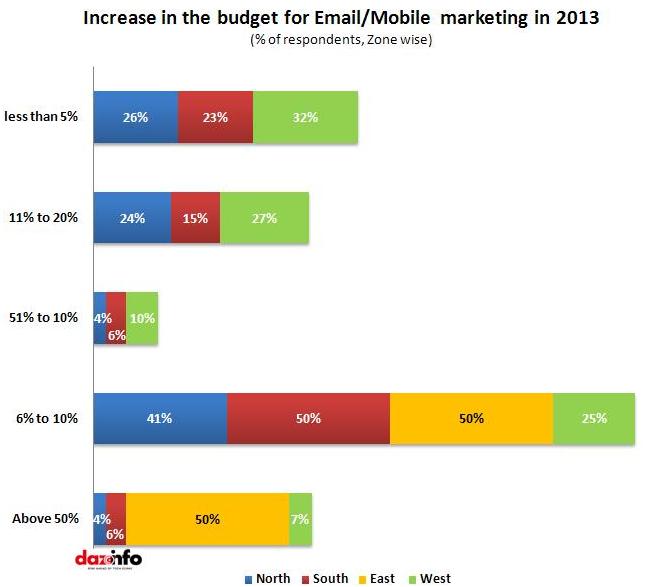 Coming to the frequency of Email/SMS campaigns, "once a week" mailing has seen the most significant increase of 13.5% from 2011 to 2013 while all other mailing frequency patterns have kept steady over the past three years.
Interestingly, with a decline in the role of IT in ensuring Inbox delivery and the rise in partnerships between company IT/Marketing departments and professional ESPs, the continuity in a steady trend towards dependence of companies on the professional Email service providers. Over 55% of the respondents have such partnerships in place with ESPs indicating a 5% increase YOY.