Over past few weeks, there has been a linger discussion about Google Retail Stores. But the question is whether the searching giant really wants to open its retail stores across the world or not. Yesterday, Google's Android chief–Andy Rubin–stated that the company had no plans about the opening of Google Retail stores till date. However, many deemed that the retail stores would benefit Google's mobile devices' sales through offline presence. However, the company is little reluctant to open the stores, as it's still nascent in hardware manufacturing.
How Would Google Retail Stores Benefit?
Of course, Android devices are everywhere. But would you explain about the real presence of the device? Google's biggest rival in mobile segment is Apple, which has a significant number of retail stores across the world. Likewise, Microsoft also has its own retail stores. We could easily realize why does Microsoft need retail stores? At the beginning of Q4 last year, Windows dominated over 92% of desktop OS market share. In addition, the company today has also its own tablets (Surface Pro and Surface RT), gaming consoles (Xbox) and more hardware for selling. On the other side, Apple's iPhone, iPad, iPod and Mac lineups make its retail stores incredible in terms of exclusivity. Similarly, successes of Nexus 4 smartphone and Nexus 7 tablet are compelling Google to open its own retail stores, where users could experience the real flavor of its products before making purchase. Apparently, these stores would be tangible, where users could easily interact with the actual person.
Customer Satisfaction Also Matters
Practically, if you spend $150-$300 on a device, definitely you would like to feel it as special. Before making purchase, you would really like to get your hand on the device. This is the reason why Apple has succeeded to create an impression on consumers' mind with its retails stores. In this way, Google can also create an impression of devices in consumers' mind with its retail stores.
This time, many Android users have number of issues related with their devices. For fixing these issues, they have to go through few online forums or Google+ communities. In addition, Android enthusiasts always lament due to lack of accessories, while on the other side, Apple App Store offers what their users want to buy. If Google wants to create a nice retail environment around, then it will have to come up with line up of accessories for its devices. Indeed, it's hilarious to see Google Glass, Google Fire, Google TV, Motorola X Phone and more in Google retail stores.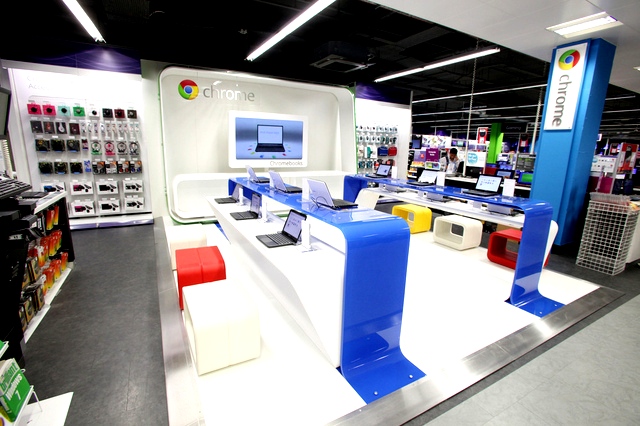 Constraints  Related To Google Retail Stores
At present, both the Nexus 7 and Nexus 4 are in much higher demand than expected. Along with LG, Google is still struggling to meet the consumers' demand with Nexus 4. This time, the most important work for Google is to fix the supply chain issue; Nexus 4 is yet to be launched in several countries. The purchase of Motorola gives Google a robust patent portfolio. The Motorola X Phone is yet to be released, and the Chromebook Pixels would have to pass with its biggest test.
Overall, Google is currently struggling to fix all issues related to hardware supply chain. And it might be one of the reason why Google isn't planning to open its retail store, but more probably, you could see Google retail stores by the end of this year.