Influencers are those individuals who are majorly experts, bloggers and thought leaders, who have huge community of followers. In a way they write brand's fate, purchasing decision of their followers just lay in the words these influencers utter. So brands/marketers usually leverage on them for their ability to reach out wide audiences and influence consumers to buy products.
A new report by Technorati Media  focuses on how the upcoming new trends in blogging and social media are changing consumer expectations and transforming business strategies today. To gather data, Technorati conducted surveys late in 2012 on consumer behavior, branding and online influences.
The study says, 65% of top US brands reported participating in influencer marketing. And a similar 64% of those deemed influencers by Technorati Media, had greater than average reach in a particular marketplace and made revenue from blogging, whether from ads on their site or sponsored endorsements from brands. Brands spent only 12% of their social budgets on influencers and bloggers.
Also blogs were considered more likely to influence an internet user's purchase decision than any other social channels, including Facebook. Only brand (34%) and retailer's sites (56%) ranked higher. Blogs were said to be the primary place where influencers engage with online fans, 86% of these influencers blogged regularly, and more than half (52%) of them operated between two to five blogs and 43% run just one blog.
It's also said that Influencers also have some of the greatest potential to help brands achieve earned media goals, including gaining social media fans and website traffic etc. Facebook "likes"(68%) and fans (59%), Twitter followers(64%), web traffic (56%) and landing page visits (53%) were among the top five earned media goals of top brand marketers in the U.S.
While social media offers among the best word-of-mouth opportunities to marketers, influencers' ability to connect with a targeted group, who see these individuals as authority figures, can make the social media blow horn many times louder.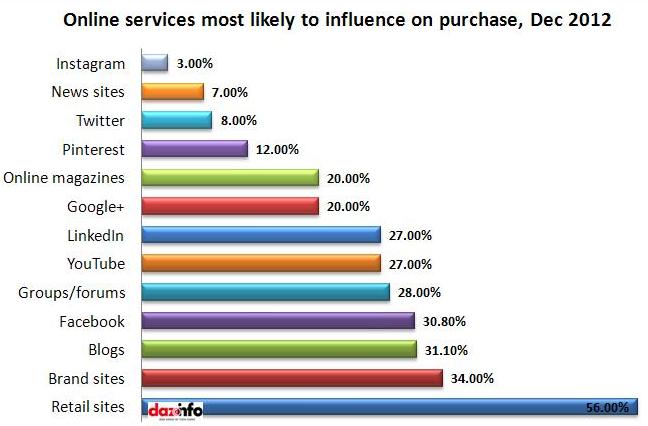 Certainly, it is not easy for marketers to identify and target influencers, however, Twitter followers, Facebook friends and "likes" they draw were among the most important metrics used by brands when evaluating influencers. A blog's unique users and blog page views were also extremely important.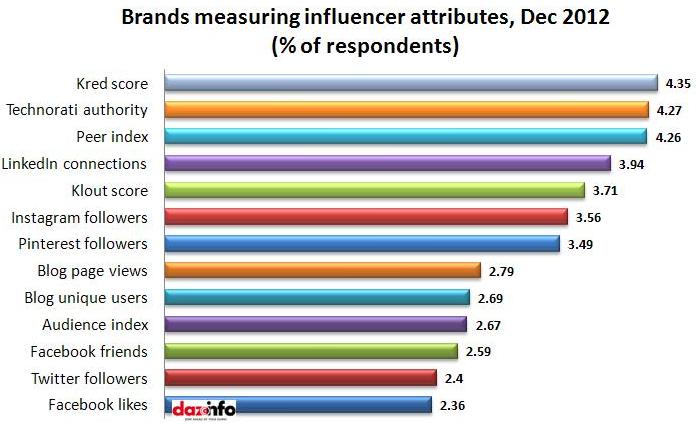 The survey also indicated that many of the consumers are turning to blogs when they are planning to make a purchase. 31% of the respondents opted for blogs also they were found to be the third-most influential digital resource (31%) when making overall purchases, only behind retail sites (56%) and brand sites (34%). In fact, blogs were found to be the fifth-most trustworthy source overall for information on the internet. YouTube, Facebook and Google+ are the most popular social properties for consumers.
Coming down to budgets, brands are spending nearly 75% of their digital budget on display advertising, search and producing video. Spending on social including influencer outreach, makes up to only 10% of brands' digital marketing spend. Astoundingly, Of that percent of social budget, more than half goes to Facebook. YouTube and Twitter get 13% each, while about 6% is spent on influencers and 5% advertising on blogs.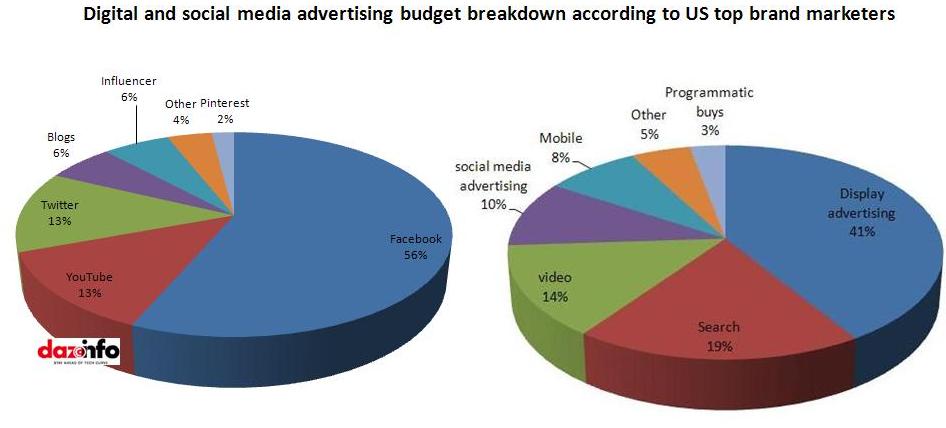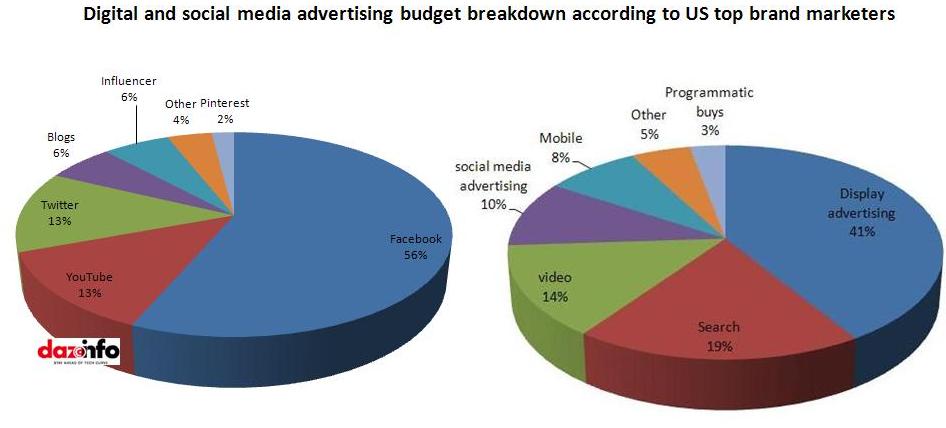 As per the report, brand marketers social spend in 2013 will increase but spending on social makes up only 10% of brands' total digital budget. It's also observed that Facebook and Twitter are the most popular social platforms for bloggers and these platforms generate the majority of blog referrals and shares, and those from which bloggers actually generate revenue. For consumers, YouTube, Facebook and Google+ are the most popular platforms. As for brands, 90% have a presence on Facebook, closely followed by Twitter
As brands get better at identifying influencers, and as social budgets rise, the amount devoted to influencer marketing will likely grow alongside.