Android devices are steadily increasing every day worldwide. Recently, Google's senior VP of mobile and founder of Android—Andy Rubin—stated that 850,000 Android devices are being activated every day. Now, there is a big question, if Android devices are being activated by such rate, then when will Android surpass one billion users? A research analysis firm—Asymco—has tried to identify when it will really surpass one billion of users. The firm has tried to determine the time consume by Android to reach one billion users on the basis of reported data. The firm collected the activation rate data from Dec 1, 2008 till Nov 28, 2011, and concluded that the activation of devices had been increasing with constant acceleration.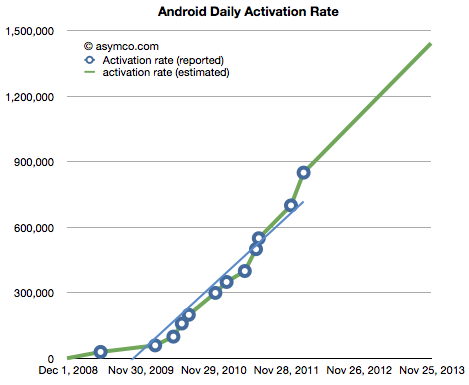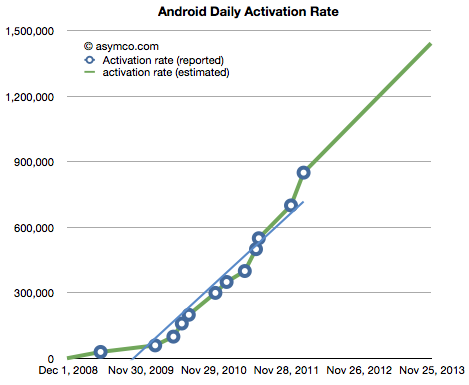 Asymco has extrapolated that Android will surpass the billion users by November next year. The firm has also predicted that the Android device activation rate would increase to 1.5 million per day by the end of 2013.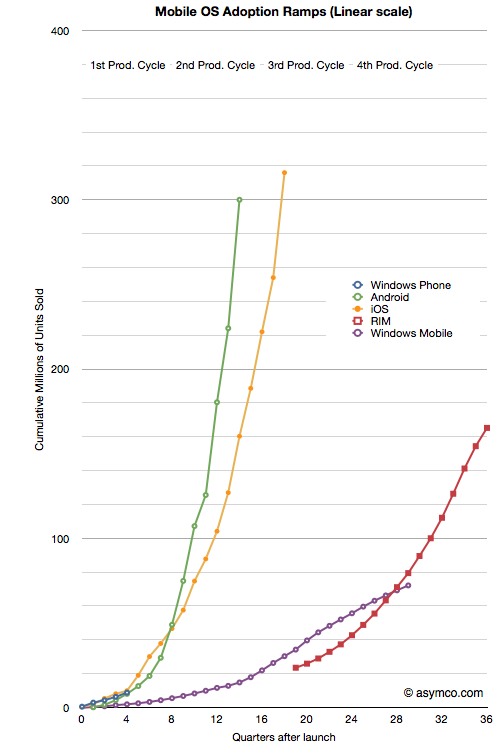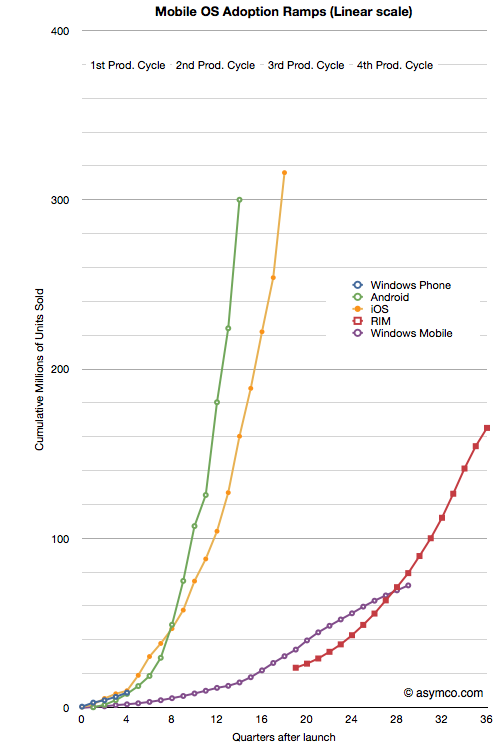 The above graph is depicting the growth rate of mobile operating System such as Windows Phone, Android, iOS, RIM, and Windows Mobile. The comparison between these mobile OS have been indexed quarter-over-quarter from the same initial points. The firm revealed if Android sustains its acceleration at the same pace then it will reach a billion users in five years.
It's pretty known that the Android devices are running worldwide has crossover 300 million users. The numbers of Android devices are allocated by Google after counting unique ID of each device for once activation—it should be noted, the number of device counted is excluding of Kindle Fire Tablet because it's not providing Google's services.
Android will definitely have impact on other mobile OS such as Windows Phone, Bada, and other Linux-based platforms. But according to a recent report, the global mobile connections will reach to six billion by the end of 2013. That's why, each OS will have equal opportunity to expand its market share. Android will penetrate 17% of the global market by the end of 2013 if Asymco prediction will be proved true.
Source: Asymco