At this point, most of us are acutely aware of how important mobile has become not only in our daily lives but also for businesses and the global economy at large. Over the past decade, there has been a marked shift to a mobile-first economy, with the platform offering countless new opportunities for businesses and consumers alike. More and more activities are migrating to mobile, not the least of which is internet time spend. This was a pretty significant shift, as the internet brings with itself numerous eCommerce and advertising opportunities, as well as a digital economy. However, there have been signs of late that the app boom has ended, and that the mobile economy may be slowing down.
So, is this truly the case? The latest data from App Annie completely invalidates any such idea.
The Mobile App Economy Is Set For Unprecedented Growth
According to App Annie, the app economy was worth $1.3 trillion worldwide in 2016. This figure accounts for all the main forms of mobile monetization such as app store purchases, in-app advertising and mobile commerce. Despite this figure already being quite substantial, it is expected to rise to ridiculous levels to nearly $6.3 trillion in 2021. This represents a 385% increase in only five years, even overtaking the GDP of most countries today!
So how will such incredible growth levels be achieved? The main reason is the rapid and irrepressible shift towards a mobile first economy.
Increase In Mobile User Base
The worldwide mobile user base is expected to grow from 3.4 billion in 2016 to 6.3 billion in 2021. This represents an increase of 85.3% over a five-year period. Of course, a larger userbase would expand business and monetization opportunities significantly, as well as give rise to new ones. This would undoubtedly lead to a substantial increase in revenue generation.
Users Are Spending More Time In App
There has been a prevailing trend of increasing user in-app time spend over the past few years. Higher user engagement levels directly translate to higher revenues, especially for the advertising revenue model. In 2016, users spent a combined total of 1.6 trillion hours in mobile apps. This number is set to rise to 3.5 trillion by 2021, more than double of the previous value. Naturally, this will lead to much higher revenue generation.
Users Are Spending More Money On The App Economy
In 2016, the average user spent $379 annually across all mobile app monetization avenues globally. However, by 2021, user spend is expected to rise sharply by 166% to an average of $1008 per user annually. Not only users are spending more on mobile app economies, but the shift to mobile can also help to cut down on costs in certain instances. For example, the use of retail banking apps in lowering customer service costs for multinational banking institutions.
M-commerce: The Primary Growth Driver
While it is clear that the mobile app economy is set for explosive growth in the coming year, this growth is not uniform across various monetization avenues or geographies.
Mobile App Store spend makes up the small, but a significant chunk of the mobile app revenue. The user spend on mobile apps across the Apple App Store, Google Play Store and other third-party Android stores measured in at $61.8 billion in 2016. This figure is about to more than double to $139 billion by 2021, at a CAGR of 18%.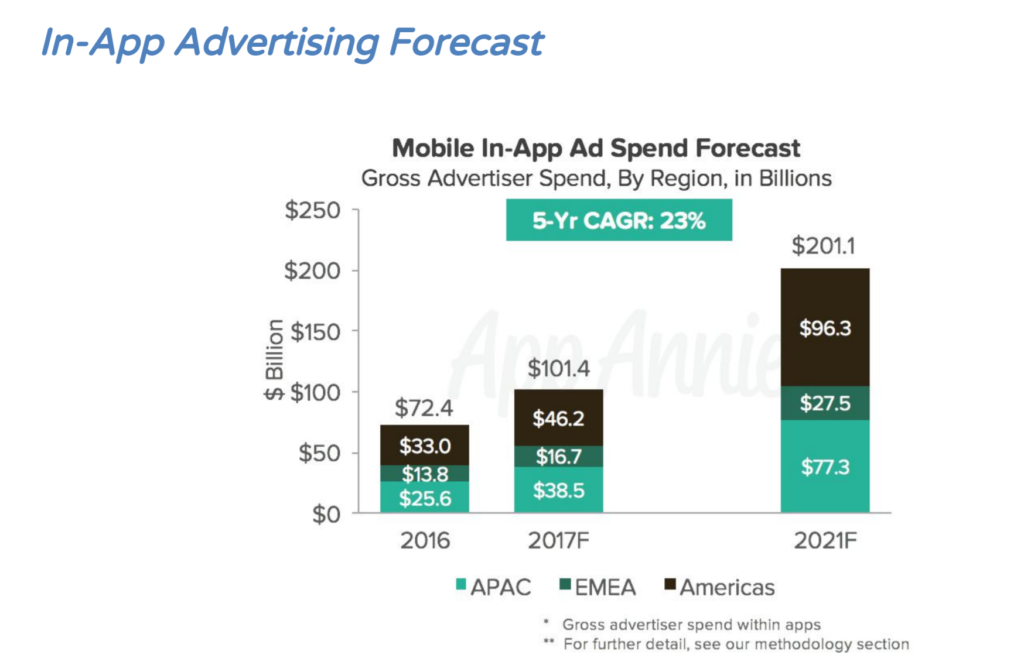 The global in-app advertising spend is even higher. Advertisers spent nearly $72.4 billion on ads in 2016. This number is set to rise to $201.1 billion by 2021, at a 5-year CAGR of 23%. The global average for advertiser spend is also set to grow from $13 to $52 per user during the same period.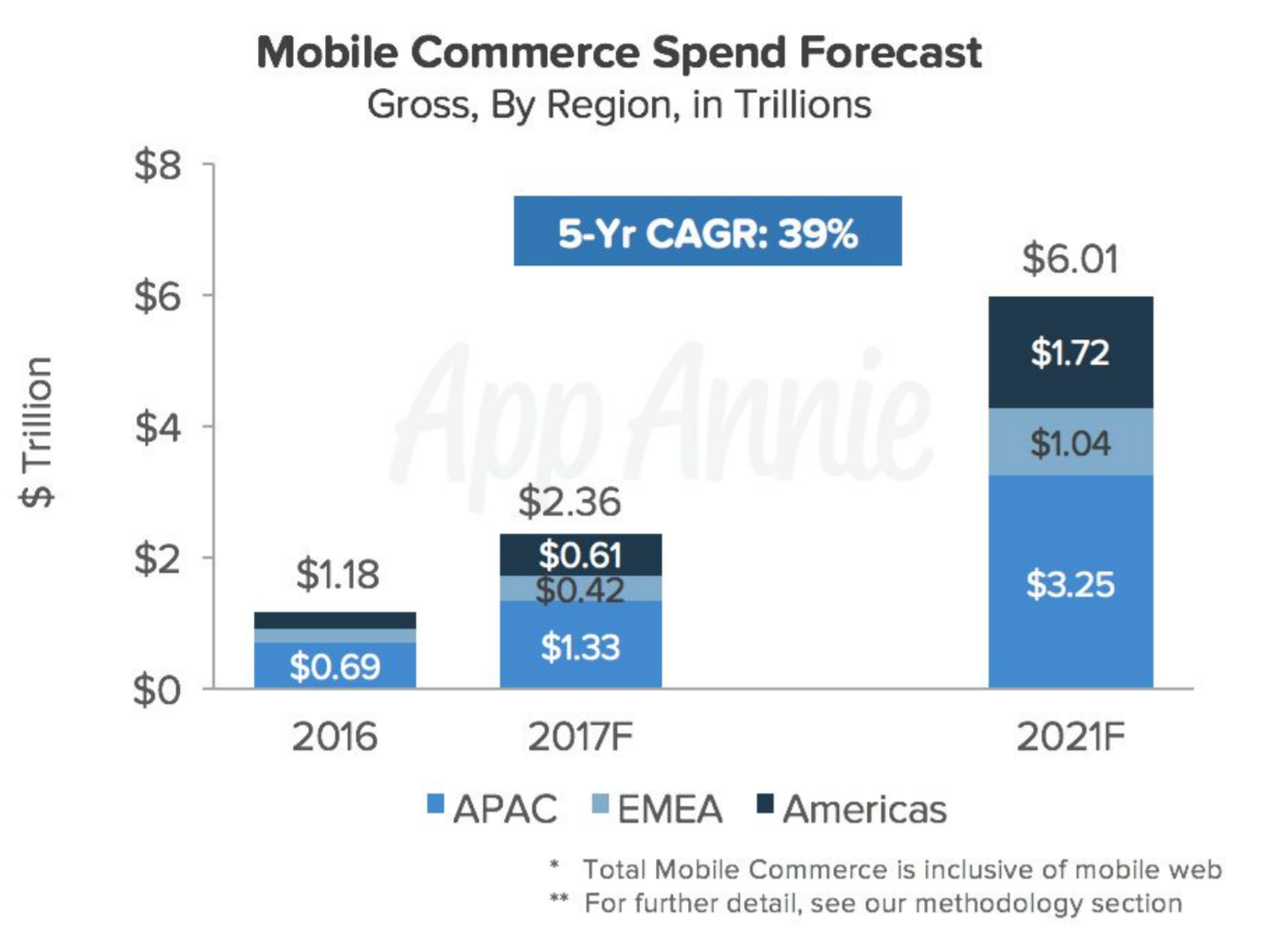 However, without a doubt, the overwhelming majority of the spend can be attributed to the rise of mCommerce. Total spend on mobile commerce already clocked in at $1.18 trillion in 2016. However, now this number is expected to increase exponentially to a massive $6.01 trillion by 2021, at a CAGR of 39%! As users become more and more accustomed to mobile retail, average annual user spend will also increase from $344 in 2016 to $946 by 2021.
China Driving The New Mobile App Economy
Of course, user spend and revenue generation across all three major monetization models differed greatly across geographical locations. Nevertheless, for the most part, the mobile app economy is and will continue to be dominated by China and the US.
Mobile App store spend will be dominated by China, with nearly $56 billion in user spend by 2021, most of it on games. This represents around 40.25% of the total global app store spend.
The Americas will continue to dominate in-app advertising spend, accounting for $96.3 billion, or 24% of the net global spend.
Of course, the tiebreaker is obviously mobile commerce spend, the most significant of the three monetization models. China runs away with it here. It will account for a massive $3.2 trillion by 2021, which is over 50% of the global spend! In contrast, the Americas will account for $1.7 trillion, about half of the Chinese share.
Actionable Insights
China is about to become an even more lucrative prospect for mobile app developers, games in particular.
eCommerce retailers must consider expanding their operations to mobile. This segment is set for unprecedented growth in the coming years.
The Americas remain the best prospective destination for advertisers. Despite lower population, the high-value userbase warrants higher advertising spend for a greater ROI.