Good news for Advanced Micro Devices Inc. (NASDAQ:AMD) and the consumer CPU market in general, as new data from benchmarking utility PassMark indicates that AMD has managed to wrest considerable market share from Intel Corporation (NASDAQ:INTC) over the past few months. AMD's market share among Windows users now stands at 20.6% compared to Intel's 79.3% in CY Q2 2017.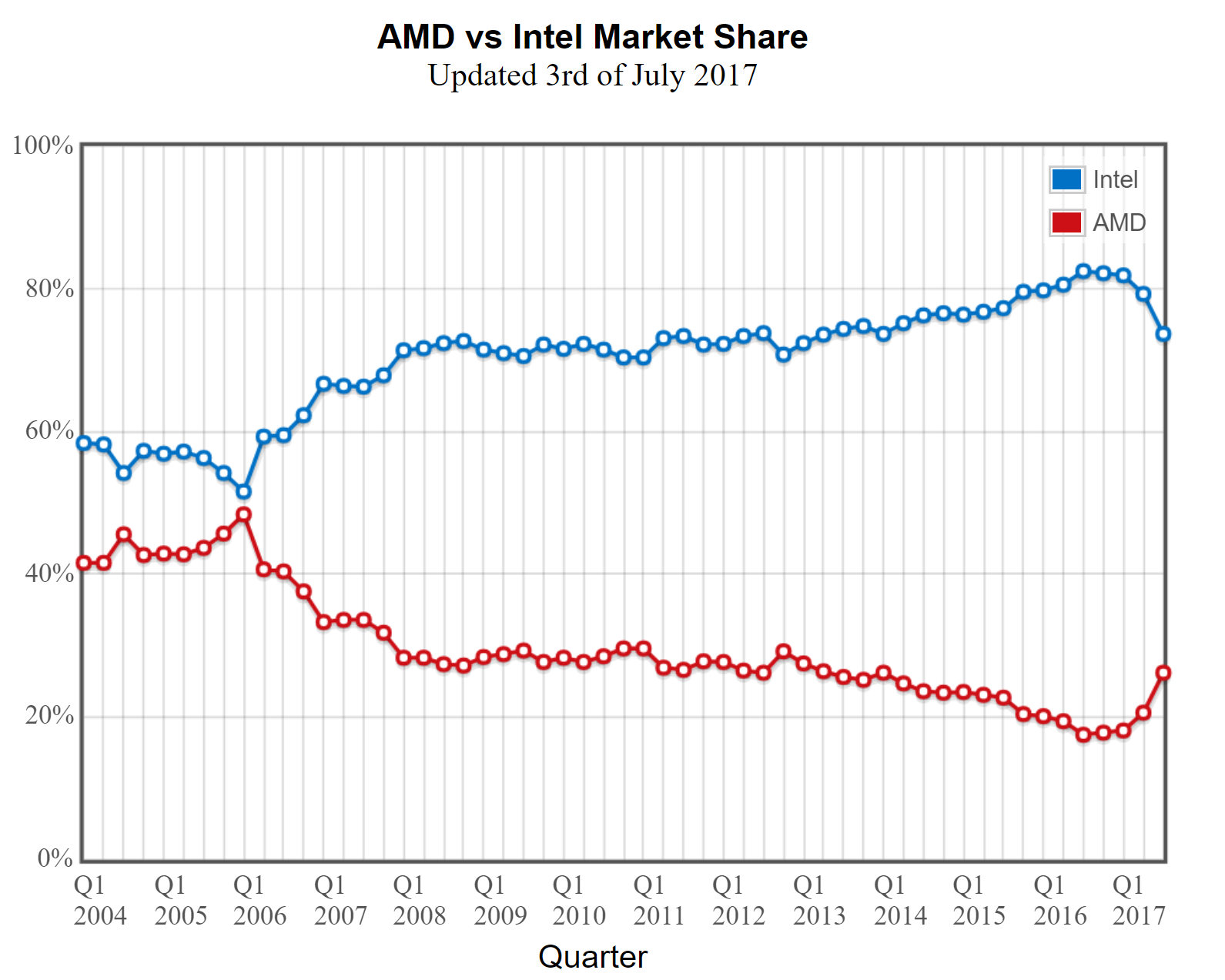 Ever since 2006, the CPU market has pretty much been dominated by Intel, with AMD's falling market share, and the gulf between the two companies widening. AMD's last attempt to catch up with Intel with the launch of their Bulldozer line of CPUs in 2011 failed miserably. Meanwhile, Intel consolidated their superiority and went from strength to strength. They established complete dominance over the data center business, and nearly managed to do the same on the consumer CPU side as well.
However, this has all changed with the launch of AMD's critically acclaimed Ryzen CPUs. Ryzen offered near Intel level IPC (Instructions Per Clock) performance, with a much higher core count to boot. They also managed to do this at a fraction of the cost of an Intel CPU. It would seem as if more and more consumers are opting for Ryzen due to the clear value advantages that it offers over the competition.
Another huge factor behind Ryzen's success has been Intel itself. Due to the lack of competition, Intel had become complacent over the past few years. Their newer generation CPUs only offered minor 5-10% performance improvements, with no increase in core count either. To add insult to injury, Intel's pricing remained as exorbitant as ever.
In the meanwhile, AMD is not looking to rest on its laurels. A while ago we reported on the launch of their new line of server CPUs. Named "EPYC", AMD aims to steal a portion of the highly lucrative data center business from Intel with their high-performance server CPUs while still undercutting them on pricing.
When we consider all of this, it comes as no surprise that the future looks bright for AMD. Passmark's data suggests that AMD will continue this upward trend. By Q3 2017, they are expected to command a 26.20% market share among Windows users compared to Intel's 73.70%. Of course, it is important to note that this data is based on benchmarks run on the Passmark utility on Windows systems. However, since Windows still commands a massive 84.14% market share, this data is representative of the larger picture.
If AMD continues on this trajectory, they might be able to pull off an unlikely comeback and finally start posting profits.