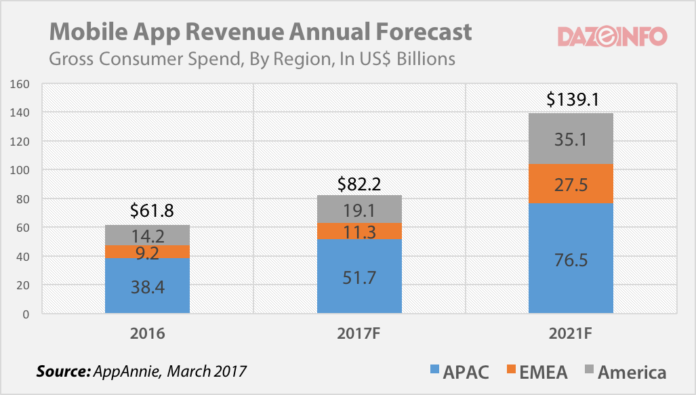 Ever since the launch of Apple App Store back in July 2008, the worldwide mobile app industry, especially mobile app downloads and mobile app store revenue, has experienced unprecedented growth. The incredible proliferation and ubiquitous adoption of smartphones and the advancement in wireless technology were the major driving factors in giving rise to the mobile app-based ecosystem that is so popular today. The importance of mobile apps can easily be visualised by the fact that smartphone users are spending most of their smartphone usage time in apps. As of Dec 2016, the average US consumer spent 92% of mobile usage time is spent in apps.
As the exploding adoption and increasing usage of apps have given wings to app developers and startups, advertising companies are equally excited about the growth. A recently released report on the app market by App Annie reveals some very interesting facts, trends and impact of apps on the market.
Mobile App Downloads vs. Mobile App Revenue: Maturing App Markets
Since the day they burst into the scene, the mobile app industry has experienced unparalleled growth. According to Gartner, the number of apps downloads in 2009 clocked 2.52 billion. The number of app downloads in 2016 has risen to 149.3 billion. This represents a mind-boggling growth of 5824.6% over a period of 7 years.
As a direct consequence of this explosive growth, the revenue generated by mobile apps also grew exponentially. In 2010, the earnings from mobile apps amounted to $6.8 billion. The mobile app revenue has since grown to $61.8 billion in 2016, representing a growth of 808.8% in 6 years.
According to the latest report of AppAnnie, the annual mobile app revenue is estimated to reach to $139.1 billion by 2021, clocking 18% CAGR in the next 5 years. The growth in mobile app revenue will primarily drive by the increasing app downloads. The total number of app downloads in 2016 reached 149.3 billion and is estimated to grow to 352.9 billion by 2021.
Besides the incredible download and revenue growth, the number of apps on offer has also increased significantly. There are over 6.5 million apps available on across all the app stores today. The growth of the mobile app industry has primarily been led by Google's Android and Apple's iOS platforms, accounting for 91.8% of all app downloads in 2016.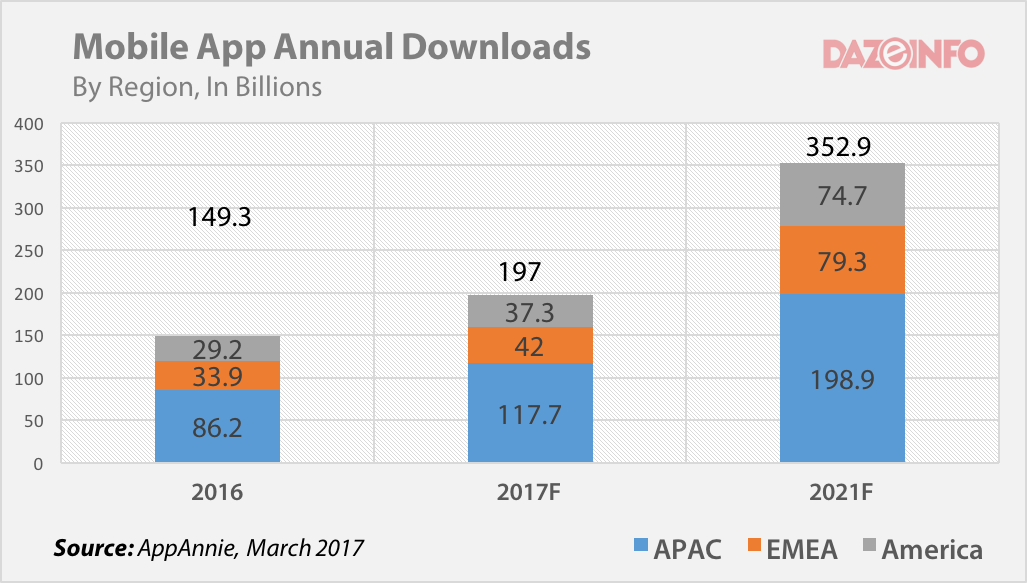 But, every aspect of app industry is not lucrative as it seems. A report by Flurry Analytics demonstrated that the global app industry is no longer experiencing growth across the board. As the market is maturing, certain kinds of apps are experiencing more usage at the expense of others. The growth in time spent by users in apps is also starting to stagnate. Market conditions now vary vastly from region to region, with some markets having saturated, while others are still largely unpenetrated.
Emerging Markets Favor Advertising As A Monetization Model
According to AppAnnie report, the majority of the app downloads in 2016 came from the APAC, which accounted for 86.2 billion downloads. The major drivers of this growth were the emerging markets such as India, Brazil, Indonesia and China. India alone accounted for nearly 6.5 billion downloads, set to rise to 22.7 billion in 2021. The rather disappointing feature of this report, however, was the app store revenue generated by these emerging markets.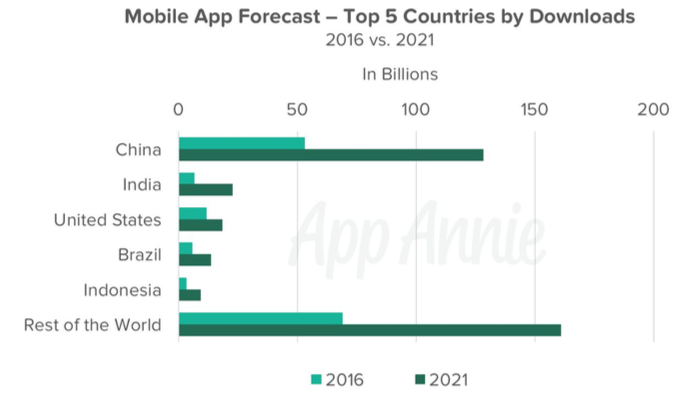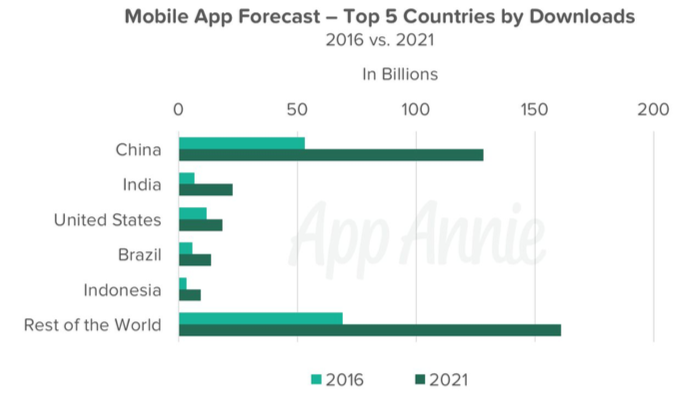 The total app revenue in India was a mere $0.1 billion in 2016. Even the projections for the future are not much more optimistic. The total app revenue in India from the app store downloads is expected to record a 75% growth annually by 2021, but with just $2.1 billion dollar revenue projection India is expected to account for mere 2% of the global share. This is likely due to low purchasing power and the cultural norm of discouraging spending on software.
However, while app store revenue generation opportunities may be slim, this kind of market is optimally suited to an ad based revenue generation model. The access to a large and ever expanding user-base is particularly valuable to advertisers. App publishers looking to break into emerging markets need to consider alternative monetization models in order to thrive.
App Store Monetization is Still Lucrative In More Mature Markets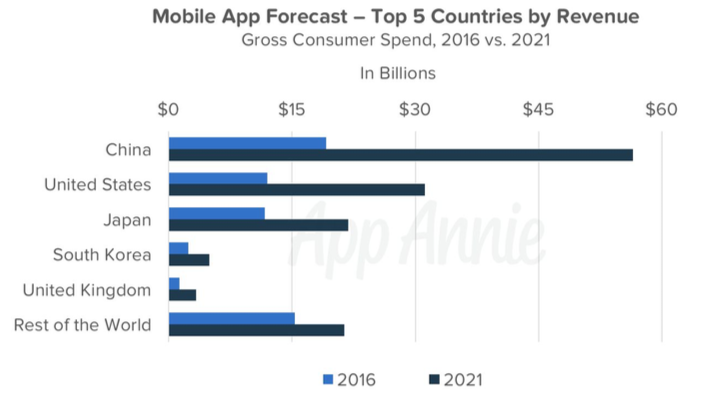 The story is quite the opposite in more mature markets. While lagging behind in annual downloads (with the notable exception of China), these markets made up for it in revenue generation. The top 5 countries by revenue generation were China, United States, Japan, South Korea and the United Kingdom. These countries made up a hefty 75% of the global revenue pie in 2016. This is despite the fact that they only made up 54% of global downloads. These markets set to account for 85% of the global consumer spend by 2021; they are perfect for the app store monetization model.
The exceptional case of China is a curious one. Many of the Tier 1 city regions in China are resembling a mature market scenario. These regions push high revenue growth. However, large parts of China are still unpenetrated, with considerable growth potential. This is highlighted by the fact that China lead the world both in annual downloads and revenue generation. China's app store downloads are set to grow at a rate of 19% year over year from 2016-2021. Meanwhile, consumer spending is expected to grow 24% YoY during the same period.
Actionable Insights
The app market is now maturing after years of unparalleled growth. Now, different markets require separate and targeted growth strategies and monetization models.
Despite positive download and revenue projections, the app market is more ruthless than ever. App user retention is becoming more and more harder, and alternate strategies are required to engage the user.
App store monetization is ineffective in emerging markets with low purchasing power. The ad-based monetization model is more suited to countries such as India.
The app market in China is expected to mature with sustained revenue growth despite slowing downloads by 2021. China still leads both in total annual downloads and total revenue generated.