In a world where smartphone manufacturers are engaged in an unending arms race to pack their devices with cutting-edge features and specs, our fascination with mobile apps has grown into a full-blown addiction. This phenomenon is particularly seen in the vibrant countries in the Asia-Pacific (APAC) region. According to the latest data.ai report, three APAC countries surpassed the five-hour-per-day barrier in Android app usage during Q3 2023.
Among the top 20 nations analyzed, Indonesia spearheaded the charge by clocking in at 6.03 hours of daily Android app usage. Thailand followed closely with 5.7 hours, creating a mobile app frenzy that's hard to ignore. But, what's truly fascinating is India's rapid ascent, positioning itself as the world's largest market in terms of population and second-largest market in terms of smartphone users.
Indians stay glued for, on an average, 5.24 hours every day with their Android apps in Q3 2023. That's roughly 30.8% of their waking hours, assuming they catch a standard 7 hours of beauty sleep. The tech revolution is clearly redefining how Indians engage with their mobile devices.
The numbers paint a remarkable picture when we dig deeper into the surge in average hours spent on Android apps between Q3 2021 and Q3 2023. Among the top 20 countries, Argentina recorded the greatest rise in Android app usage, i.e. more than 15%, in the last two years.
Furthermore, India (5.24 hours), Mexico (4.94 hours), Japan (3.93 hours), and Canada (3.87 hours) have all reported significant growth, each exceeding 13%, in the time dedicated to Android apps between Q3 2023 and Q3 2021.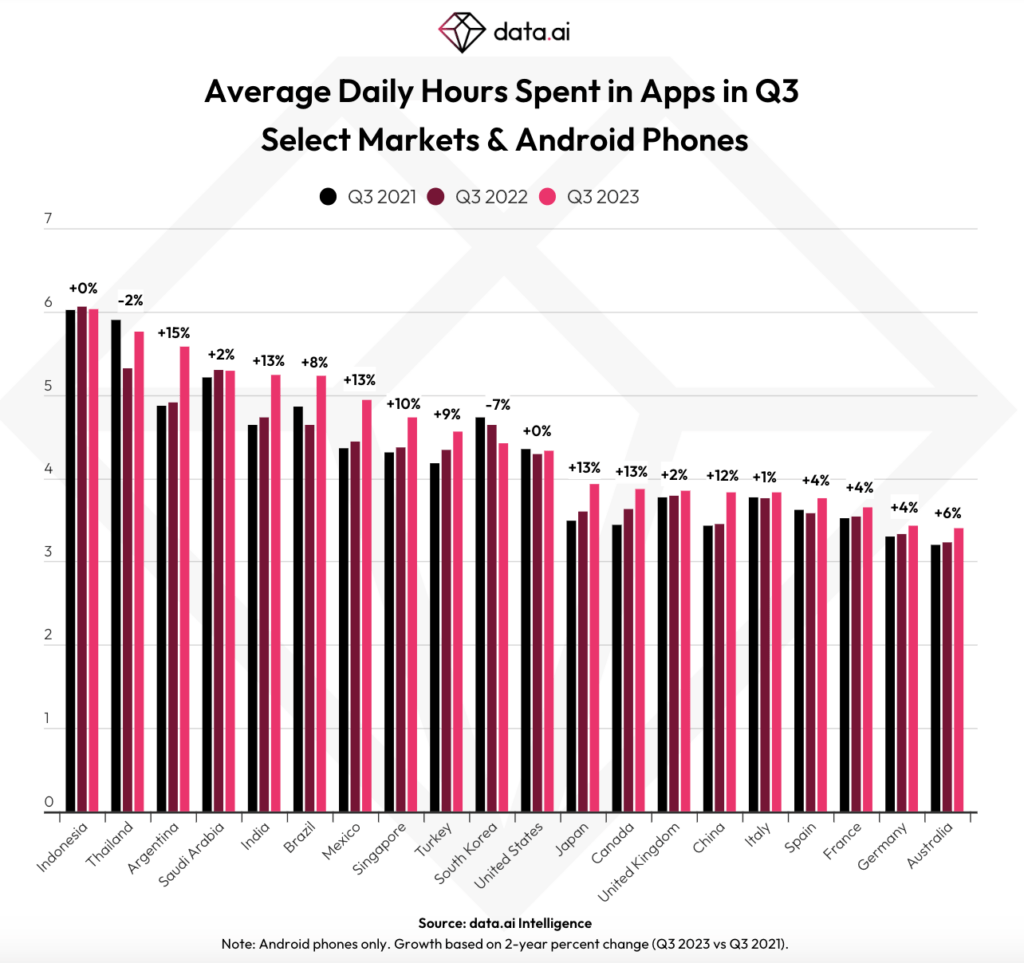 Top Apps in India Q3 2023
In Q3 2023, India's most downloaded mobile apps remained consistent, featuring Instagram, Threads, Facebook, WhatsApp Messenger, and JioCinema at the top of the charts. This continuity in app rankings over the past year showcases the enduring popularity of these social media and entertainment apps in the Indian market.
However, when we delve deeper into the app ecosystem to uncover the top breakout apps in India during the third quarter, three newcomers steal the spotlight. ChatGPT, powered by artificial intelligence (AI), ranked amongst the top five in this category. Although this chatbot app holds the 23rd position in the overall top apps ranking in India, it has remarkably surged to claim the second spot among the top breakout apps – the latest growing apps in a short span of time – for Q3 2023.
The surge in downloads of ChatGPT comes as no surprise. OpenAI launched the ChatGPT Android app in India in July 2023, and it swiftly gained popularity among students and employees. Its versatility makes it an invaluable tool for a wide range of purposes, including tasks like finding information and seeking assistance.
Hotstar, ranked 11th overall, takes the 4th position in the breakout app category, while Shopsy, holding the 9th spot in the overall rankings, secures the 5th place among the breakout apps.
The list of top mobile apps by consumer spending in India features Bumble, Google One, Chamet, LinkedIn, and Tango Live, with rankings that have shifted by one place up or two places down over the past year.
However, when we turn our attention to the list of top breakout apps by consumer spending in India during Q3 2023, a complete transformation is evident. Instagram, Facebook, Adobe Reader, and ReelShort have emerged as the new frontrunners, showcasing the ever-evolving nature of consumer preferences and app usage in the dynamic Indian market.
In the heart of this digital evolution, India emerges as a powerhouse, redefining its engagement with the mobile app landscape.
In a world where change is the only constant, the future of mobile apps in India is as bright and dynamic as ever, offering both opportunities and challenges to developers and businesses ready to embark on this exhilarating journey.