The importance of smartphones and the apps that power them cannot be understated. In the modern era of the smartphone, we increasingly rely on smartphone apps to manage and enhance so many aspects of our lives. A new report released by App Annie reveals new data and trends in how consumers are using apps in their daily lives. The "Spotlight on Consumer App Usage" report reinforces the validity of certain long-time trends, along with a few unexpected developments along the way.
Android Users Are Spending More Time In Apps
We already knew how important a role apps play in our daily lives, but the latest data proves just how much. App Annie found that time spent in Android apps increased across the board in all countries within the scope of the report from 2015-2017. The total in-app time spent by Android users worldwide increased by nearly 25% YoY from Q1 2016 to Q1 2017!
As is usually the case, usage frequency, time and habits varied quite a bit across various regions. Some of the notable highlights are:-
Android users in South Korea, Brazil and Mexico registered heavy app usage, with over 3 hours of time in apps per day. This makes these high time volume markets very well suited for advertisement revenue model via digital banner ads or even video ads. In contrast, elite markets such as the US has registered over 2 hours 15 minutes, while the UK has registered just over 2 hours of time in apps time.
Usage habits also varied quite significantly across different countries. Social and Communication categories accounted for over 50% of user time in Brazil and Mexico. In contrast, Gaming applications ruled the roost in Japan and South Korea. While gaming time increased across all nations, South Korea and Japan, in particular, are game-friendly, with gaming apps accounting for nearly 25% of the in-app time. South Korean users spent over 80 minutes per day playing games in Q1 2017, while the number was just under 75 minutes for Japanese users. In fact, gaming, in general, remains highly lucrative in these regions and accounted for nearly 75% of all app store revenue. It is clear that these are prime regions for gaming app developers.
There was also huge variability in time spent across app categories. The report found that the most time per session was spent in Navigation apps at around 6 minutes per day. However, the frequency of use was fairly low at only two sessions on average per day. Dating apps, on the other hand, managed high user time spend and frequency of use with four sessions for a combined 6 minutes per day. This makes Dating apps quite suited to the ad revenue model. In contrast, Education and Finance apps were found to be low in time spend and frequency. Education apps were used only about once per day in under 2-minute sessions, while Finance apps were used less than twice per day with just over one minute per session. This shows that people are using these apps for small bits of information as opposed to extensive research. As a result, this makes these types of apps unsuitable for banner ads, and more suited for monetization through native ads or app store revenue.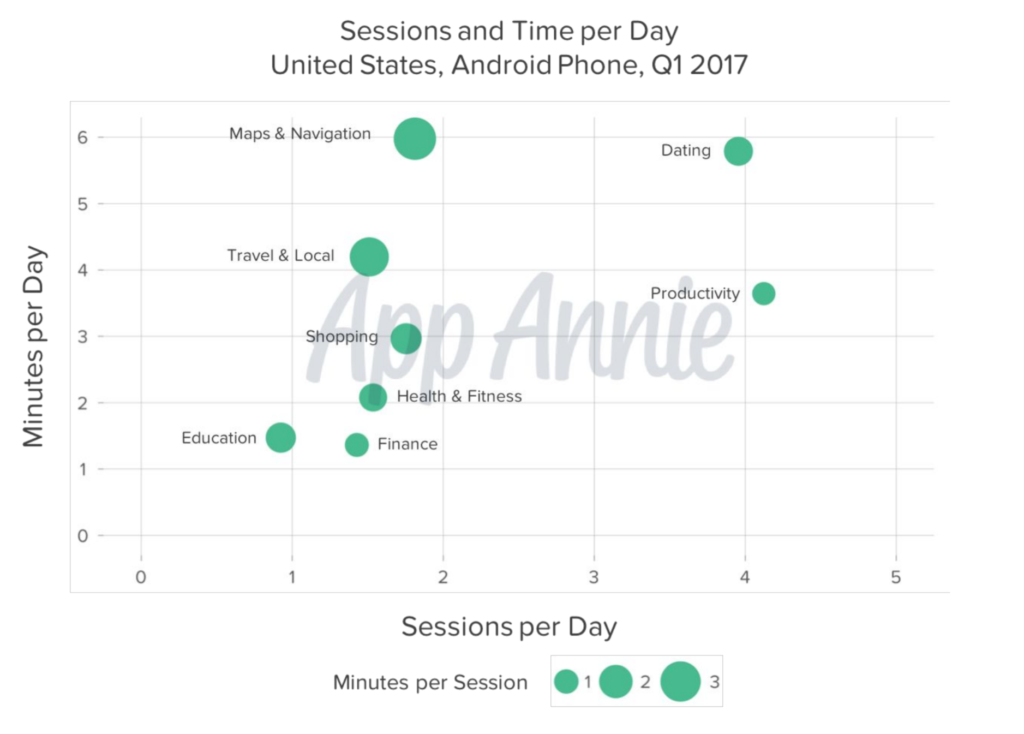 Despite the dominance of apps such as Facebook and Whatsapp across countries, time spend on various apps was fairly uniform. The top apps in each country only accounted for about 20% of the total in-app time. This means that app user retention and engagement remains competitive, with no runaway winners.
Number of Apps In Use Remain Uniform
While in-app time has been steadily increasing over the years, the number of apps in use has remained fairly level across time and regions. The number of apps experiencing daily use remains at around 9-12 per user across most countries, with the number being 30 on a monthly basis (both iOS and Android). This is in accordance with the 30:10 rule, and has remained the norm for some years now.
However, despite this uniformity, user's installed apps vs. used apps habits varied quite a bit across regions. Regions like India and Brazil had a higher percentage of used apps compared to total installed apps on their phones. This is likely because of sub-par wireless connectivity and the prevalence of low-end smartphones which means that users in these regions download only what they need. As a result, user acquisition remains an issue in these markets. In contrast, more elite markets such as the UK, France, US and Japan had a larger percentage of unused apps on their phone. User acquisition is not a bottleneck for growth in these markets, but user retention levels remain lower. Japan's proclivity towards gaming could explain the rather large amount of unused apps on Japanese users' phones, as games general have lower long-term user retention rates.
App Downloads Are Slowing Down
App downloads globally, while still growing, are experiencing lowering growth numbers over time. Worldwide app store downloads grew by 15% from 2015 to 2016. This growth can be attributed to Google Play in large part, as iOS downloads remain relatively stagnant. However, the general trend has been of flat-lining download volume, even though app usage has grown linearly.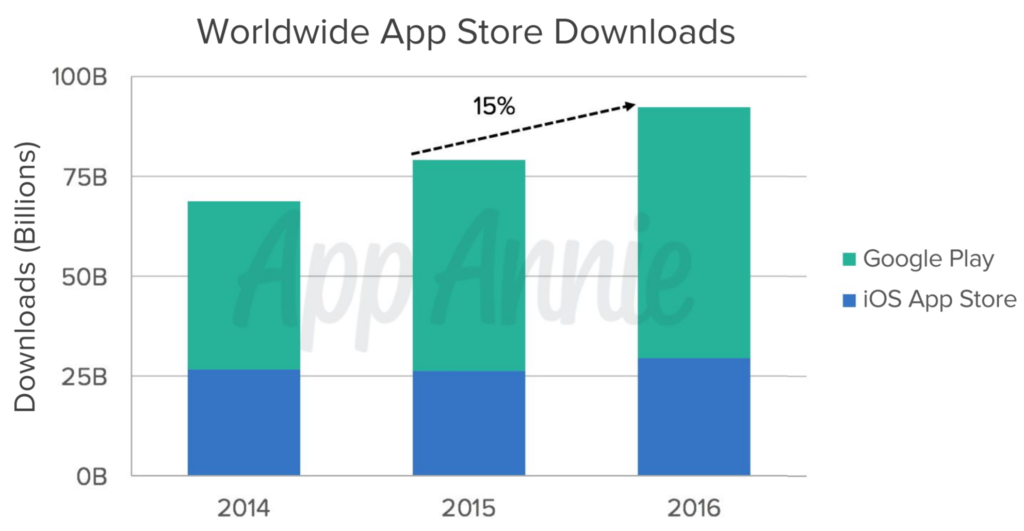 However, despite this, app revenue growth registered healthy numbers, with nearly 40% growth YoY from 2015 to 2016. In contrast to download volume, iOS is driving revenue growth, likely due to the higher instances of paid apps and services.
Actionable Insights
Markets in South Korea, Brazil and Mexico are perfect for ad revenue monetization models due to the high in-app time spend.
Gaming app developers must make South Korean and Japanese markets a priority, as gaming dominates user engagement and revenue there. South Korea is the more attractive destination of the two, as Japan suffers from lower user retention.
Developers of Education and Finance apps must look towards alternate avenues for monetization, as traditional banner ads may prove quite ineffective.
While Android is driving app download growth, iOS is driving revenue growth. This makes the ad revenue model more suitable for Android apps due to a larger potential user-base. Traditional in-store monetization is much more lucrative on iOS.
[poll id="74″]