App stores are flooded with apps. There are apps for most of needs one can ever have – whether it is banking, online shopping, ticket bookings, file managing or networking. Since there are so many options to choose from, it is often a challenging task for app developers and marketers to get smartphone users to download their apps and stay hooked. There are minimum four to five apps available in the app store solving a single problem.
To understand the reasons that trigger app downloads, Tune, a mobile marketing management company, recently conducted a survey of 3,005 US smartphone users. The purpose of this survey was simple: find out the reasons that drive smartphone users to download and install a mobile application.
According to the survey, 37.3% opined that they download an app solely to get a particular task done. This reason is closely followed by friend's recommendations with 31% agreeing to it. While recommendation goes a long way, about 20.2% said an attractive and interesting ad for the app triggers app downloads. Based on the findings, it can be stated that app downloads depend highly on the benefits it provides combined with an effective marketing campaign. The other reasons that came into limelight are Google recommendations, featuring the popular app stores – Apple Store and/or Google Play Store, getting easy access to the services of a company like the banking apps, etc.
The smartphone and app market in the US is evolving at a rapid pace; The number of smartphone users in U.S. is estimated to reach 207.2 million by the end of 2016 while more than 5.7 million apps are already available for download. Apps are classified into different categories like social networking, entertainment and gaming, learning and communication. Apps in the social network and communication categories are the most downloaded and actively used because they are not just limited to social networking. Rather, these apps have gone beyond networking to serve as a robust platform for businesses to reach out to their existing as well as potential customers. On an average, a smartphone user in U.S. downloads and uses 26.7 apps every month.
The availability of smartphones at extremely affordable prices has massively impacted app downloads to a great extent. With the increasing number of smartphone users, app downloads are also increasing day by day. According to the report, 50% of the digital time spent in the U.S. is on smartphone apps whereas web surfing constitutes only 7% of the total time. However, the challenge doesn't end here.
Mobile App Success: It's Not About Download Alone
The biggest challenge is retention of the downloaded apps. By retention, we mean users check their app at least once within 30 days. According to analysts, 25%, on an average, is a good mobile app retention rate after 90 days. On the other hand, 75% of all app users churn within 90 days after they download the app.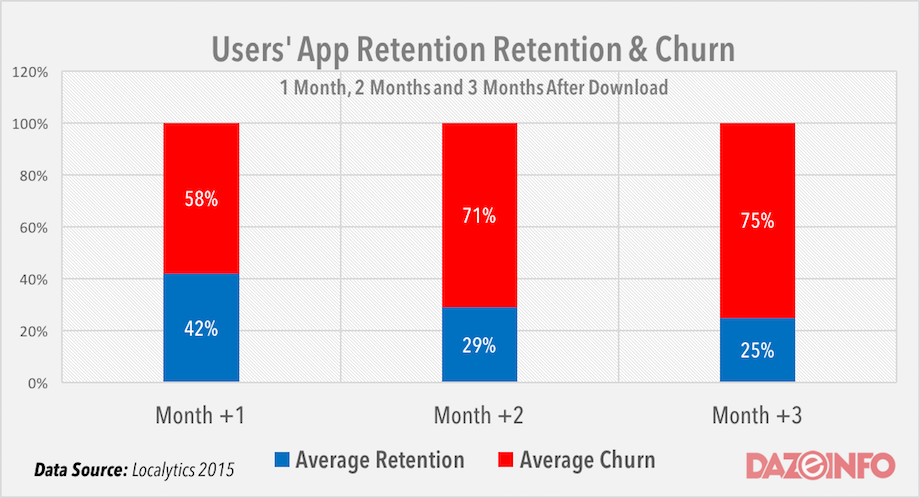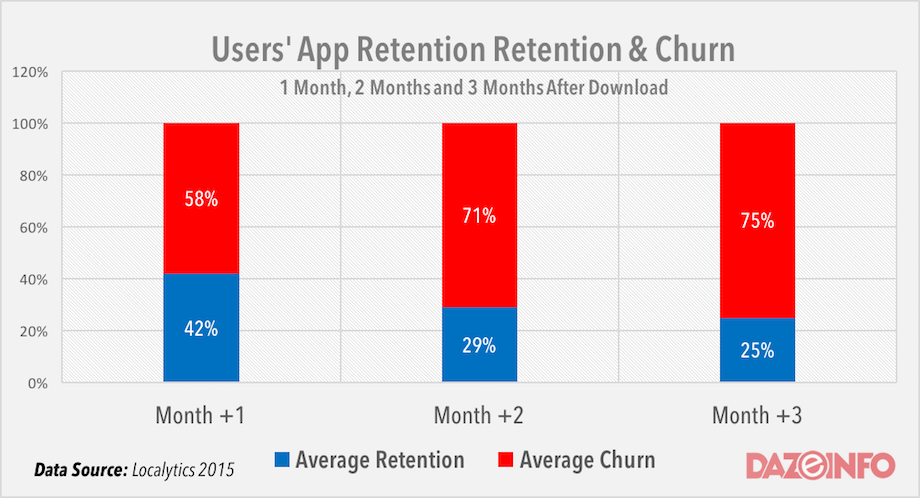 However, since different apps serve different purposes, it is hard to achieve this rate. Media and entertainment apps have the best retention rate at 24% on an average followed by eCommerce and travel & lifestyle apps at 18% each post 90 days. Retention depends highly on the user's needs and habits. Globally, the app retention rate declined from 39% in 2014 to 34% in 2015. One of the major reasons for this decline is the frequent launch of new apps, especially in the gaming category.
To maintain a strong foothold in the app market, app developers and marketers will have to deploy new techniques to ensure increased downloads and retention rates. Developers should consider several factors like enhancing user-experience by adding a personal touch, predictive insights, performance and notifying users through in-app messaging and push messages. Marketers should focus more on targeted ad campaigns to retain high-value customers. Creating a cohesive brand experience will be highly impactful over the users. If the research and its analysis are to be believed, app developers have the capability to take the industry by storm.