With more than 5.7 million apps available for download, smartphone users prefer apps for communicating, social networking, entertainment and gaming. According to the latest report by ComScore, smartphone app usage in the US the on the rise as smartphone users spend 50% of their online time on apps as of July 2016, ticking up from 41% in 2014 and 44% in 2015. The reason for the rise in smartphone apps usage in the US is the evolving number of smartphone users in the US which is estimated to reach 207.2 million by the end of 2016. Smartphone users rely on apps as they are more convenient and beneficial. For example, users prefer apps like Whatsapp, hike, WeChat, Line, Snapchat and Viber for communication purposes. These apps cost less as compared to text messaging or operator voice calling or video calling. Apps also provide various other features to make the communication process more enjoyable.
In the US, on a monthly basis, almost every smartphone user actively use an average of 26.7 mobile apps and spend 2,451 minutes on mobile apps. Apps in the social and communication category are the most used apps followed by gaming and entertainment apps. These apps are not just used for the personal communication or networking, but also used for several business purposes. Facebook has the highest reach in the US market with 79.8% followed by Facebook Messenger and YouTube with 69.8% and 62.1%, respectively.
Smartphone App Usage in the US: Mobile Beats Desktop
Usage of these apps in the US is growing because not only they serve individuals but also businesses. Companies use apps for promotion, targeting and reaching out to their existing as well as prospective customers. Since these app companies have a huge database of the users, targeting becomes very easy.
Smartphone apps have become a vital part of our digital lives. We always have our smartphones with us that keeps us connected around the clock. Social networking apps help us in staying updated with all the happenings around us. Apps offer a better interface and experience as compared to websites – another reason for the growth of smartphone apps. With bigger screens and 4G speed, the demand for desktops have reduced significantly. Smartphone apps hold 50% share of total digital time spent by users in the US (as of July 2016). Web surfing on smartphones constitutes only 7%.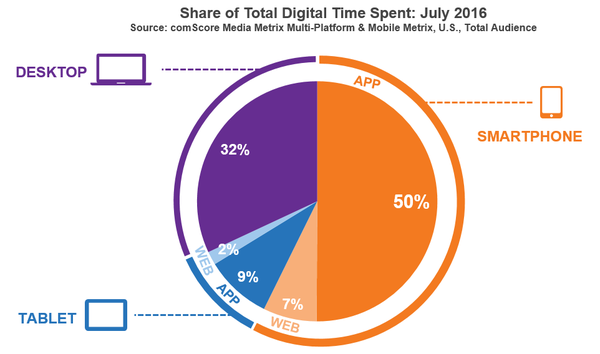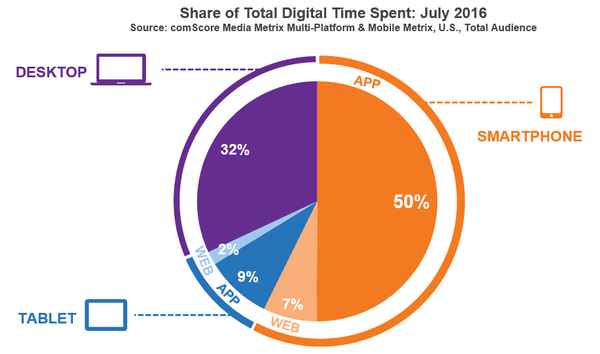 Since the majority of mobile users in the US are on smartphones and rely on apps for almost everything, publishers and advertisers target smartphone users primarily.
The app market in the US is growing significantly with so many of apps available in the market. There are apps for every single service possible, be it messaging or ticket bookings or buying products online. The total numbers of apps by app stores are as follows:
Google Play – 2,200,000
Apple App Store – 2,000,000
Windows Store – 669,000
Amazon Appstore – 600,000
Blackberry World – 234,500
Apps have become such an integral and important part of daily lives that users do not flinch away from various in-app purchases. Using apps have become a norm; it is a habit that cannot be denied!
In the present scenario, a smartphone without apps is like a car without fuel. It has also become the sole reason for buying smartphones. Consumers purchase a smartphone which can support apps of their choice, especially when they are inclined towards gaming. This has caused the smartphone app usage in the US grow by multi folds in the lsst few years.
Actionable Insights:
As a greater number of smartphone users are turning towards apps, app stores should be very selective about the apps being featured on their store.
In the US, smartphone users spend most of their time on communication and social apps. Therefore, app development companies and app developers must focus on developing more intuitive and intelligent apps in the category.
Brands must come out from the era of mobile web and focus on acquiring users by launching their own apps.
Brands and advertisers having smartphone users as their TG (Target Group), must consider advertising on Facebook apps over any other apps.